Swarovski to us has always been a brand synonymous with sophistication and unparalleled quality; and if we have to select one occasion that signifies that, it's undoubtedly the Oscars. Over the years Swarovski has captured the centre stage at the Oscars and we're not surprised. Over the decades, the jewelry couturier has been recognized for its collaborations with premium designers. More so, Swarovski offer designers a fabulous palette of inspiration.

The glorious sets of the Oscars have been inculcated with Swarovski pieces since almost a decade. Well it all started from 2007!

2007: 2007 marked the first year Swarovski sponsored the set design with a 34 foot, one-ton custom crystal curtain for the Dream Girls performance. This year, Derek McLane inculcated about 165,000 crystals into a design that left Hollywood's brightest stars and viewers at home with a brilliant impression.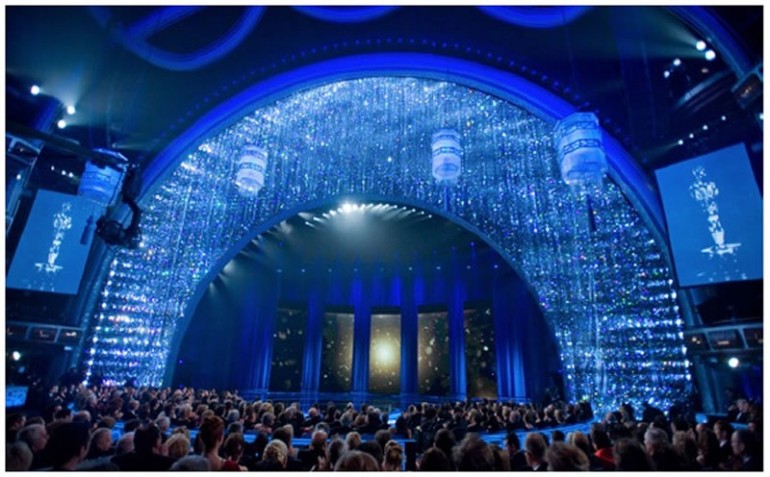 2009: The Oscar set of the 81st Annual Academy Awards adorned David Rockwell's vision that entailed custom designed Swarovski Crystal curtains that will create a sparkling rainbow illuminating the grand arch of the Kodak Theatre, a building Rockwell's firm designed seven years ago. The curtains will shimmer with over 100,000 Swarovski crystals flown in especially from Austria and will stand an awe inspiring 60 feet tall and 100 feet wide.

2010: David Rockwell was asked for the second consecutive year to reinvent the set for the Oscar telecast. Once again, Rockwell worked with Swarovski to bring his sketches to life, creating a custom designed Swarovski crystal curtain. Incorporating more than 100,000 Swarovski crystals in a variety of shapes and sizes flown in from Austria, the main curtain outlining the stage's grand arch measured close to 60 feet tall and 100 feet wide and included accents of gold and clear crystal. Comprised of over 6,000 one-meter hand-crafted crystal strands, and weighing in at an incredible 3 tons, the shimmering Swarovski crystal curtain made a spectacular statement this year.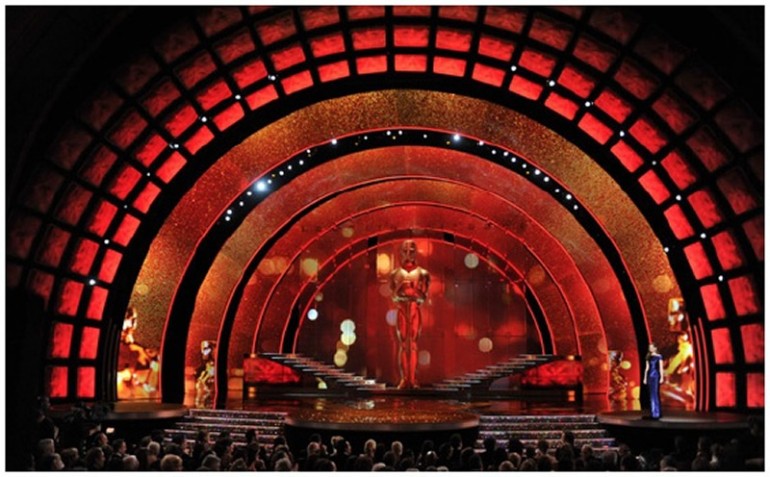 2011: Fashioned by Steve Bass, the elegant, modern set of the 83rd Academy Awards prominently featured shimmering Swarovski crystals, which intensified this year's radiant display of Hollywood stars. In total, the room glittered with over 55,000 Swarovski crystals, especially flown in from the company's headquarters in Austria, in 11 different shapes and various sizes. This is the fourth time that Swarovski has graced the stage of the Academy Awards® and this year the crystals continued to give the room the Swarovski aura of poetic beauty, glamour and sparkle.
"There is such an intimate and intricate beauty to Swarovski crystals that they became a fundamental part of the creative vision for this year's Oscar set. We chose to use Swarovski crystals because the Oscars are the most glamorous event in the world and nothing says glamour quite like Swarovski. It's the perfect pairing," said production designer, Steve Bass.

2012: John Myhre's ambition was big: to create a divine crystal field of stars using a 70ft wide by 40 foot high custom-made crystalline backdrop, which twinkled with 4,500 crystals and was set off with a shimmering halo that featured a further 2,000. The effect was a staggering blaze of refracted light that could have out-glittered the galaxy.
Oscar-nominated production designer, John Myhre, said it in a single sentence: "On Oscar night there were more stars at the Kodak Theatre than there are in the heavens."

2013: Tony Award-winning Production Designer Derek McLane will add a fresh perspective to the set of the Dolby Theatre, incorporating over 100,000 Swarovski crystals into the Oscar's® stage design and theatre decor. McLane has incorporated over 1,500 pounds of Swarovski crystal into the stage and auditorium design. It took over one month to realize his vision of a spectacular 80 feet wide and 40 feet high crystal curtain among other dazzling elements.
Production Designer Derek McLane commented: "I have always loved crystal chandeliers, and marvelled at the amazing way they act like prisms and refract light when you turn them on. When I was asked to design the 85th Academy Awards, I immediately began to think of ways to use crystals to bring some of that magic to the stage. For me, Swarovski crystals have always represented the height of elegance and glamour. Their association with the Academy Awards show has become one of the signatures that define the grandeur of the evening. This year we have an extraordinary guest performing on the show, and I have designed a crystal curtain as her signature environment."

2014: Setting the stage for the 86th Academy Awards, Tony Award-winning production designer Derek McLane once again collaborated with Swarovski to ramp up the glamour at the world's favourite star-studded event. In an atmosphere of spine-tingling excitement, and anticipation, Hollywood's finest took their seats among the 164,000 shimmering crystals. Inspired by the Oscar-winning Animated Feature Frozen, McLane created unique decorative set pieces including an 80ft wide by 40ft high main crystal curtain backdrop with six magnificent crystal swag drapes. Together the enchanting stage décor weighed more than 3,000 pounds.
McLane outlined his vision: "I saw the Ice Palace in the film, and immediately knew the effect I wanted to achieve. The crystals refract light in such a way that they add an extra level of magic to the performance."

2015: Using nearly 100,000 Swarovski crystals, Derek Mclane's incorporated 22 different pieces including the stunning "Crystal Closedown Wall." With a beautiful crystal gradient pattern, the wall drew viewers' attention directly to the centre of the stage.
"My inspiration was to create a busy Berkeley-inspired field of radiated crystals. Emanating out from the centre, I almost like an explosion. When it came to the stage curtains, I wanted to create a feeling that the entire Dolby Stage was a forest made out of Swarovski crystals."
– Derek Mclane, Production Designer

2016: Again, old school Hollywood glam was the muse for Derek with a colour palette of gold upon gold. McLane's production designs included a new massive crystal proscenium arch featuring 18 separate panels with more than 37,000 crystals layered on top of a shimmering gold backdrop. The arch weighs more than 20,000 lbs and took over 650 man hours to fabricate before it was installed in Hollywood's Dolby Theatre. Also new this year was seven crystal wave towers that appeared to float in the background, featuring more than 110,000 Swarovski crystals.
"My vision for the Oscars this year was 1970s glam. The 70s were an incredible period in Hollywood movie making. It's also a source of really amazing architecture, design and style and I've really tried to evoke some of that style in this year's design. We've used an enormous amount of Swarovski crystal on stage this year. I've been told this is the most Swarovski crystal that has ever been put on an Oscar stage. We've made a proscenium that's entirely covered in Swarovski crystals. The presidium has 37,000 plus crystals on it and it weighs about 20,000 pounds," exclaims Derek Mclane.