You had to dress well because god forbid if your co-passenger was Audrey Hepburn or Marilyn Monroe or Gregory Peck or John Wayne, and you are dressed as you stepped out of your kitchen in some apron. A series of images found and restored by Airlistings show us snapshots from the airline business's history, which shows how gracefully our grandparents lived.



Ladies were dressed like Audrey Hepburn in A Roman Holiday, pearl necklaces, hats, hand gloves and elegant outfits. Men were dressed sharp in well-tailored suits and ties, even little boys. Girls dressed in pretty frocks and dresses, hair tied up neatly. Only the affluent flew during those days, with air tickets costing more than an average annual salary.


There was plenty of legroom, cushion seating, coat racks, carpeted flooring and staff to get you fine foods and beverages. Initially everyone travelled like this until the airlines decided to open room for travellers with cheaper tickets and lesser staff. The new tourist class (economy) also had sufficient leg room and comfort. A far cry from today's stuffy, uncomfortable economy. Pan America launched the first "tourist class" between New York and San Juan in September 1948, which added 19. The fare was $75 one-way compared to the normal $133. From then on there was turning back.


Until the early 1960s Douglas commercial aircraft flew people with its Douglas piston engines. Later on Boeing got its double deck Stratocruiser and Lockheed came with its Constellation with a triple tail.


This special collection was restored by experts including Christian Bryan, and has taken several hours to complete.


It is true what they say about old being gold.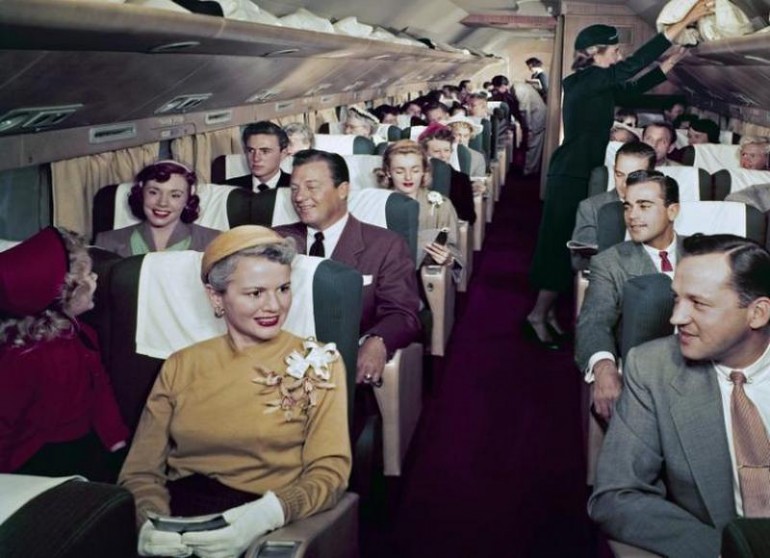 [ Via : Telegraph ]