Montblanc has unveiled a collection dedicated to one of the most well-renowned artists ever, the great legendary Dutch artist Vincent Van Gogh. The Montblanc Masters of Art collection's first edition immortalizes the late 19th-century genius with five limited-edition writing instruments. The Maison, rooted in culture, creativity, and self-expression, partnered with the like-minded Van Gogh Museum in Amsterdam to bring to life the museum's insight into his work and life in an exact, tangible, and unique way. Who better to guard Vincent van Gogh's heritage than the museum that houses over 200 paintings, 500 drawings, and more than 700 letters of Van Gogh?



With the Van Gogh Museum celebrating its 50th anniversary this year, Montblanc's Masters of Art Collection will honor the works of Van Gogh through the decades. Vincent van Gogh's time in Arles and one of his most famous paintings, Sunflowers. The writing instrument's barrel represents the bright French sun in yellow and orange hues. The signature 'Vincent' comes engraved on the platinum-coated barrel ring next to an engraved '1888' for the year he moved to Arles.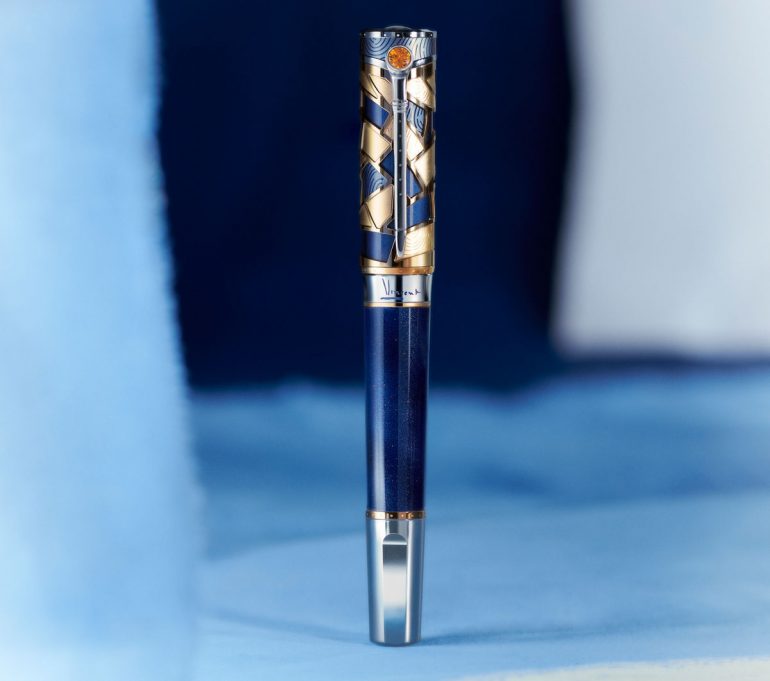 Wheatfield with Crows comes alive in the limited edition 888 inspired by time spent in Saint Rémy and later Auvers-sur-Oise, his home. The Provençal blue skies and golden wheatfields are recalled owing to the translucent lacquer inlays in different shades of blue and in the solid Au 750 yellow gold skeleton overlay. The image embossed on the solidAu 750 gold nib immortalizes Vincent's hopeful painting, Almond Blossom.

Next is the edition with a limitation of 161 with a solid Au 750 signature gold barrel ring engraved with '1890', commemorating the year he drew his last painting, Tree Roots. The Ag 925 sterling silver barrel flaunts lacquer inlays with design and colors from Tree Roots. Similar to the other editions, the silhouette of the Limited Edition 161 follows that of a Japanese woodcutting knife.

Montblanc Masters of Art Homage to Vincent van Gogh Limited Edition 90 is inspired by masterpieces such as The Harvest. The cap top boasts an engraving of Arles, signifying its importance in the artist's life. Van Gogh's fondness for pipe smoking is captured in the clip's detail, with the upper part shaped like the bowl of a pipe and set with a fire opal. Wheatfield with Crows serves as inspiration for yet another writing instrument limited capacity of only eight pieces.

The solid Au 750 signature gold cap and barrel glisten with brilliant cut diamonds and swirling engravings replicating the motion of Vincent's brush. The pen looks beautiful with a motley of gems like Sapphires, Paraiba tourmalines, and brilliant-cut diamonds around the marquetry inlay. The silhouette of the Limited Edition 8 mimics that of a Japanese woodcutting knife.
(All images provided by Montblanc)