Whether you prefer your coffee black or with tones of goodness mixed in, the glam holiday collection from Starbucks is guaranteed to serve your decaf java in the most luxurious way possible. Coffee mega-giant Starbucks is celebrating the 30th Anniversary of its Christmas Blend in dazzling style by introducing a premium holiday collection, featuring two tumblers and one ornament.


Swarovski Mug & Coffee Gift Set" width="690″ height="690″ class="alignnone size-full wp-image-113903″ />The collection is dressed for the holidays in gold shine and bedecked in Swarovski crystal elements. The glam Holiday collection includes a gold stainless steel Swarovski tumbler 16 oz. with a wooden box ($109.95), 30th Anniversary collection gift set of Christmas Blend whole bean coffee with a double wall traveler ($99.95) and a limited edition white cup ornament encrusted with Swarovski crystals ($49.95).
The collectible ceramic ornament is adorned with the finest Swarovski crystals. Green crystals form a center dot on the front and white crystals set the whole ornament to sparkling. This ornament comes in a premium red box with fold-over lid and the Starbucks name.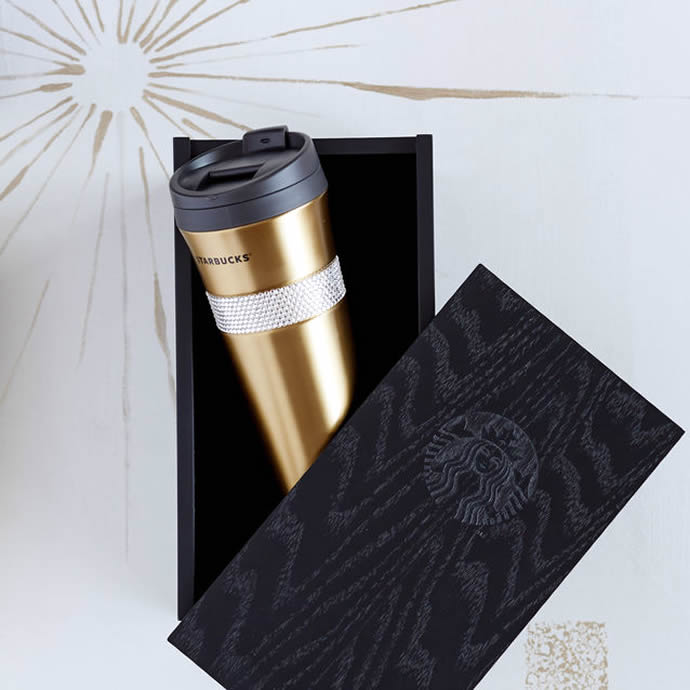 The tumbler's insulating double wall helps beverages stay hot while hands stay cool, and a flip-top lid prevent spills. The tumbler comes gift-ready in a dark wood box with a sliding lid engraved with Siren logo and Starbucks name.
The Holiday Collection marks the second collaboration between the crystal maker and the coffee company. Last year the brands came together for the 10th anniversary of the Pumpkin Spice Latte, releasing a limited edition mug for $150. Reportedly, Starbucks will also introduce a new signature drink exclusively for holiday season. The Chestnut Praline Latte is the first holiday beverage to be introduced by the chain in the last five years. It will be joining the likes of the other holiday beverages such as Peppermint Mochaand Gingerbread Latte, after it goes on sale on November 12.
[Available at Starbucks]