A New Orleans based antiques dealer has just put a chess set on their website that's unlike anything you've seen before. M. S. Rau Antiques have revealed the intricate The Battle of Issus Chess Set which honestly looks like it's been plucked out of a fantasy novel.



The chess set has been inspired by its namesake battle and each piece in created to resemble an actual figure from the historic fray between the League of Corinth and the Persian Army.


Alexander the Great takes the place of the Greek king while the queen is represented by Athena, the Greek goddess of war and wisdom.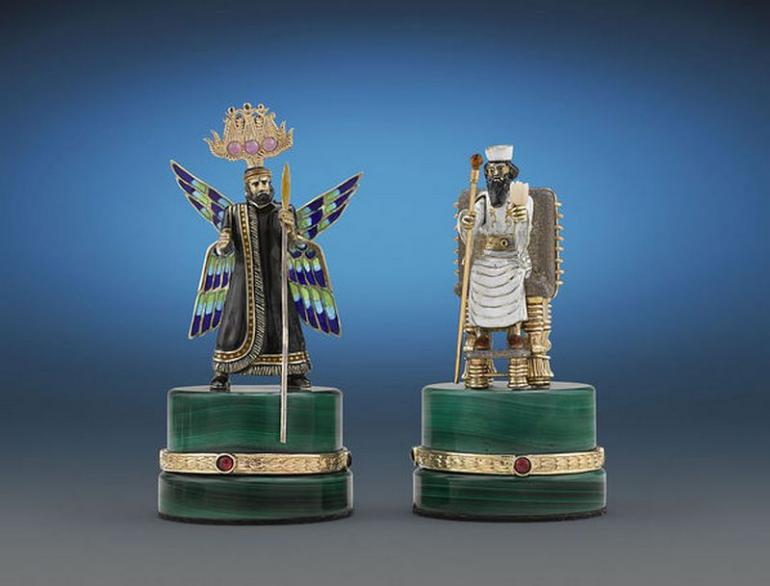 Darius III is accompanied on the battlefield by the winged Persian god of war. Did we mention that each piece is created from 14k gold and is decorated with precious stones?


War ships sailing over waves represent Greek bishops while battle ready elephants stand in for Persian bishops. The rooks (or castles) have been replaced by magnificent columned temples of ancient Greece and Persepolis.


The pawns on both sides are played by foot soldiers wielding javelins, swords or bows and arrows, and the knights of both sides have been reimagined as horsemen.


The chess set is rich with details, the sides of the board are formed from pure silver, sculpted in high relief to depict battle scenes that mimic the motifs in the game pieces. The entire chess board rests atop a custom made mahogany and leather-topped table, and comes with a pair of 19th-century leather upholstered chairs.


Moreover, each figure stands on a solid pink rhodonite (Greek side) or green malachite (Persian side) base that, when twisted, causes the figures to move! The ships oars row, archers ready their bows and horses shake their manes, even Alexander lowers his sword. The mechanical complexity seems to breathe life into these characters.
Even the board's chess squares have been created from the same pink rhodonite and green malachite as the bases. The entire set has been 10 years in the making with 14,000 man hours of precise craftsmanship invested into it. It's hardly a surprise then that the complete set has been priced at $1,650,000. It's certainly a high price, but for a product so unique, you will be tempted to part with the money. Even if the pieces weren't made of gold, the detail alone would be beautiful, but with the addition of precious metals, stones and enamel work this chess goes from a good splurge to a once-in-a-lifetime investment.
[ Available at : Rauantiques ]