Eli Broad, the billionaire, made a mark first by building homes, then museums by becoming an avid art collector and eventually owning one of the world's most envious collections of modern art. His and his wife Edythe's passion took form as the esteemed Museum of Contemporary Art in Los Angeles. With a massive $6.7 billion net worth, the New York native developed an unshakeable reputation as a philanthropist owing to his generous donations and commitment to public K–12 education, medical research, and the visual and performing arts over time. Speaking of philanthropy, the billionaire once attended Sotheby's contemporary art sale, where she shopped for $2.5 million, 1965-66, I…I'm Sorry! by acclaimed artist Roy Lichtenstein using his American Express card. It was the year 1995 when American Express Centurion Card didn't exist. The coveted Amex Black Card was introduced in 1999.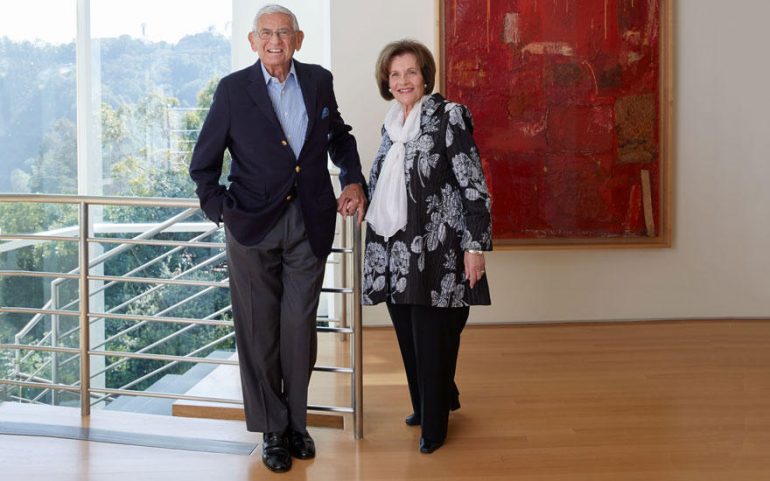 Purchasing the $2.5 million Lichtenstein using his Amex card, Broad was entitled to 2.5 million membership miles on any airline participating in the American Express program, entitling subscribers to one mile for every dollar spent. The benevolent businessman that Broad is, he donated the miles to the California Institute for the Arts for student travel.

It's 2022, and a $2.5 million swipe may not seem that big of a deal, but way back in 1995, it was unheard of. So much so that William Ruprecht, the managing director for Sotheby's North America, said "this was not a typical transaction and not something Sotheby's sees on a daily basis.". At the time, Christie's, another leading auction house, did not even accept credit cards.

Either way, the outcome was highly favorable for students at the California Institute of the Arts, irrespective of the work purchased. As a museum owner, it was entirely his prerogative to choose whichever artist seemed lucrative for his business, dead or alive. Most people (read: billionaires) wouldn't give up any freebies, despite their bottomless pits of wealth. China's most flamboyant art collector also swiped his American Express credit card to buy a $170 million painting. Despite being worth $1.4 billion, the clan intends to use the reward that entailed round-trips from London to New York in first class 733 times or, in simpler words- fly free for life!

Pop artist Roy Lichtenstein's I…I'm Sorry! is iconic in more ways than one-
The comic-derived pop art features the portrait of an apologetic Eve as a modern-day woman. Why the star of the artwork is apologizing is left to the viewer's imagination. While it is easy to assume that she is apologizing for eating the forbidden fruit from the tree, the Broad museum thinks it is because she is breaking our hearts. The artist flawlessly created this painting using paint and stencils, meticulously rendering flat, single-color benday dots by hand. Lichtenstein was an American pop artist and a leading figure in the new art movement of 1960. His most expensive piece is Masterpiece, which sold for a staggering $165 million in January 2017, two decades after his death.

Eli Broad, the businessman-turned-art aficionado-
After amassing a fortune of $6.9 billion, Eli Broad passed away in 2021 at the age of 87. His journey to success began in 1957 with Kaufman & Broad building the nation's most affordable tract homes. Another successful enterprise created was Sun Life Insurance, which later became SunAmerica and was sold to AIG for $18 billion in stock in 1998. Eli started the Broad museum with his wife Edythe, offering free admission to view works from the couple's contemporary art collection. The Broads have two collections focusing on postwar and contemporary art—a personal collection with nearly 600 works and the Broad Art Foundation's collection, which has approximately 1,500 works.