While pets hardly care about being Gucci-fied, their owners sure do! And in catering to such pet parents, the Italian marquee has introduced a new collection for fancy canines and felines. Yes, you heard that right! Let's find out what it entails below:



Gucci's debut pet collection:
Marking the brand's first-ever pet collection, it includes leather collars, harnesses, and leashes (priced between $230 to $600) featuring the iconic GG canvas, web stripe, interlocking G logo print, Herbarium pattern, and other signature Gucci design touches.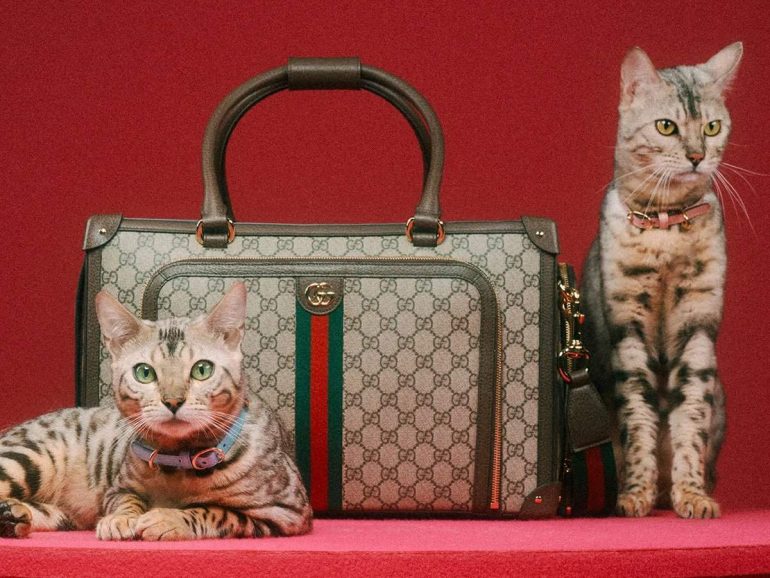 Pet owners can also get their hands on matching Air Tag cases and waste bag holders (priced between $220 to $460). Other items include hard-sided cases with removable ceramic feeding bowls, miniature couches, silver-toned brass bowl covers, travel carriers, and matching feeding mats– all of which can be made to order.

Your chance to twin with your pet:
The luxe collection gives doting pet parents an opportunity to twin with their pooches too! It includes matches sets of polos, tees, knitwear, and coats (priced between $250 to $850) in quirky strawberry and heart prints, chic monogram patterns, and more.

Some items also come in eco-conscious materials such as recycled polyester and cotton, and the brand's own renewable and animal-free Demetra material that is made from bio-based sources. After all, it is sustainability for the win these days!

More about Gucci's new pet ensemble:
Commenting on the new collection, its official description reads: "Continuing the narrative of surprise and delight that defines the Gucci Lifestyle selection, the Gucci Pet Collection infuses the everyday with a magical aura."

"Unveiled in a colorful, retro-inspired campaign, the pieces allow each animal's personality to shine as an ode to the Creative Director's vision of individuality," it further adds., Nabimiman-German artist and designer Max Siedentopf has been roped in for the collection's campaign, which includes dreamy portraits of stylish canines – and felines dressed in the fancy new pieces.

Gucci's novel pet collection is currently available for purchase on the brand's official website.