Nala, the cat, is an Instagram sensation. She is a celebrity, a millionaire, and still a feline at heart. She is looked after by her owners, Varisiri "Pookie" Methachittiphan and Shannon Ellis, who reside in Los Angeles, California. "She will always go to an empty cardboard box first," Ellis shared. "Plastic wrap is her jam, and toilet paper rolls are life." The Siamese and tabby mix with gray and white fur is slightly cross-eyed, and one of the most followed and loved pets at home and worldwide. With more than 4.4 million followers on Instagram, Nala is the most followed cat on the photo-sharing app.



How did Nala meet her owners?
A 5-month-old kitten, Nala, was adopted by Pookie, a then master's student, in 2010 from an animal shelter. On the recommendation of her sister and to capture Nala's heartwarming cuteness, Pookie created an Instagram account on a whim in 2012. Life was never the same again for Nala and Pookie!

Nala played matchmaker and got her owners together-
If Nala meeting Methachittiphan was kismet, things got even more intriguing as Nala also brought Shannon Ellis into their lives. Ellis, the owner of an Etsy store, sent Nala a cat bow tie when she had about 75,000 fans. Eventually, Ellis and Methachittiphan struck a deal for bow ties for Nala's online store and instantly hit it off. Four years later, they are married with two kids, six cats, and one dog running around their home. "Nala brought us together," Ellis said.

No ordinary pet, Nala is an Instagram star-
With 4.4 million Instagram followers and a $100 million net worth, Nala has beat singer Taylor Swift's Scottish Fold Olivia Benson worth $ 97 million. The cat star and social media sensation has a Guinness World Record for the most followers on Instagram for a cat.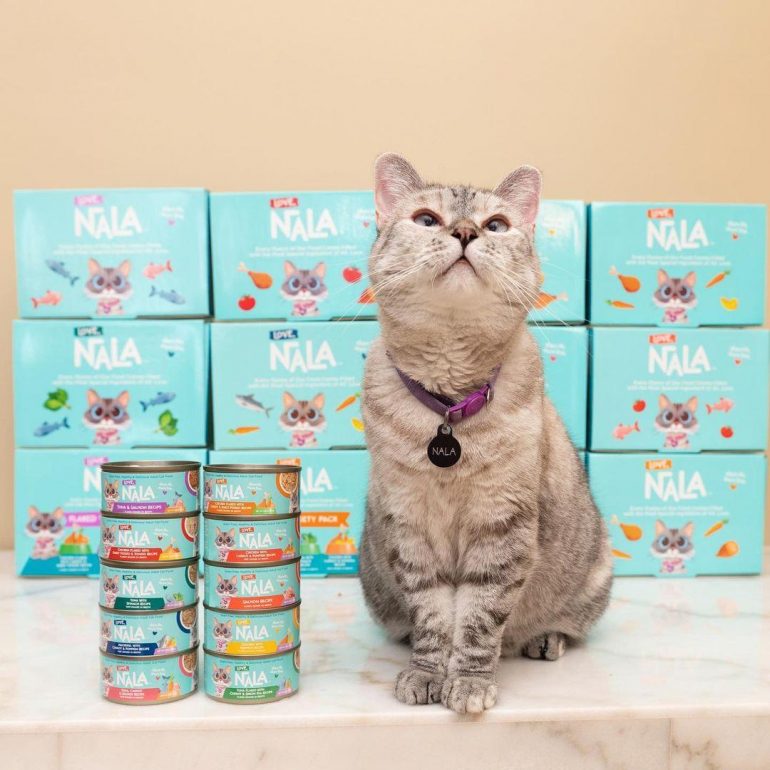 Nala, the cat-repreneur is worth a whopping $100 million
With the success that will shame most social media influencers, Nala has a glittering, paw-some resume with shining endorsement deals. When you demand $8,000 for a post on social media, enjoy sponsored content, or own a website selling merchandise like T-shirts, hats, onesies, scratcher beds, iPhone cases, and cat food bowls, it means you've arrived! The charming cat has partnered with brands such as Google, Lyft, FreshStep, and LOL Toys and appeared in People Magazine, USA Today, Forbes, and more.
Her first book, Living Your Best Life According to Nala Cat, is a guide to life, featuring never-before-seen photos and a special Nala-approved guide on the best practices for adopting and taking care of a pet.

Some paws, and some philanthropy-
A former shelter cat, Nala, and her loving owners strive to raise awareness about animal hunger, fostering pets, adopting animals from shelters, and educating people about proper pet parenting. To put their philanthropic passions on a proper platform, the family launched Love Nala, a premium line of cat food in both wet and dry varieties. The feline and her family donated 5,000 meals to Kitten Rescue LA and sent 55,000 meals to Daisy's Hope Foundation, an animal-focused nonprofit that provides free and subsidized spaying and neutering, vaccinations, and microchips. A highlight on Nala's Instagram feed, titled 'My Legacy' displays the process of how Love, Nala is manufactured.

Meet Nala's siblings-
Varisiri Methachittiphan and Shannon Ellis have created a world full of love owing to not one but five other cats and one dog. They have seven internet-famous pets. Nala Cat's siblings included cats White Coffee with 2.2 million followers, Luna Rose with 556K followers, Stella and Steve with 114K followers, and a dog named Spencer with 76K followers. The owners run Instagram accounts for all their pets and that sounds like a job that never ends! "The hardest part is that you never really have a day off. It's 24/7," Methachittiphan told CNN Business at VidCon, the annual conference for online video creators in Anaheim, California, last week. "You need to take some time for yourself, too."