Living life king-size in the modern age means residing in a luxury building, perched in an opulent penthouse with modern amenities and sprawling city views. If you are kingly without a palace to call your own, Miami's nightclub-branded E11EVEN Hotel & Residences has revealed its Presidential Suite penthouses, and they are entirely breathtaking (yes, you can blame it on the height). Sitting on the 62nd story, the E11EVEN Hotel & Residences is genuinely unlike anything Miami has ever seen. Renowned developer PMG and Miami's celebrity-loved nightclub E11EVEN glamourizes everyday living by offering a majestic 65-story tower that incorporates 375 fully furnished residences and hotel rooms. The avant-garde tower, aka "smart building," features and 24/11 style amenities.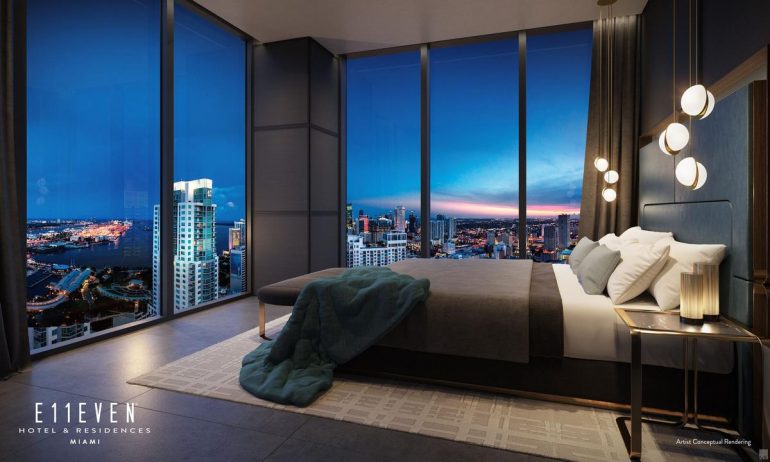 Inside, residents can enjoy a LED fireplace in their living room, cook a savory meal in custom ITALKRAFT Italian kitchens and look as glam as the house in fully built-out closets. Residences start at $300,000 and include studio, one, and two-bedrooms.

For those with deeper pockets, the development also offers a grand Penthouse Collection and two Presidential Suites. The two-bedroom half-floor units range from $8.5 to $9.5 million. Each residence boasts two massive outdoor terraces, with a private pool and a summer kitchen for entertaining guests.

The towering building includes several entertaining amenities, highlighting a 20,000 square-foot ultra-modern, multi-level E11EVEN Day Club located on the 11th floor. This could easily be the most buzzing spot in the building, replete with fully furnished cabanas with flat-screen TVs and plunge pools. Residents and guests can make the most of this space by soaking in the stunning vistas of Miami, Biscayne Bay, and the Atlantic Ocean while enjoying a concert-like ambiance.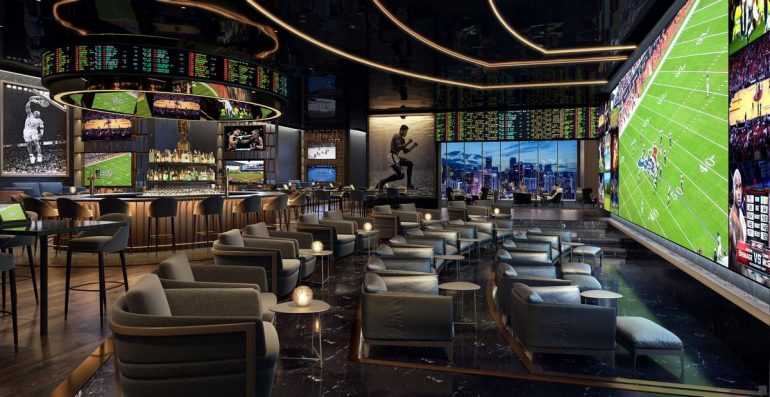 Residences will also have celebrity-chef dining experiences, a casino-style sports lounge equipped with an expansive LED screen wall, plush theater-style seating, additional monitors throughout, and a signature dining program by an executive chef.

The highlight of this ultra-modern dwelling is a 10,000 square-foot space, the first-ever Chopra Spa & Studio in a residential building. The space will accommodate a yoga center, Pilates and meditation rooms, eight treatment rooms, hot and cold pools, sauna, and steam room. Ryan Shear, Managing Partner PMG, co-developer of E11EVEN Hotel & Residences, said, "Miami continues to thrive as a global destination. We are grateful to partner with the hospitality powerhouses at E11EVEN Partners to bring the vision of E11EVEN Hotel & Residences to life. This project is truly a 24/11 lifestyle entertainment destination, unlike anything Miami has ever seen. This type of project has already proven to be transformational for the city, and we can't wait to share the excitement with everyone once it comes to life."

Dennis Askins, Design Director at AvroKO states, "At our core, we are driven to create emotionally-transcendent experiences," says Dennis Askins, Design Director at AvroKO. "For E11EVEN Hotels & Residences, this foundational drive is on full display with a design that makes every moment feel like guests are living a cinematic experience; that they're part of a lifestyle that's bigger than themselves. The focus is on pleasure and entertainment, and the design highlights this by maximizing the drama and sensuality to foster connection and interaction, ultimately creating the feeling that wherever you are in the building, whatever you're doing, you have access to and are participating in a memorable moment."