A French-inspired mansion has just hit the market for a stellar $139 million, making it the most expensive home publicly listed for sale in the U.S. The palatial 60,000-square-foot estate known as Le Palais Royal is spread over four acres and 465 feet of beachfront on Millionaires Mile in Hillsboro Beach, Florida. Le Palais Royal draws inspiration from the Palace of Versailles with gold leafing, stone walkways, balconies and six fountains. Though the palace is currently under construction, here is a sneak peek inside the America's Most Expensive Home.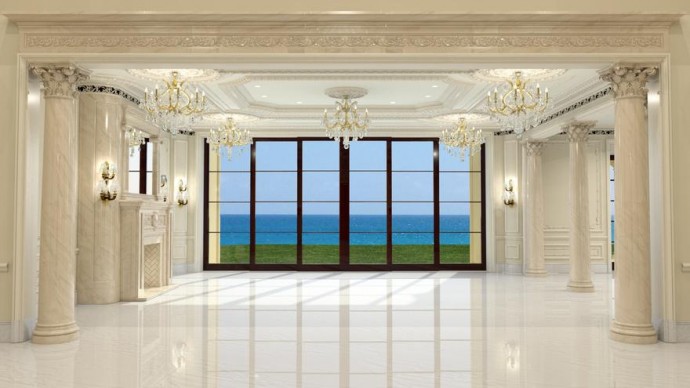 The entrance of the house features a 26-foot fountain, plated in gold leaf. The lobby bleeds into 'Le Salon', a room overlooking the Atlantic Ocean. It also has a 492-foot private dock for a mega-yacht and 465 feet of private beachfront.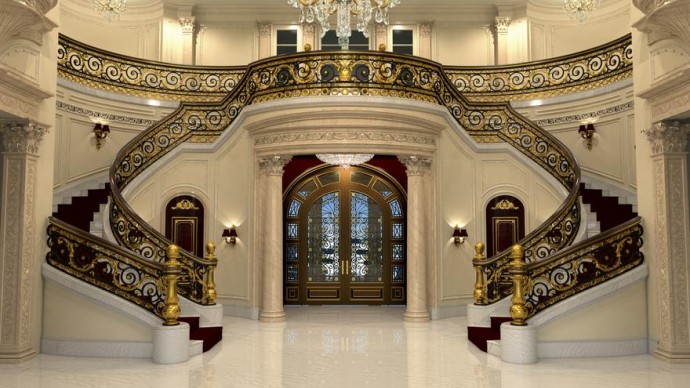 The vaulted foyer opens to sweeping marble staircase with steel-iron and gold leaf railings, which alone costs $ 2 million and took craftsmen over two years to complete.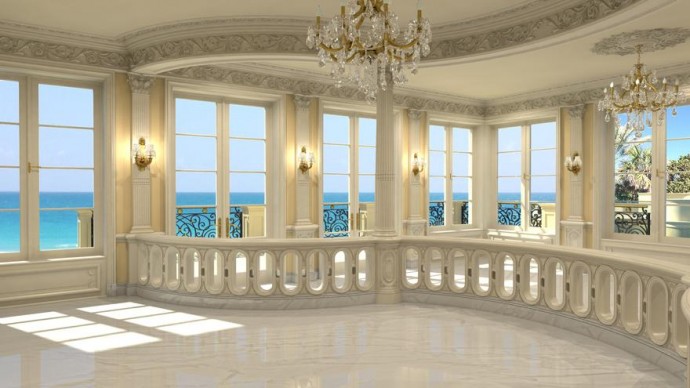 The grand palace features 11 bedrooms, 17 bathrooms, a bar and a lounge. Four of the bedrooms are master suites with own private Jacuzzis. It also comes equipped with nation's first in-home IMAX theatre with seating for up to 18 people. The living room comes complete with a high definition 3-D television set, and a 1,300-gallon aquarium.

The house has an infinity pool with LED lighting, water slide and swim-up bar set beneath a 12-foot cascading waterfall. A fire pit will be positioned in the middle of the pool. Suspended above it, an infinity-edged Jacuzzi pours down into the pool.

It will also include an indoor spa, massage room, gym, putting green and a subterranean garage with parking for 30 vehicles.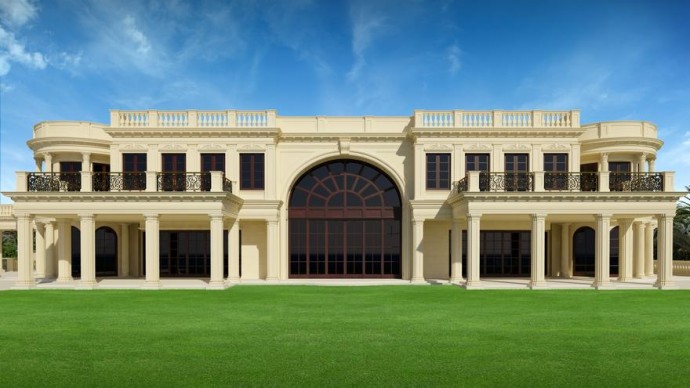 The grand palace is slated for completion before the end of 2015.
[Via – Forbes]