Living life king-size doesn't only refer to the pots of money one has stashed away in vaults. You really haven't lived your life like a crown-less monarch unless you have lived in a home that could put palaces to shame! The world's most expensive homes could be your next not-so-humble abode as these massive mansions are currently available to purchase. These out-rightly luxurious and dead-costly houses have it all from top neighborhoods of Los Angeles, Miami, Cannes, Paris, London, NYC, Singapore, and Hong Kong to estates big as towns and interiors that are nothing short of mind-boggling! Let's take a closer look at this list of the most expensive houses in the world listed for sale in 2020 and discover what makes them ultra-exclusive-



11. House in Jackson, $80,000,000 (Wyoming, United States)
Why go on African safaris or live in luxurious tents to explore wildlife when you can get the best of both at the Bar B Bar Ranch? This gated community, located North of the town of Jackson in provides Snake River frontage and splendid views of the Grand Teton and Jackson Hole Mountain Resort. We completely adore the warmth this chalet style home exudes which when combined with the abundant wildlife including elk, deer, moose–even the occasional bear makes for a natural paradise. The building was designed by renowned Jackson Hole builder RAM Construction and is creating quite a buzz in the American property market.

10. Mansion in St. John's Wood, $98,501,981 (London, United Kingdom)
An affluent London district, St. John's Wood cherishes an element of greenery at every turn. It is popularly identified as one of the top-notch, most desirable residential locations, not to mention one of the most expensive residential neighborhoods of London. The 87 Avenue Road mansion is nestled on a prestigious property that combines urban amenities with a classic exterior done in the true British style. The mansion is fully equipped with twelve-seat cinema to a state-of-the-art, biometric security technology room.

9. Villa in Théoule-sur-Mer, $106,668,815 (France)
This place is without an inch of doubt an architectural masterpiece located at the gateway to Cannes. Located a stone's throw away from Pierre Cardin Palais Bulle aka Bubble Palace, the avant-garde villa is a dream home that combines the best of interiors with unmatched sights of the Côte d'Azur. Designed by Jean Mus, this incredible home gives its inhabitants ample space (1.2 Ha of landscaped park), 50- meter by 30-meter swimming pool, spa with hammam, sauna, gym, and massage areas, and several amenities that will sully the spirits of luxury hotels.

8. El Rancho Tajiguas, $110,000,000 (California, United States)
You have to be incredibly lucky (and incredibly rich) to take up residence in one of the finest estates in the world. Santa Barbara's Gaviota Coast holds the mesmerizing and extensive El Rancho Tajiguas drawing together the realms of absolute luxury and innate natural beauty. Its exclusivity can't be compared to anything else, as nowhere else does one get to call 3,500 acres of extensive, cultivated, agrarian land flanked with hundreds of acres of orchards with active cattle range, home. The fact that is it positioned within the only, coastal, Mediterranean ecosystem in North America adds several zeros to its high-priced estimate.

7. Compound Mar de Amor, $115,000,000 (California, United States)
This oceanfront estate with a private beach in Malibu is accurately named Mar de Amor or Sea of Love. This not-so-small piece of heaven of earth sits on 2.6 luxuriant Oceanside acres. The house has its own private access to the beach and that's not its best feature. It's a beautifully designed home that uses innovative building techniques and materials, with seemingly endless floor to ceiling windows and a 20-seat home cinema. The residents of this palatial yet modern home can never get tired of the enthralling views of the infinity pool and beyond.

6. Owlwood Estate, $115,000,000 (Los Angeles, United States)
This Italian Renaissance-style property fills the largest compound in Holmby Hills. The majestic home was built by renowned architect Robert D. Farquhar in 1936 and is well-known not only for being a world-class house but for housing world-class people of the likes of Cher, 20th Century Fox chairman Joseph Schenck, and Hotel Bel-Air founder Joseph Drown. The home clearly encapsulates a Hollywood heritage in its iconic, nine-bedroom, ten-bathroom structure and the propinquity of the exclusive Los Angeles Country Club next door, only adds to the Hollywood charm.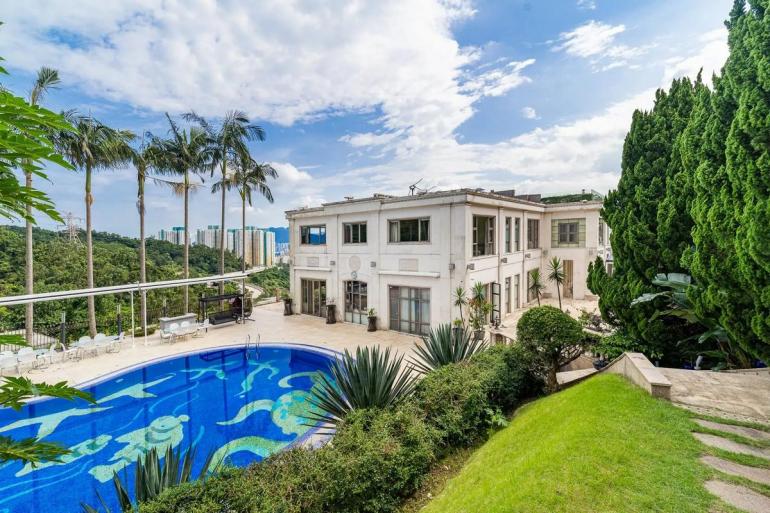 5. Fei Ngo Shan Single House,$126,447,533 (Hong Kong)
Certainly not an easy task to point out a particular thing about this classic style mansion located in Hong Kong that makes it deserving to hold a position in the top five of the most expensive houses in the world. The home has it all from excellent view of Victoria Harbor, extravagant interior decor that's further enhanced by floor to ceiling windows and a grand staircase, a large pool, and a hilly road that takes you atop the luxurious lifestyle away from the big, hectic city.

4. Gemini Estate in Manalapan, $137,500,000 (Florida, United States)
Occupying one of the posh parts of the planet, this unassuming Gemini Estate is a 15-acre, ocean-to-lake estate that stands out completely in Palm Beach. Its scale, high-end amenities, makes it a mega-mansion with more than 30 bedrooms. Gemini Estate offers mind-numbing 1,200 ft. of dune-lined beach on the Atlantic seaboard and 1,300 ft. of frontage on Lake Worth. Apart from unending space it brings residents an array of recreational amenities, like a swimming pool, PGA standard golf area, regulation tennis court, half basketball court, fitness center, and spa.

3. Palais Vénitien, $142,500,044 (Cannes, France)
Monumental columns and exquisite moldings contribute heavily to the grandeur of the Venetian-style architecture of the magnificent Palais Vénitien built on 2.4 Ha of land. Inspired by the architecture of Byzantium and Venice, this home houses a lake in the name of outdoor amenities. It also comes with a nightclub, wine cellar, and a prominent pool in the premises that are reminiscent of the spectacle of Cannes and the Mediterranean. One can expect nothing less of the home that ranks especially high on our 2020 list of the world's most expensive houses.

2. Authentic Italian Villa, $165,000,000 (California, United States)
Beverly Park holds several grand, magnificent properties with an average price of $22 million but this stunning Italian-style villa in Beverly Hills still manages to steal hearts and stand out. Among its multitude of jaw-dropping features, is a gate that opens to a 30- car, front courtyard surrounded by 40-foot tall, Canary Island palms, every imaginable amenity, exclusive access via its own street and high ceilings with large, formal gathering areas to small and intimate spaces. The sprawling mansion spreads over 20,000 sq. ft. in the most high-end, residential real estate in Los Angeles.

1. Casa Encantada, $225,000,000 (Los Angeles, United States)
Casa Encantada aka the most expensive mansion in America is a Georgian-style, 1930s, Bel Air mansion occupying eight acres above the Bel Air Country Club. it looks like a movie set with the grand reception hall with its epic, 18-foot ceilings, lighted tennis, and basketball courts. It naturally has at least 60 bedrooms, a bowling alley, and an ornamental helicopter. Created by renowned designer T. H. Robsjohn-Gibbings, the most expensive house in the world is being considered by the richest man in the world to be his LA accommodation. The man is Jeff Bezos who can afford the eye-watering price of the home that offers it all- every possible luxurious amenity and occupying the most advantageous and coveted position.
[Via: James Edition]