The epitome of luxury living is New York City's spectacular, 'The One Above All Else.' This $250 million seven-bedroom apartment has redefined opulence and secured its spot as the tallest residential complex globally, making it a true standout in real estate. The apartment's listing agent roped in ace YouTuber Enes Yilmazer to capture an exclusive and comprehensive tour of the luxurious space. Brace yourself for a thrilling adventure as you join Enes on this journey through the clouds-



The world's most expensive and tallest residential unit spread across three stories stands 1550 feet above new york, with a whopping 17,000 square feet of interior space. An additional 1443 square feet of outdoor area envelopes the penthouse.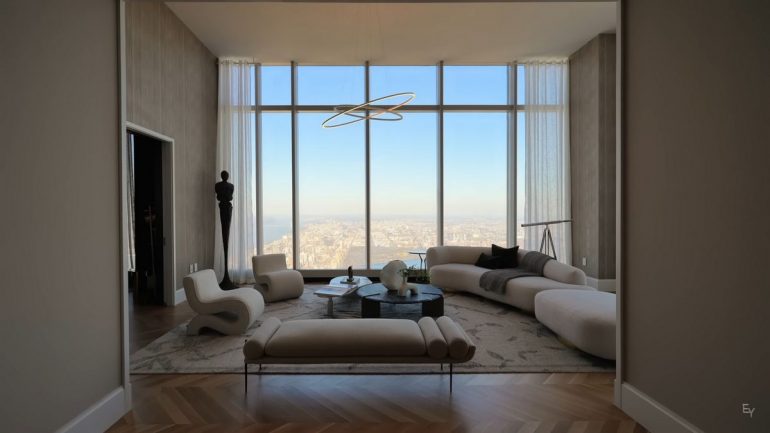 The video showcases the first impressive area of The One Above All Else at Central Park Tower- the observatory and office on the first floor. It boasts unimaginable views of the entire Central Park, Hudson Yards, and East River. The area is minimalistic, crisp with a telescope and some signature pieces. The moon is undoubtedly closer to the tallest residence globally.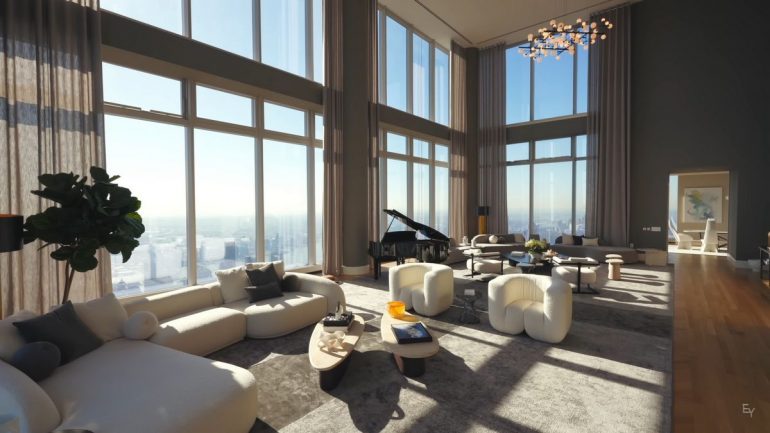 The grand saloon is unlike any other space, with imposing 27-foot high ceilings, a massive 1500-square-foot space dotted with plush furnishings, and lounge areas with the most exceptional views. The uninterrupted vistas reveal Central Park's upstate area facing North in all its lush glory.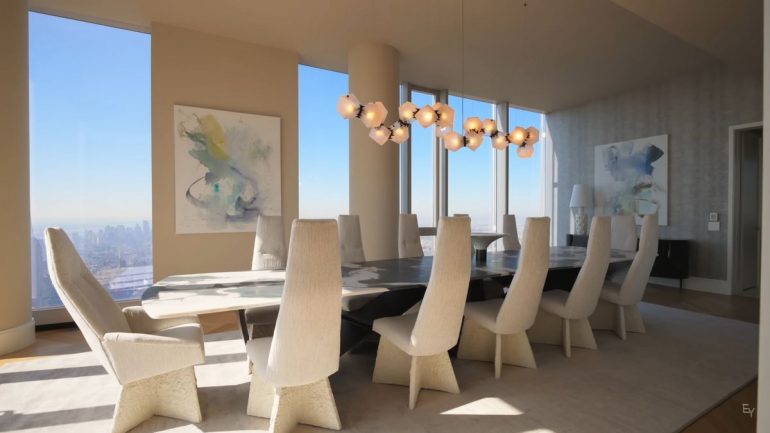 The formal dining area is a cozy but elegant space inundated with ample natural light owing to nearly 30-foot high windows. Seating 12, the table made of panda marble looks glamorous, with a chandelier and a lower ceiling to make the area seem more intimate than the grand saloon.

The massive kitchen glistens like a gem in all lacquer cabinetry with a spacious inland in the center with quartzite countertops. The well-equipped kitchen includes two dishwashers, a wine fridge, Miele appliances, built-in freezers, a refrigerator, multiple cooktops, and an espresso maker.

An informal dining room is located near the kitchen for a small family. It quenches your thirst with unparalleled views of Hudson Yards, but a fresh pancake couldn't hurt! Pristine white furniture from Brazil looks ethereal in the well-lit space.

Enes rightfully describes the structural staircase as an incredible addition. Not only does the winding structure corkscrew the entire property height and connects all three levels, but it also looks like art in motion.

The observatory is connected to an imposing office fit for a billionaire with an oversized chair, an even larger desk, and open shelving at the back to display one's accomplishments.

The primary bedroom of the vastest penthouse in the world flaunts a commodious seating area, two primary bathrooms complete with marble floors, walls, counters, and walk-in showers with chrome fixtures! Everything that makes a space opulent is incorporated.

A bathtub on the 130th floor of the Central Park Tower overlooking what could easily be dubbed the most fantastic view on the planet. Now, what's not to like about that?

The primary bedroom on the second level is an exceedingly elegant space, with matching seating, hardwood floors, a massive king-size bed with complementing padded back wall, and not a bird interrupting crystal clear New York City views!

This voluminous space is a ballroom on the third floor spanning 2000 square feet with 27-foot high ceilings and windows. Occupying the 131st floor of Central Park Tower, the ballroom is ideal for hosting 300 people for formal dinners, fundraisers, and shows, which a billionairess's life has no dearth of.

To cater to a party of 300, the third-floor houses a chef's kitchen complete with all steel cabinetry, unending islands, or workstations with heat lamps.

It is difficult to fathom that 1550 feet below lies the bustling, bursting-with-noise New York City. The 1443-foot outdoor space is a sanctuary of peace, quiet and beautiful sights. 10-foot triple-paneled glass railings ensure safety, keep blustery winds at bay, and let you revel in your prized possession.
Take a look at the video here –