There is no shortage of ultra-luxurious homes or rather mansions in Los Angeles' tony Bel Air area. But there are a select few that are incredibly cool as well. And one of them is the Orum residence, a glass propeller-shaped mansion that Opendoor CEO Eric Wu just snapped for $32 million.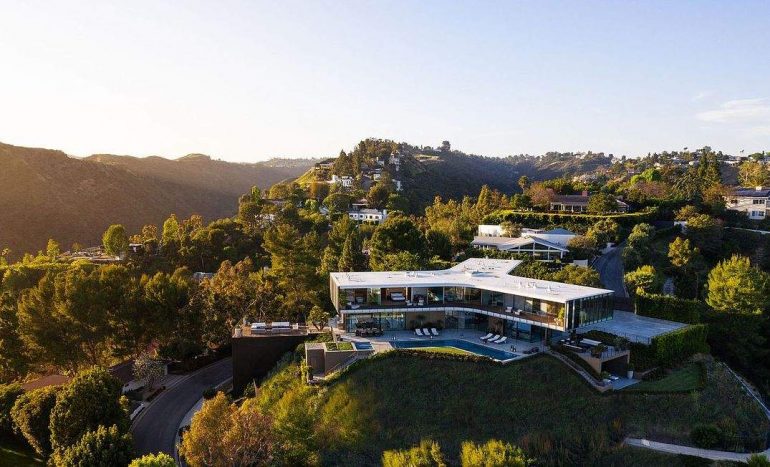 Perched on top of the Bel Air hills, the luxe home is designed by renowned Los Angeles architect Zoltan Pali. It is touted as one of his best works and resembles a giant glass airplane propeller, with three distinct wings extending out from a single central node.

The residence features nine bedrooms and ten full baths alongside a swimming pool lit by LEDs, an outdoor kitchen with wraparound patios and two fire pits, a sprawling motor court, and a separate grassy lawn for entertaining guests.

There's also a cedar sauna, a massage room, a 1,000-bottle wine cellar, a home theater with Dolby Sound, a state-of-the-art automation system with the lights, HVAC, televisions, sound, and motorized sliding doors controllable via touchpads.

On the inside, the house is a luxury haven. It boasts striking décor mixed in hues of whites, grays, and taupes. A central "floating" staircase connects to the penthouse level, while a basement-level garage is joined by two elevators that provide access to the three stories.

It was built on spec by Thai heiress and real estate developer Dang Bodiratnangkura, wife of Olympic figure skating champion Evan Lysacek. She paid $6.1 million for the property in 2014 and then demolished the existing home to build again.

Despite its grandeur, however, the 18,850 square feet home struggled to find buyers until its recent sale that was completed for a 43% discount on the original quote. Lucky Eric Wu, we suppose!
[Via: Dirt]