Luxury Launches has learned that Ivanka Trump and Jared Kushner recently acquired a magnificent waterfront South Florida home. The home is spread across 8,510-square-foot and includes six bedrooms, among other fabulous things unfolded below. The mansion that was purchased for $24 million resides on 36 Indian Creek Island Road. Indian Creek, a gated, guarded island north of Miami Beach, is home to several billionaires and celebrities like Carl Icahn, billionaire hedge funder Eddie Lampert, Hotels.com co-founder Bob Diener, and developer Jeffrey Soffer. The couple has indeed landed a great home in Billionaire Bunker, as called by Forbes. After learning the couple has earned a staggering $640 million not too long ago, paying $24 million for the new home is chump change. Last year, the power couple bought a $31 million plot of land on Miami's exclusive Billionaire Bunker. This private 300-acre island has only 36 home sites, one of which now belongs to Ivanka Trump and Jared Kushner. Let's take a look at the gorgeous house: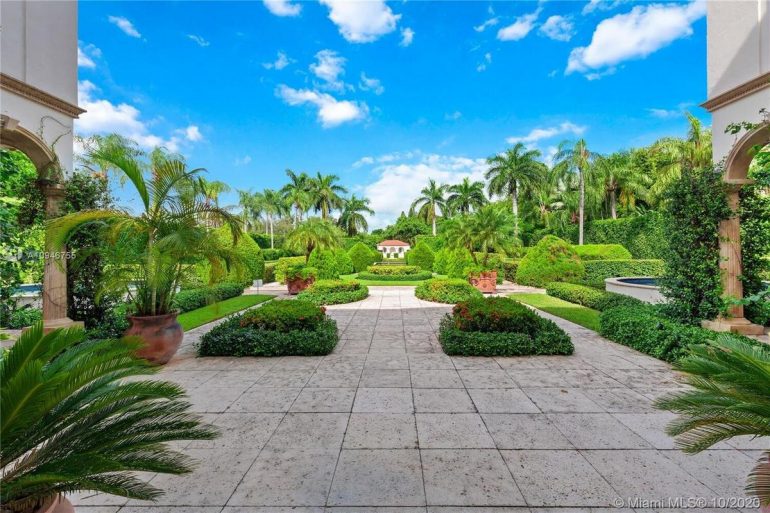 This magnificent, remodeled neoclassical masterpiece spread across a 1.26-acre lot includes manicured landscaping, pools, jacuzzi, and patio built in 1994.

The home is replete with several reflecting pools and water bodies in the backyard of the French-style dwelling.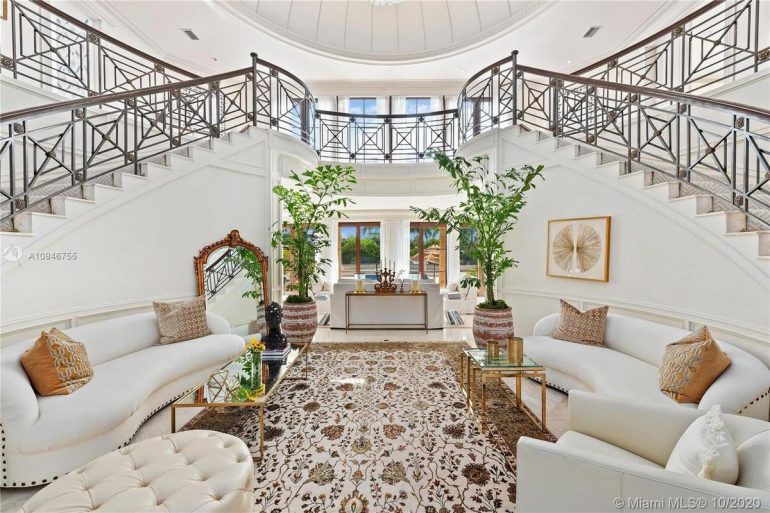 Inside, you will be met with grand 26ft high domed ceilings, an opulent double staircase, and plush carpet that liven the room.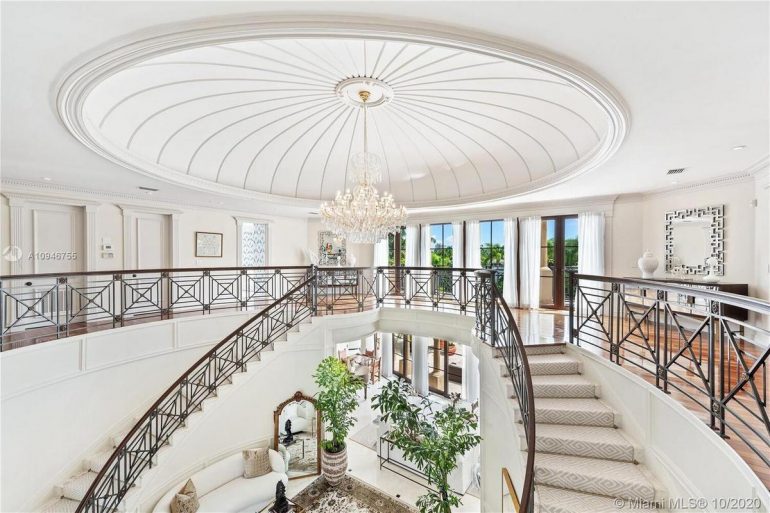 A crystal chandelier dangles from 26-foot domed ceilings over a Cinderella staircase. According to the listing, the foyer leads to entertaining areas, a screening room, a wood-paneled office, a gym, and a primary bedroom suite with two full bathrooms.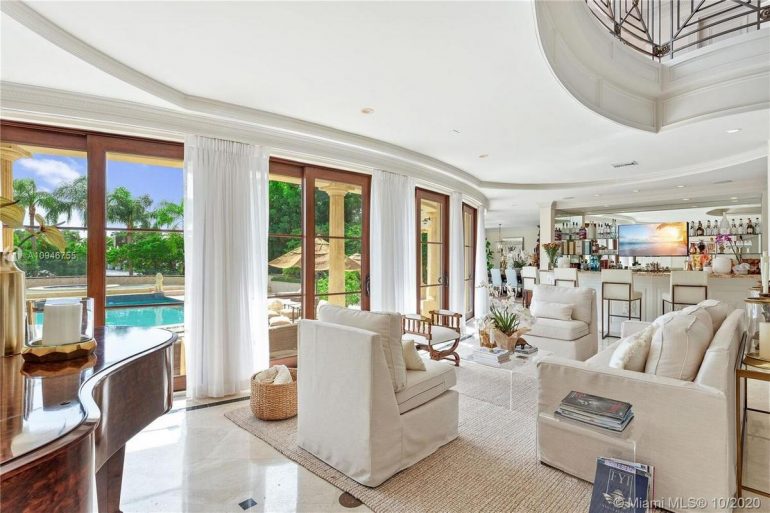 The main living room, accessible from the foyer, leads to the backyard. It comes with large French windows that give a clear view of the expansive water pools.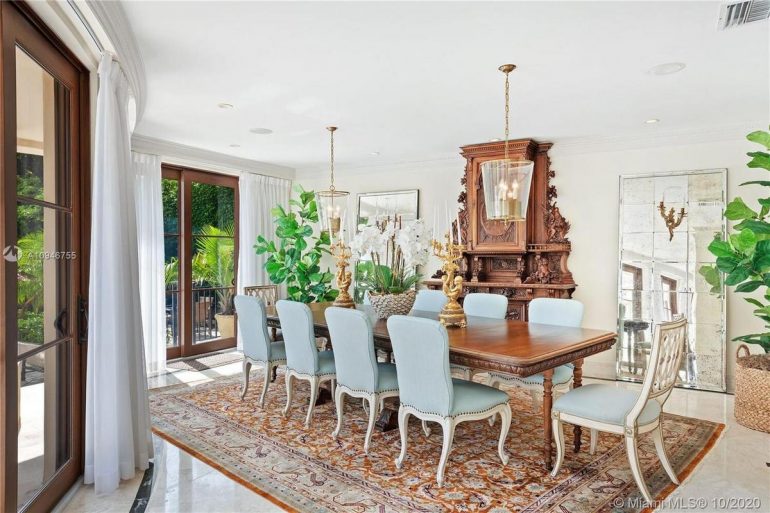 The lavish home comes with an impressive dining room that looks palatial with an ornate wooden mantel. Breezy blue hues are spotted on the dining chair, complemented with matching curtains and a majestic carpet.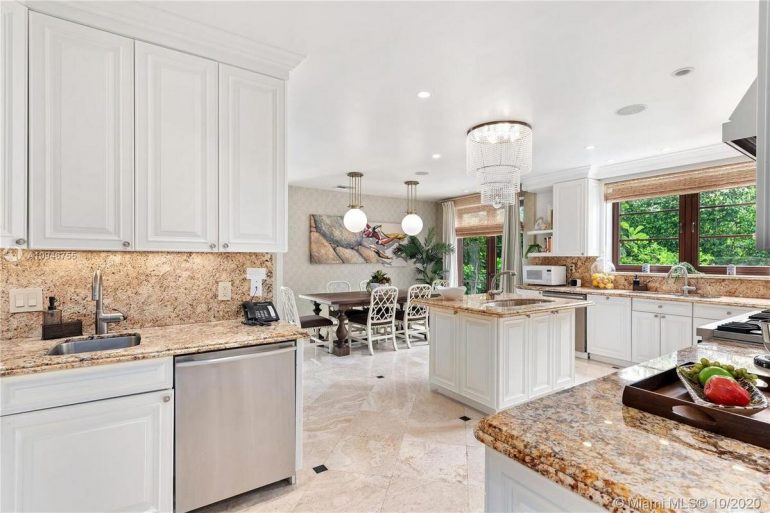 Opulence is the theme of this mansion which is consistent even in the plush kitchen. A fancy chandelier is prominently displayed in the kitchen.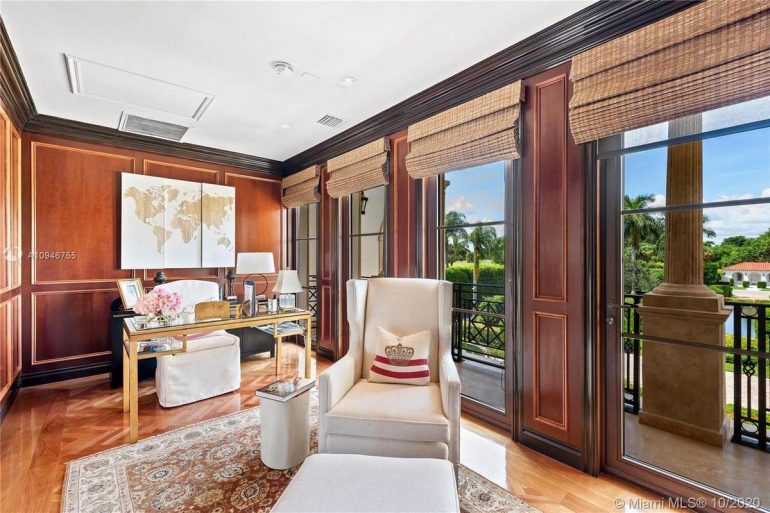 The grand wood-paneled office comes with comfortable seating. Seen at the back is a desk next to a balcony where one can stroll for a break.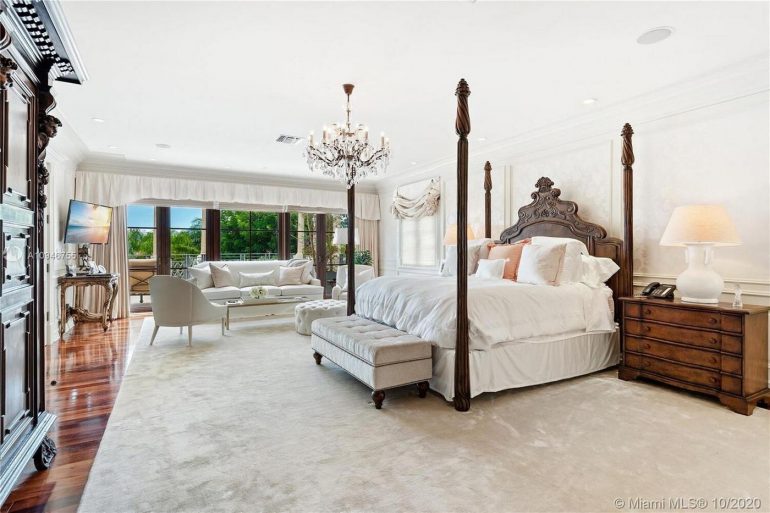 The above image displays the generous primary bedroom suite complete with a poster bed, Art Deco-inspired furniture, and a separate lounging area.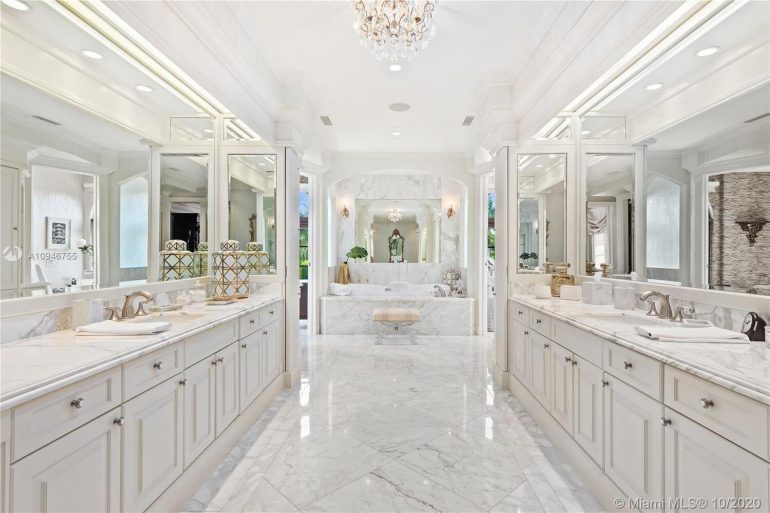 A highlight of the primary bedroom suite is shown above- two full bathrooms. These intricate, all-white interiors will take you to Rome and back on every visit.

A house so big will undoubtedly have a huge walk-in wardrobe. Seen here is an extended, unending cabinet with all-wood interiors and mirrors.
(All images via Compass.com)