Eat your heart out Mukesh Ambani as India's liquor Barron Vijay Mallya's new home at Kingfisher Towers-Residences, UB City, Bengaluru will be ready in the next three years. As opposed to the $1 billion Antilla, the "White House in the sky" will stand 34-story tall on a site that used to be Mallaya's ancestral home on Vittal Mallya Road. The cherry on top is a stunning penthouse. The tower has 82 residential broken into three blocks, from which the Mallaya family holds 10. Of the balance 72 apartments measuring at 8,000 sq ft each, 30 are held by Vijay Mallya.

The house has 5 entry points, but for now, only two would be used. The second entry leads to a 39,000 sq ft private garden, Mallaya's personal lobby, a home office, and a private lift to the penthouse. Prices start at Rs 20 crores ($4,053,750) and increase with floor rise. While others can park 3- 5 cars, Mallya gets access to the house as many as 100 cars, alongside an area to put up his vintage car collection.
You wondering about the other four storeys? Well, welcome to his penthouse! The once acre room spans over three blocks and is split in two levels. The place boasts of a wine cellar, an indoor heated pool, an outdoor infinity pool, a gym, a salon a spa, and helipad to start with. Talk about king-size life!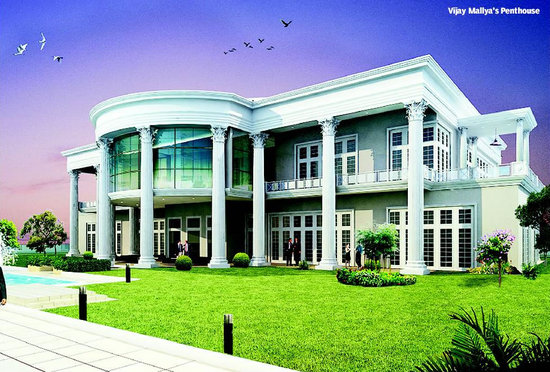 [TimesOfIndia]