The world is battling climatic changes and trying to salvage the damages daily. Those who have displayed their ignorance by dismissing climate changes and concerns as a myth need to know that many people in the world are already making changes due to its dangerous effects. Waterbuurt is a state of the art residential development in Amsterdam. What makes it state-of-the-art is the fact that it is a colony of floating homes. Nearly 100 individual floating homes are moored on Lake Eimer, not as houseboats but actual floating houses with jetties in tow. Designed by Dutch architect Marlies Rohmer, the largest floating district in Europe offers a variety of housing types, that are basic, not luxe but very comfortable nonetheless. built at a shipyard about 65 km north of Lake Eimer, the floating homes are moored to steel pylons, so they only move vertically with the changing tide. With the ice cap melting, and Two-thirds of the Netherlands' population living below sea-level, living on the European country's water is certainly much safer than living on land. Aquatic architecture visionary Koen Olthuis said, "It's already safer to live on water if you live where flooding is common. And most big cities are already densely populated, and the square-meter (housing) prices are rising rapidly… and water is not as expensive as land." Let's explore the extraordinary homes made for extraordinary living conditions that are soon to become commonplace:

Waterbuurt is built at a shipyard about 65 km north of Lake Eimer and then transported through a network of canals. Though it is still a work in progress, some homes are already occupied by residents.

Built atop immersed concrete platforms, the floating homes comprise of a light steel frame and wooden walls and paneling.

The kitchen and dining room are positioned on the raised ground floor, while the main living area and the outdoor terrace are on the top level.

The bedrooms and bathroom are spacious and designed using monochromatic schemes which adds to the openness of space. These are located on the lower floor, which is partially flooded.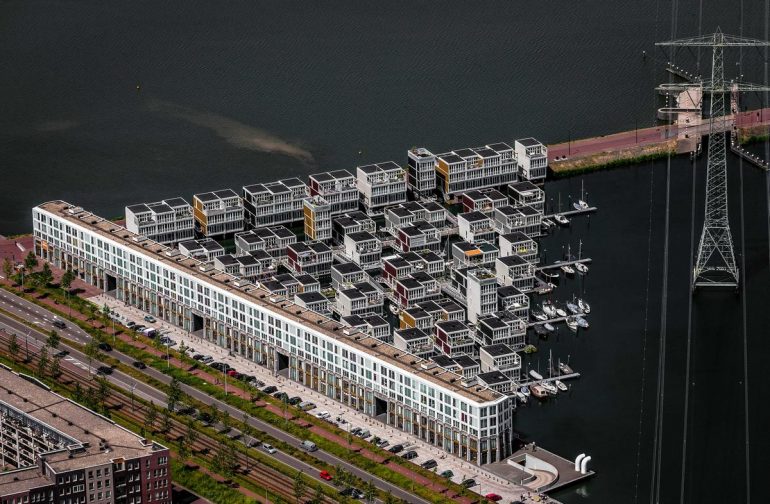 Residents can grow food or other plants on the green roofs of the floating homes. The roofs also collect rainwater, used for flushing the ultra-efficient toilets.

The floating homes are all interconnected in a network so neighbors can trade energy when one household needs electricity and another has extra.
[Via: Oddity Central]