It only takes ten minutes by jeep from Al Sahel Villa Resort where I'm staying on Sir Baniyas Island, to get to the Desert Island Resort & Spa – the abode of Anantara Spa. The spa rests in a verde oasis and is a five minute walk along the cobbled path from the hotel reception. The complimentary drive among the three Anantara resorts makes life real easy if you plan to dine at the various resorts on the island, undertake activities or go on cultural tours. I certainly enjoy the ride as I see gazelles, peacocks and hyrax having free rein as the jeep passes them at 30 km/hr.

The blue skies and the greenery on the grounds plus Arabian touches in the form of lanterns demonstrate the efforts that the hotel resort has taken into making their visitors feel welcome. What should have taken not more than five minutes to walk to the spa ends up as long as ten minutes as I take time to smell the flowers – literally. I then step into a piazza with palm trees standing proud and I hear the sound of water trickling somewhere – soothing to the ears. It certainly feels as if I'm back in Thailand as the eight year old girl I was then. I'd already imbibed the essence of Thai hospitality at such an early age and so I was glad to resurrect those memories right here at Anantara Spa. Golfie, the spa receptionist opens the spa entrance door and greets me with the smile. I say, "Sawasdee Kha," taking her by surprise, if only for a minute.
Golfie checks me into the spa, asking the usual questions about health and allergies. Thankfully, I don't have any allergies. However, due to spending a lot of time at the laptop writing up stories or spending time interviewing people at trade conferences, I know that I need the spa therapist to focus on my neck, shoulders and lower back. A tray with a cool towel and a cool ginger tea beverage arrives. I'm not so much a lover of cold drinks but granted that it's hot outside, the ginger tea is just the ticket.
What I like about the spacious reception area is that it's pervaded by natural light from all sides. The neutral interior décor goes well with a touch of Thai as seen in the fuschia coloured flowers called Adenium sitting pretty in glass water bowls. In my opinion, the neutral shades help very much in helping me get centered, a mental preparation that I indulge in before any spa treatment.
For this visit to Anantara Spa, in addition to the Anantara Signature Massage, I've requested for a body scrub treatment which I've paid for. Body scrubs, for me, represent the essence of heaven right here on earth especially when the treatment is performed by an excellent spa therapist.
I note with interest that apart from the internationally renowned Elemis products that I've already spotted in my villa's bathroom on the island, Arabian themed natural beauty products from the Les Sens de Marrakech line are also available at the spa for purchase. Think natural body milks spiked with mandarin, musk or verbena essential oils from Morocco.
Golfie then brings my attention to four different scrubs that I can choose from for my exfoliation treatment. As I'm seasonally sensitive to fragrances, it's important that I try each scrub on my arm.
Scrub 1) Lime and ginger scrub – it contains coconut and sweet almond oils but I'm guessing that the bergamot oil overpowers them; the result is a light waft of fresh citrus in a subtle floral fragrance. I go for this scrub blend.
Scrub 2) A scrub from Frangipani flowers in Tahitian monoi oil
Scrub 3) Sahara desert scrub with argan oil
Scrub 4) Ground argan seeds and shea butter scrub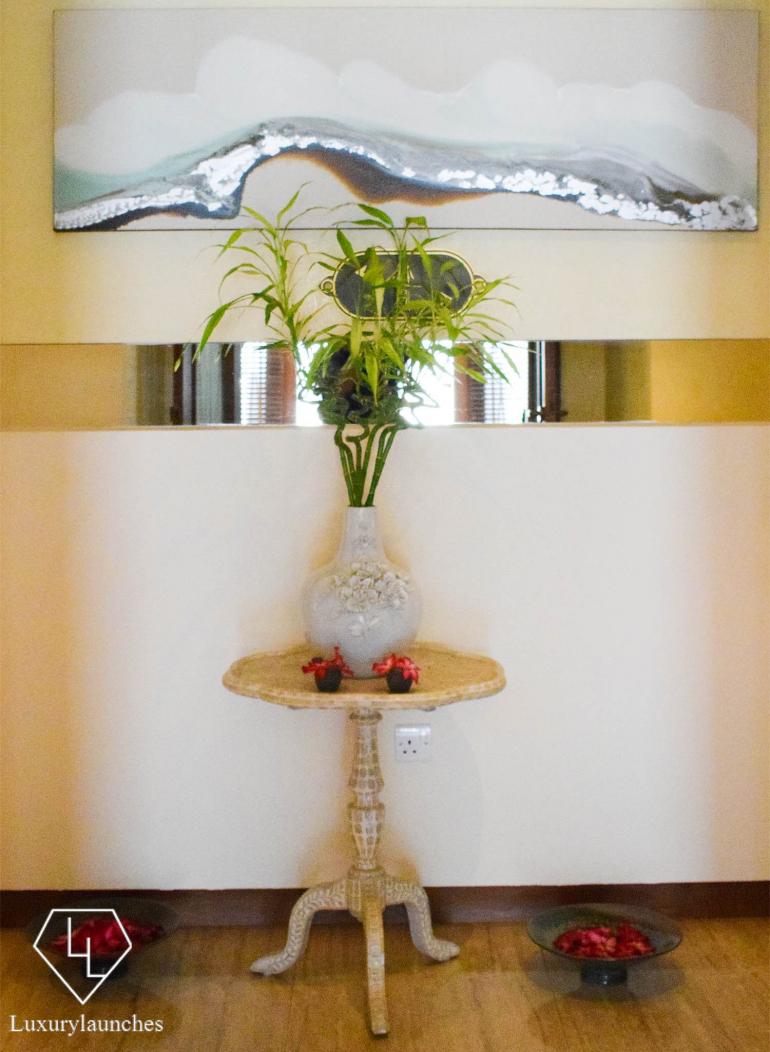 As I'm led to the changing rooms, I dwell upon the fact that for the next two hours, I'm in good hands of trusted staff at Anantara Spa. I place my belongings in the locker, don a towel and head to the steam room for ten minutes. The steam rooms for men and women are separate as are the relaxation rooms.
As a backgrounder, Anantara Spa on the island has four spa suites that include two couple's rooms. My spa therapist, Rita, leads me to my room through a long corridor where the walls are actually wooden panels with Arabian patterns through which fresh air from the outdoor gardens passes. The spa room itself is spacious and when you open the shutters, you have a magnificent view of the sea with a green hedge that is flowering in the spring time. It's a self-contained room with its own shower area and bathroom. Touches of Thai are seen in the room, following on from the décor seen at the reception. After Rita lights the candles, I'm all set for bliss.
After taking a seat, I dip my feet in the warm water that she's swirled in a bowl. Scrubbing sea salt into my feet, a light foot massage and a peppermint spray later, my feet already feel fresh. I'm now led to the bed that has been draped with a Thai sarong fabric – a beautiful eggplant and burnt sienna colour with little flower prints.
I usually find the application of body scrubs quite messy and abhor it when I'm all sticky. So you can imagine my surprise that 45 minutes later, I've enjoyed every single minute of the scrub as her fingers move in circles gently all over the body. After a quick shower, I return to the room and once again I'm amazed that's she already changed the bedding and is ready to start the treatment.
For the Anantara Signature massage, a warm rose oil blend is used. I usually prefer lavender oil as I do want to feel relaxed, but I figure out that the fragrance of rose oil right after a lime and ginger scrub might be more favourable to my olfactory senses. One thing about Rita – she may be petite but she knows exactly where to apply pressure with her fingers, elbows and palms and lower arms. I usually prefer soft massages so that I can drift off to a light sleep. But as I have neck and shoulder knots thanks to incessant laptop use, I allow her fingers to dig deeper into the problem areas alternating with the power of her elbows running from the lower to the upper back. I also find my body being wrung into daring stretching moves – I'm always surprised how flexible our bodies can be. I might just be inspired to take up yoga!
After yet another shower, I head to the small yet comfortable relaxation lounge which has access to the beach. It's too hot to walk bare foot on the pavement that leads to the sea shores. With some ripe dates and hot ginger tea to keep me company, I'm content. I doze off for a while till a customer walks in to do her manicure and pedicure in a little room situated next to the relaxation lounge.
Truly rested and energised, I request Golfie to arrange for transport and the jeep takes me back to Al Sahel Villa Resort where I enjoy the rest of the day on the grounds, watching peacocks call out to fellow peahens, before a light dinner African style.
Where: Anantara Sir Bani Yas Island Resorts
12452, Al Ruwais – Abu Dhabi
United Arab Emirates
Phone: +971 2 656 1399
Note – The critic was invited by Anantara Sir Bani Yas Island Resorts. But all the opinions expressed herewith are her own.