From our endless stories on luxe and countless accounts with opulence, there is one ballooning tale that hasn't been told yet. It is of the time our fates encountered the Balloon Adventures Emirates, touted as one of the most experienced balloon companies in the world (we were about to find out why). As if the majesty of Dubai wasn't enough, we rose above its desert on a warm October morning in one of the world's largest hot air balloons to bring you our very own enchanting experience. So read on to learn about it, or better still, make your own soon. And if you have, make one again, we say!



So close, yet so far from the glitz and the glamour of the city of Dubai, the serenading trip starts at Skydive Dubai desert campus. Located on the Al Ain highway, it is a 30-minute drive from the Burj Khalifa and next door to the world-famous Dubai Desert Conservation Reserve, home to many indigenous species like gazelle and oryx.
We were glad to know they pick guests up from their hotels. 4.30 a.m. isn't exactly a time when you'd want to wander Dubai in search of a giant balloon (although, between us, I'd have done that too). After a 45-minute adrenaline-charged drive to the Al Ain highway, we reached the ballooning site. And were greeted by Captain Mike. The Captain is a veteran who was to pilot our balloon. His years of experience glowed in his eyes and comforted my first-timer nerves tremendously. And yes, that's correct, 'pilot.'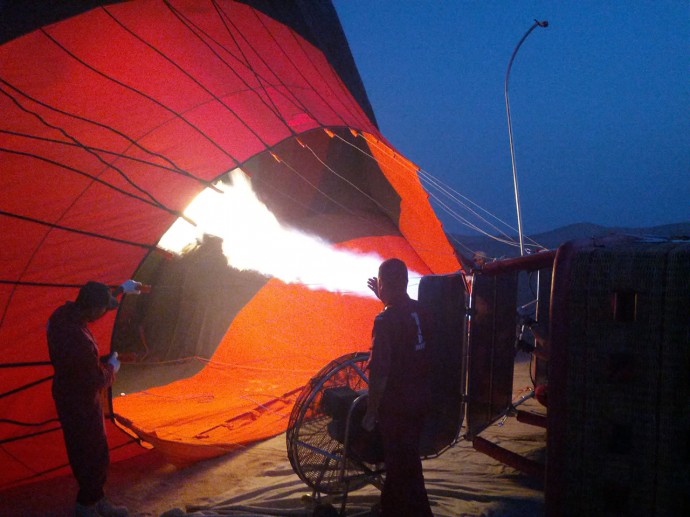 It is an incredible feat of engineering, that balloon, and it was being inflated in the middle of the desert with the help of a lot of hot air and two huge fans. For a ballooning novice, that is quite a sight, I must say! So is the one with the red dunes, for anyone who hasn't witnessed them. The majestic mounds twinkled in the glorious haze of a desert dawn.

Our balloon, having been inflated to its all its glory, was now ready for the journey, and so were we. So after safety and boarding instructions from Captain Mike, all 23 of us stepped into the basket and settled along with six cans of propane. We had no inkling of what was about to come next. No cheesy film and its countless action/ romance sequences aboard a balloon can prepare you for such exhilaration.

With a whoosh of hot air into the balloon, we began an ascend that would be marked in our adventure-loving existences. With the slightest of climbs, the view of the desert expanded. The scenery could best be described surreal as we got closer and closer to the sun that had barely awoken. As we gradually reached 4000 feet, it expanded further still. It was a clear day with zero fog and using his time-honed expertise, the Captain neatly navigated. Now the sun, in its warm morning glow, simply seemed picture-perfect.

With just as much adeptness, Captain Mike heralded in our descent. As we glided lower, we almost brushed the sand dunes, hovering just a couple of feet above them. It must've been our lucky day because as the distance to the ground grew, so did the sightings on the landscape. So much so that we even spotted Gazelles, cheekily gazing and then making a run for it as they noticed our presence, the sound of the burners reverberating in the desert's vast emptiness. To us, however, we weren't merely human but herculean, flying high above everything else. The Hajjar Mountains were behind us, and emerald green oases underneath and nothing else but magnificent views and a wave of newfound inner peace.
After 60 minutes in the air, the end finally came. And even though we knew it would, it almost felt like we hoped it wouldn't. The hope grew stronger with the winds, which began interfering with our landing. Still, we touched the ground with Captain Mike's instructions, only to bounce back until the ground staff safely secured the balloon.
Stepping out from the basket, light refreshments awaited us. As did the memories that would revisit us each time we recount our tale and even when we don't. What makes it better, though, is the fact that a tiny HD video camera records the entire trip from the side of the balloon and is then available for purchase. And that we can always return when we want to be lifted in the air and fly again as we did! For AED 995 ($270), all we could say is the trip was worth it! Fun was had and pondered over as we drove all the way back to the plush confines of our hotel.
To Splurge – Balloon adventures also offer bespoke ballooning experiences, so if you want to pop the question to your loved one at 4,000 feet or raise a toast with your colleagues in mid-air,, they can make it happen. Rates start at 11,000 AED ($ 3100).

Captain Mike strikes a pose.

Our ride

The tiny HD camera records the entire flight.