My trip to Bhutan began at the God's own country (Kerala in India), to probably God's winter residence in the hills. The country is like a beautiful mountain lass with no makeup.
Bhutan is called the land of the thunder dragon, but there is nothing thunderous about it. In fact, there is nothing that is violent, aggressive, evil or formidable about the place. Blankets of lush green coniferous trees cover the misty mountains and there is not a sound too loud, inappropriate or disturbing to be heard; only the wind whistling through the tall trees and water gushing over riverbeds. And if you try to listen more closely, you could hear the haunting humming of a thousand monks praying.

If this may sound too poetic, perhaps a visit to COMO Uma Paro is due. This mountain resort opened in 2004 and sits on a total area of 38 acres site, "atop a gently sloping blue pine tree-clad hill" overlooking the Paro valley with its town settlement.

Like anything that is fiercely beautiful in nature, there will be something that is equally frightening. In the case of Bhutan it is the country's airport which has the most dangerous landings in the world. Luckily, on the day we reached the weather was clear and cool, with slight showers.
On landing at Paro, my friend and I took a moment to fill our lungs with air so fresh, it started to nudge our sleeping souls.

We were welcomed at the airport by Heavenly Bhutan (our ground handler) representative, Dechen, a cheerful lady who promptly helped us with our bags and rushed to the waiting van.
Our journey from the airport to COMO Uma Paro was almost as poetic. The grey skies and silver running brook (the trout-filled Paro Chu River) were in perfect harmony with the green trees that spread like a bed sheet over the hills, part of the mighty Himalayas. We noticed how sparsely the land was populated; in man, beast and homes. We across the houses, school kids, stray dogs, solitary stupas, and paddy fields and began to ascend a winding road, uphill.

After a few turns, some sharp, we reached the gate to COMO Uma Paro and briefly stopped at the hotel entrance. Men clad in the traditional gho (every man, woman, and child in the country wear their traditional dress – ladies in the khira and men in the gho) rushed to us to welcome us to what could be easily established as – 'paradise'.
We parked at the front entrance and were warmly received by hotel staff. We glanced around the property and could only sigh. Well-spaced cedar trees in perfectly manicured lawns. There were garden benches that added to the charm – like a woodland from a classic English movie.

Inside the hotel, the lighting is dim. To one side is the reception, while the other has a large photograph of the fifth and current king of Bhutan Jigme Khesar Namgyel Wangchuck, and his young wife, Jetsun Pema. The furniture is rustic, wooden, and very earthy.

While we waited to be checked-in, we were offered a cup of ginger tea. It gave us a jolt in the first sip – absolutely refreshing for the weather and our tired jet-lagged muscles!

From the lounge, the open courtyard is in view. It has four stone walls with small wooden windows surrounding it, and a tree at the center. When it doesn't rain, people can enjoy a meal here.

On the way to our room, we pass a corridor that has several windows offering a view into the courtyard. Here we could see the stark classification of traditional Bhutanese architecture with traces of contemporary designs and utilities.

Our stay was at a Valley View Twin Deluxe room. Two cozy beds, well-furnished, basic amenities, a TV, an equipped closet, and a spectacular view were what we checked into.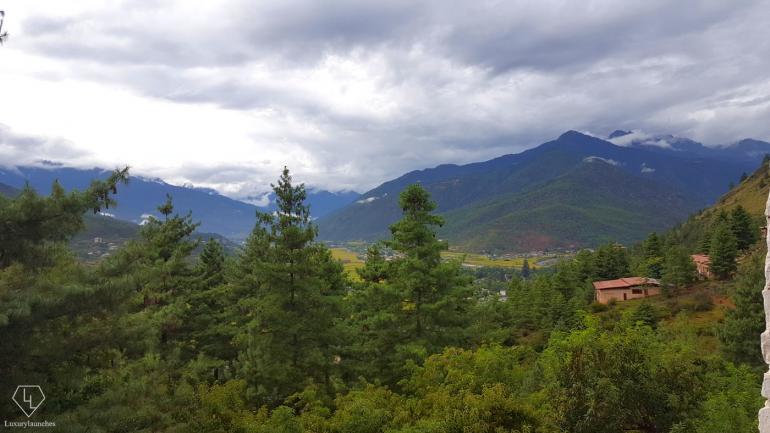 There were no paintings in the room, none that were mounted on a frame that is. However, there were paintings done on the walls, like this artwork above the beds. This is a common trait in hotels around Bhutan, having a work of wall art in lodgings.

Another common art is this kind of cloud-like pattern.

The room is furnished with everything necessary for a comfortable stay. It also includes a few added amenities that provided a personal touch like a dedicated place for an umbrella, lest you travel without one, and considering the climate of Bhutan you could expect rain at any time. Also, note the artwork in the mirror frame.

There are also yoga mats in the closet. You have the choice of doing your own exercise or attend group classes.

The bathroom had a shower and a tub. The latter will come handy in sinking your sore muscles after the epic hike.

The toiletries are from Invigorate. And how! It has a really strong eucalyptus scent to it – loved it! It is a product range from COMO Shambhala and uses eucalyptus, geranium, lavender, and peppermint oil.
That night sleep was quick, peaceful, and relaxing. If I remember correctly, the dreams were sweet too. Majorly the view, the air, and the scenic drive, but also the brilliant meal we enjoyed at a local joint in Paro Town.

The following day was going to be adventurous – we were going to trek up to the Tiger's Nest, Taktsang Dzong. This is the most famous landmark of Bhutan, a monastery perched on a hill at a height of 3100 sq ft. The hike is tedious and can take a long while depending on your pace and stamina. My climb up was challenging, but successful.
However, climbing down was painful as my knees decided to put up a strike. This inconvenience paid a heavy price as I returned to the hotel that evening and fell into a spell of excruciating pain – so much that I couldn't walk, sit, sleep, or move. I even feared having to see a doctor. But that was not needed, because we were checked in to good hands.

Conventionally, a hotel will have good service or bad service. Good if they are prompt, pleasing, and friendly, and bad if they are sloppy, curt, and a novice. At COMO Uma Paro, there is no "service" as much as there is the feeling of being home and around with people who take care of you. Having informed the front desk of a possible emergency to the health center, my friend quickly noted to request a hot water bag. They were prompt in bringing what we needed and asked of us to ring them for any further assistance, even checking up on me to see if I was comfortable and recovering well.

This was the most endearing feature of the hotel. Its staff did not smother us with wide smiles or buttered chit-chat, neither were they cold or arrogant. They were just minding their own business while ensuring that we were comfortable and enjoying our personal space. That was an absolute score and many kudos to the team, in particular the ones on duty. This was much unlike my attempts to meet and speak with the hotel's executives.

We dined in-room the second night, having ordered a margarita pizza – which was quite good.

The next day we decided to order breakfast as it would have been lunch by the time I got dressed and hopped to the restaurant. However, the all-day dining Bukhari, where we had breakfast the first day, offers a treat to taste and the eyes. It is almost a full circle offering a breath-taking view of the mountains, the valley, the Paro River, and parts of the property.

The breakfast spread was minimal but sufficient. While the table offered the cold menu, you have to place your order for hot dishes.
Also available is "healthy and revitalizing" COMO Shambhala meals and fresh fruit and vegetable juices and extracts. COMO Uma Paro is "committed to developing wildflower meadows, organic gardens, using oak, hemlock, fir and maple saplings", which the hotel company believes attracts an even greater number of birds than the existing blue pine forest. COMO Shambhala an award-winning wellness concept was developed as a sister brand to COMO Hotels and Resorts.

The menu offers an interesting list of locally-sourced organic dishes that put health at first. While I understand the health benefits of quinoa porridge with nut milk, I left it untouched after my first spoon.
The hotel also has The Uma Bar that offers all-day dining and offers both alcoholic and non-alcoholic drinks.
COMO Uma has a few quaint charms, little things that you cannot help but stop to admire.

The main building of COMO Uma Paro was the home of a nobleman. Evidence of this history is seen in little details, easy to miss if you are not too observant. The rooms are as simple as they used to be before automated access systems. Each key had a key chain attached, with a fish stuffed with wax. Strange, I thought, but unique.

The fan could be an antique or produced to look like one. Brass bowls and wooden spoons create soft humming music through vibrations.

The hotel features the COMO Shambhala Retreat, offering a range of holistic Asian-inspired treatments including facials and signature massages in four treatment rooms. Other recreational offerings include yoga and meditation conducted in a spacious studio, a gym, a library, a business center, and a thrift store.

The opulence of COMO Uma Paro, however, remains in its COMO villas fashioned to resemble traditional Bhutanese village homes built with materials such as stone, wood, and tiles. The villas have perfectly manicured lawns, soft landscapes with orchards, and ramped pathways, designed to keep its original land intact. Each villa is spaced at different levels of the sloping hill, all surrounded by flower beds. Unfortunately, for the lack of time and being a resident casualty I missed the opportunity to explore the grounds and the villas.
As if the view wasn't sufficient, this gives me ample encouragement to chalk out a plan to return to this stunning destination – country and COMO Uma, both.
Where : Uma by COMO Paro
Paro, Bhutan
Phone: +975 8 271 597