Splendid, yes. A discreet kind of splendor. Intensely but not inhumanly ordered. Ornamental but seldom ostentatious. Amsterdam possesses what Piet Mondrian referred to, wonderfully, poetically, as "lucid tidiness." My most recent visit to the city passed like a ray of late-autumn sunshine. Cloudless and still. That magical light. Those tall, thin, large-windowed, finely gabled canal houses. Brick courtyards laid in delicate herringbone. Small wooden doors with the owners' names painted in copperplate. All along the canals, a marvelous sense of composition, of balance between water, trees, buildings, and sky. As if the city itself is not enough, my stay at De L' Europe Amsterdam gives me a riveting sneak peek into OG Amsterdam luxury.



A Grand Welcome
As I make my way into the hotel's spectacular lobby, I'm accompanied by a flock of guests in their tracks, fumbling for their phones to capture its soft and symmetrical beauty. This grandiose passageway is reminiscent of an art gallery, showcasing large replicas of paintings of the Dutch Masters. No wonder De L'Europe has been a favorite of the city's elite since first opening its doors in 1896. Old World charm embraces contemporary, luxury design. A procession of crystal chandeliers, gilt ceilings, and luminous red-orange walls lies at the heart of the first floor.

I arrive at 6 in the morning and yet the service is discreet, thoughtful, and unfailingly gracious. The exhaustion ensued by my long night flight is sensed, and I'm quickly whisked off to my suite where beautiful flowers and luscious welcome chocolates, both bursting with freshness, await me.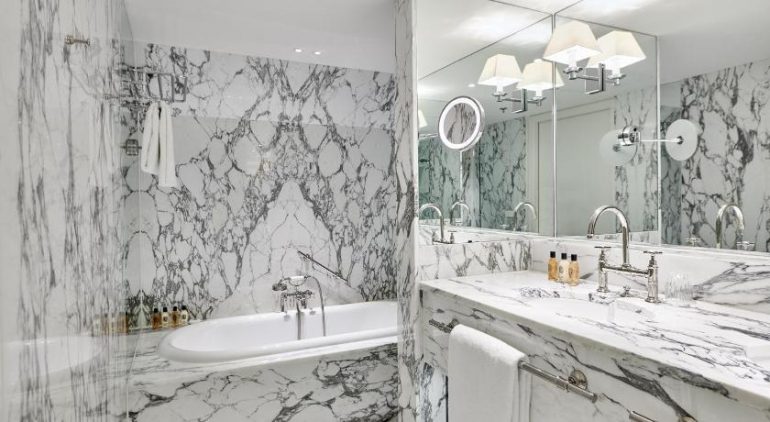 My suite is embedded with bespoke detailing that whispers of pure luxury. Cloud-soft Coco-Mat beds are layered with linens that feel smooth as silk. Clever design notes lend a sense of place — many of the headboards bear a stepped motif that evokes the rooflines of Amsterdam's canal houses, and in each room hangs a large-scale vignette pulled from a classic Dutch painting in the Rijksmuseum nearby. I love the fact that despite the old-world ambiance, the rooms are a technophile's dream, with Bose surround-sound systems, iPads for ordering room service, and desks with outlets for multiple plug styles (no adapters required). My favorite touch: If you get out of bed in the middle of the night, tiny motion-sensor floor lights switch automatically. The elegance doesn't end at the bathroom threshold. Walls and flooring are wrapped in handsome gray-veined marble and radiant heating wards off the chill of Amsterdam's often-rainy weather.

Art and indulgences combined
Besides a rich history, the Amsterdam landmark also offers a superb concierge service, numerous restaurants, and a 4,300-square-foot spa and wellness center with an indoor pool. Moreover in an exclusive partnership with the Rijksmuseum, replicas of iconic paintings from Dutch Masters, including Rembrandt and Frans Hals, were made. These can be admired throughout the Amsterdam hotel, including in all accommodations.

I had a rejuvenation session at the Le Spa by Skins Institute, which provides a fitness studio fitted with the latest gym equipment, an indoor pool with spectacular views of the Amsterdam canals, a Turkish steam bath, a traditional Finnish sauna, and four treatment rooms. As a spa junkie, I can pronounce the massage I tried to be the best, the spa treatment that I've tried in Amsterdam, and one of the finest ones I've tried overall, to date. Thanks to the evolved massage strokes, techniques and my intuitive therapist, I was lulled into a relaxed reverie of sorts.

Gastronomic indulgences
De L'Europe offers a cornucopia of culinary indulgences like the 2 MICHELIN starred and Green starred restaurant Flore, Italian Trattoria Graziella, and the Brasserie Marie, where I enjoyed a sumptuous breakfast taking in views of the gorgeous canal. From great coffee to piping hot a la carte options like incredible avocado toast, fluffy eggs or sinful French Toast, breakfast here is a treat, both visually and for the taste buds.

I savored the authentic Italian Ravioli finferli, ricotta e pinoli 23, a homemade ravioli crafted delicately with chanterelles, pine nuts and ricotta cheese. I loved the contemporary cooking here and how it has its own subtle, landscape-inspired aesthetic.
The food with excellent wine in Trattoria Graziella's pastel dining room, and you got a culinary star!

Another favorite was my dinner at the Michelin-starred Flore. I love how with Flore, Van Kranen expresses his love for light dishes and local products grown and produced with respect for people, animals and their natural environment. Research and experiment take center stage in the kitchen. The team heads into the country every week in search of the best ingredients The Netherlands has to offer. These ingredients are then used in the weekly changing menu.

With the elegant simplicity of Flore, the restaurant moves from classic gastronomy to a conscious and high-quality cuisine – at Michelin level – where the seasons set the tone. The name fits with the personal cooking style of Van Kranen, who at Flore uses products that he finds from farmers and breeders who treat animals with care and have an eye for biodiversity. Flore's kitchen does not use dairy products, and vegetables take center stage on the menu. Bas started a fermentation lab in the basement of his restaurant, where he, among other things, makes juices and pickled vegetables. Here guests can enjoy special wines with a matching dish. 'Conscious Fine Dining' is what Flore' is all about.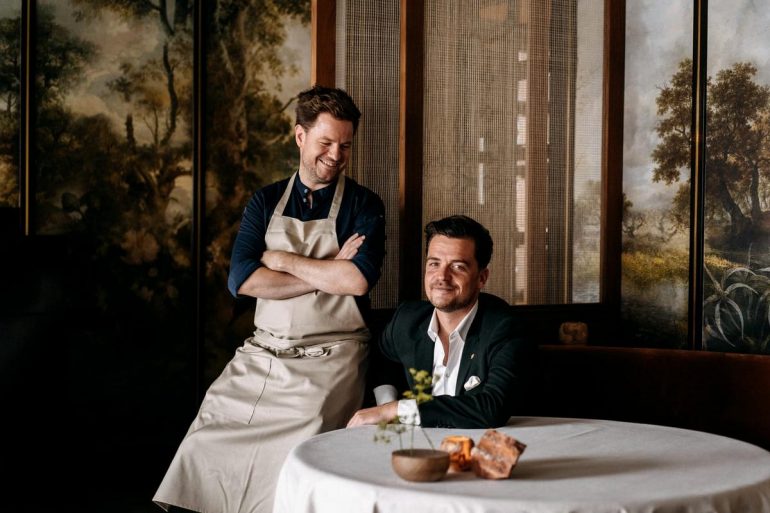 The word Flore means 'blossoming', and this meaning also transcends in my meal as I sink my teeth in the yellow beetroot, saffron, quince or the potato, seaweed, oyster leaves, every ingredient bursting with freshness, elevating the humble vegetables into a meal fit for a king with its flavors and craftsmanship. I love how it indulges guests in the pure and refined flavors of all the best produce the Dutch soil and seasons have to offer.
From the staff that is genuinely gracious and goes the extra mile to make your day to restaurants that are true masterclasses in gastronomy, this one is truly like a dream. With its old-world charm ensconced in unmistakable luxury, De L'Europe glows from within with a lovely golden warmth, even among the ever-expanding empire of Amsterdam hotels.
Note: The critic was hosted by the hotel, but all opinions are her own.
Room rates start from $626 per night
Where: Nieuwe Doelenstraat 2-14, 1012 CP Amsterdam, Netherlands
Phone: +31 20 531 1777
Website:https://www.deleurope.com/?utm_source=GMB&utm_medium=organic