I love Hong Kong, a place I've visited more times than I care to remember. In many ways, the place feels like a second home. But after my recent visit, there's something new to look forward to on my next trip — a flaky, scrumptious beef tenderloin puff with black pepper sauce, wrapped in 96 layers of puff pastry. I had the pleasure of having one of these at brunch at Man Wah, Mandarin Oriental's Michelin-one-star Cantonese restaurant. I would have had more, if not for the other dishes ordered, but I wanted to be fair.

The restaurant is highly regarded for its dim sum, alongside award-winning signature dishes like stir fried lobster with egg white and scallop mousse; wok fried fillet of sole with black bean sauce; and steamed crab claw with winter melon, ginger and poached pear in tangerine tea. Guided by Chef Chi-Kwong Hung, Man Wah's culinary team creates authentic dishes that have become a local rave. Having been to several other iconic dim sum places in Hong Kong like Lei Garden, Duddell's, Summer Palace and Tim Ho Wan, I was looking forward to sampling Chef Hung's refined interpretations of dim sum staples. So, back to the puff.
At first, I couldn't believe that the filling was wrapped in a whopping 96 layers of pastry, so much so that I lifted it up to inspect its intricate folds. It's delicate, and moves in undulating waves — a first for me for a dim sum dish. When I took my first bite of its rich stew with tender chunks of succulent beef, and just the right intensity of pepper, I knew I'd be wanting more.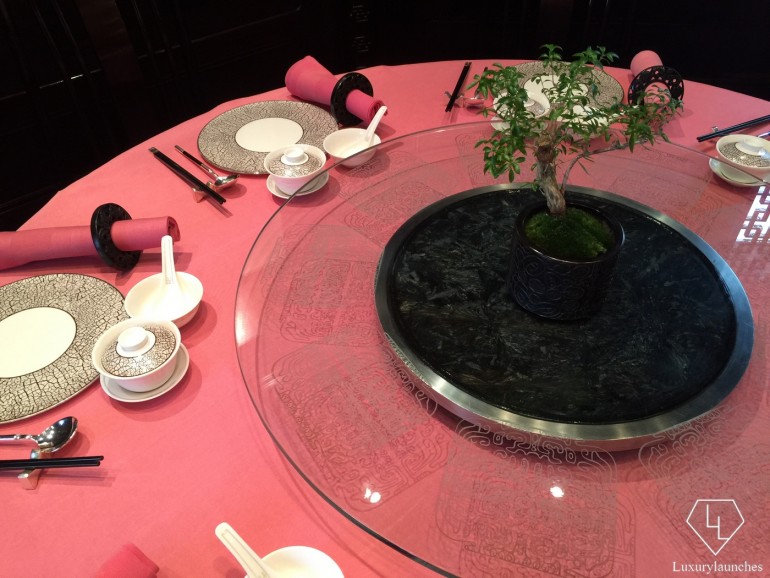 "Dim sum portions can be adjusted according to the number of guests in your party — a practice that other restaurants should adopt."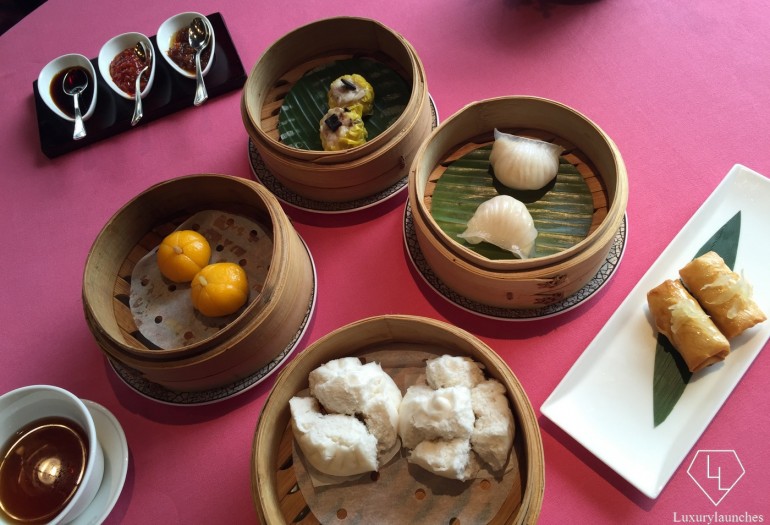 Granted, I had had five other dishes before the puffs arrived. There were tiger prawn and bamboo shoot dumplings, siu mai with black truffle, barbecued Iberian pork buns, crabmeat and pumpkin dumplings, and a scallop and pomelo puff — my favourite. It came with the lightness of being, and tasted sweet and savoury at once. I also tried a roast goose puff with yanmin sauce (in the shape of a goose) and baked pineapple buns (resembling a turtle). In the end, although Man Wah is one of the only restaurants in Hong Kong that bake egg tarts to order, I couldn't stomach another bite.
Man Wah — which translates to 'mandarin' in Cantonese — may well be one of Hong Kong's most attractive dining spaces. Located on the hotel's 25th floor, I was first struck by the gold-plated birdcage lamps and pink tablecloths. A bonsai plant sits on every table and local rosewood is used throughout the restaurant, giving a rich depth to the décor. The walls are adorned by original silk paintings depicting traditional Mandarins, and a huge black and gold wood panel screen featuring traditional Chinese motifs hovered in my direct line of sight.
Notable throughout my meal was my eager and enthusiastic waiter (and this was not some ingénue 20-year old, but a 40-something mature man), who brought out the dishes — and even the condiments — with a broad smile and bright eyes each time. He excitedly explained each dish and flourished the steamers open with such pride and joy. When you're dining at a restaurant that thrills its own waiters, you know you're at the right place.
Where: Man Wah
Mandarin Oriental, Hong Kong
5 Connaught Road
Central, Hong Kong
Phone: +852 2825 4003