Since opening in 2013, Mandarin Oriental Pudong, Shanghai has gained a reputation for offering impeccable service along with their always luxurious accommodation, spa, restaurants and bars.

Starting with the airport pickup, we had a smooth 50 minute ride in a leather cushioned sedan complete with WiFi, choice of music, bottled water and refreshment towels. Arriving at the hotel entrance, the porters and concierges greeted us by name and whisked us off to our room for in-room check-in, which comes when you book a club level room.
We quickly passed the glittering lobby and reception area that exuded a sense of class.


It was such a delight to step into the room and see the gorgeous scene of the Huang Pu river through the floor-to-ceiling windows. Our view is towards the east for the sunrise, rooms on the other side of the building will see Shanghai's iconic Bund waterfront.


Welcome fruit and Chinese pastries were waiting for us in the room.


The pastries were arranged on a beautiful Chinese shelf and they were calling out for me to enjoy them with a pot of tea from the in-room beverage station.


The bed was sumptuously dressed with fine cotton linens from Italian company Frette. There is a pillow menu for you to request other pillow types, but I found the pillows provided were already perfect. The bottom pillow has denser feathers to provide a sturdy base while the top pillow is filled with soft goose down to mold comfortably around your neck.


The bathroom has sliding doors that can be used to close off the bathroom from the room. Leave the doors as they are and the room feels open and spacious.


Bathroom amenities are provided by Shanghai Tang, a Hong Kong based fashion house. It's a clever choice, at once drawing on Mandarin Oriental's Hong Kong origins and also pointing to our location right next to The Bund, since Shanghai Tang is the literal English translation of the Chinese name for the Shanghai Bund. The line of bathroom amenities are called Mandarin Tea and your skin is perfumed with a lovely tea fragrance after showering.


After settling in, we were eager to visit the Club Lounge which is open 24 hours a day serving drinks at all times and food from 6am-8pm.


Staff at the club lounge all have a good level of English and are friendly and attentive without being intrusive. They will even remember what you like to drink and serve your drink with stylish grace.
Here is a sampling of dishes served at the Club Lounge:
Light lunch

Afternoon tea.

Dinner

We especially liked the dinner at the Club Lounge. On the first night, a chef was slicing thin pieces of duck and wrapping them together with cucumber, scallions and sauce for guests to take. On the second night, there was steak cooked medium rare, black truffle spätzle and cauliflower parmesan gratin.
Being opened 24 hours, we saw many business travelers use the lounge for business meetings at night. Travelers adjusting to jet lag will also find it convenient to have a place to come for a drink at any time.
With a mindset to provide service for the convenience of the guests, Mandarin Oriental Pudong, Shanghai's swimming pool and gym are also open 24 hours a day. The 25m swimming pool is laid with sparkly iridescent blue tiles and there's a special surprise – underwater music! I was doing some backstrokes when I thought I heard the peaceful sounds of a melody. I ducked underwater and yes indeed, the music was loud and clear! Such a wonderful feeling to hear music underwater, I fancied myself to be a dolphin diving around in the blue waters. I could have stayed in that swimming pool for hours on end.


Make sure you include breakfast in your room rate because for an extra 200RMB per night you get to have a splendid buffet breakfast at Zest Restaurant.


There were Chinese stations with steamed dim sum, noodles soups and stir-fries. Western stations with eggs, sausage, bacon, ham, fish, cold cuts, cereal, cheese, pancakes, waffles. There were also Indian dishes like naan, dosais and curry cooked up by the Indian chef.


Fresh fruit, juices and yogurt smoothies.


Freshly baked breads and buttery pastries.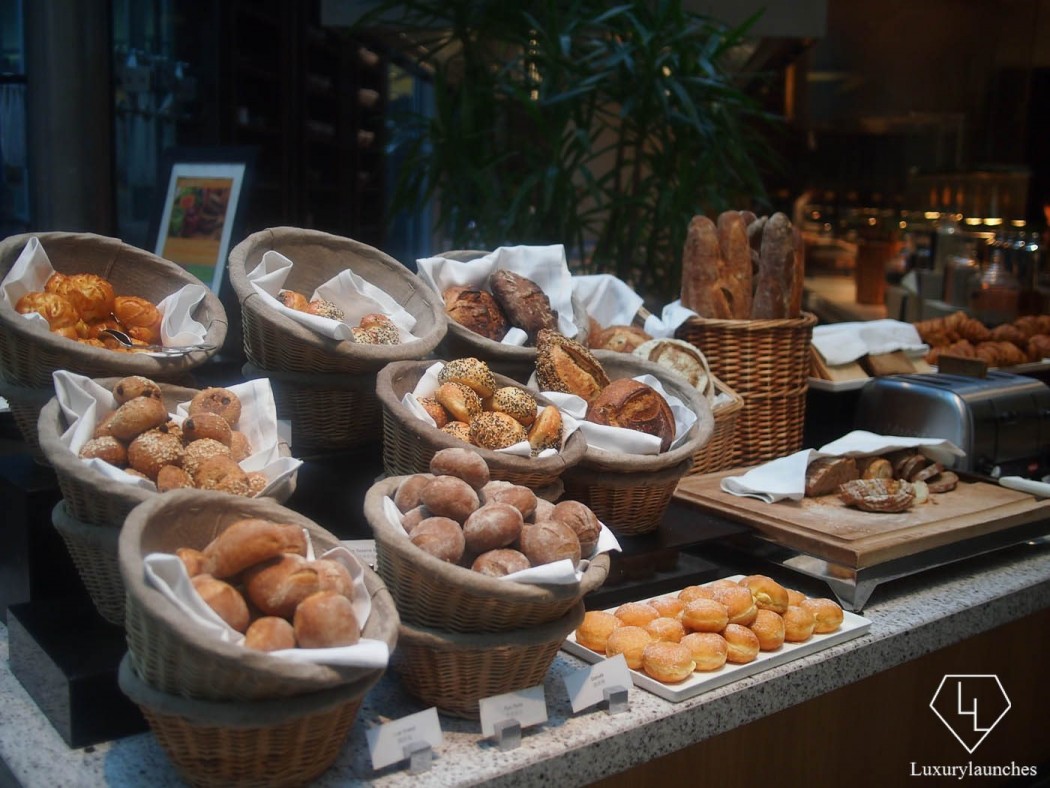 The hotel is located outside of Shanghai center in Lujiazui, the new financial center of Shanghai and minutes away from the Pearl Tower, Shanghai Ocean Aqaurium, Shanghai IFC mall and Shanghai World Financial Centre. The Bund waterfront is a 10 minute ferry ride across the Huang Pu River. Two metro stops, Lujiazui and Pudong Avenue lets you easily reach other parts of Shanghai. A Club room includes use of the hotel's house car for rides within 2 km and is ideal for a quick ride to the metro station.
After visiting Mandarin Oriental Pudong, Shanghai once, you will want to return again and again.
Address –
Mandarin Oriental, Shanghai,
111 Pudong S Rd, Pudong, Shanghai, China
+86 21 2082 9888