A stay at the Mandarin Oriental is something I always look forward to. This time, we are visiting the dynamic, multi-cultural island country of Singapore and Mandarin Oriental Singapore's location next to the dazzling Marina Bay promises to thrill.

Designed in the 1980s, the building is shaped like a fan as a nod to Mandarin Oriental's signature logo.
"The hotel's position on the east side of Marina Bay allows guests a perfect vantage point for both the Marina Bay Sands integrated resorts and the Singapore city skyline."
This location is steps away from tourist attractions like the Merlion, Gardens at the Bay, Singapore Flyer and Esplanade. For business travelers, the Suntec Convention and Exhibition Center and the financial district are also easily reachable.
The fan shape of the building results in a large open atrium at the center that the hotel decorated with flowers, light and water features.
At the elevator waiting area, a large crystal chandelier and a Guan Yin statue gives an almost spiritual effect. Combined with the enormity of the lofty atrium, you feel like you are in a temple.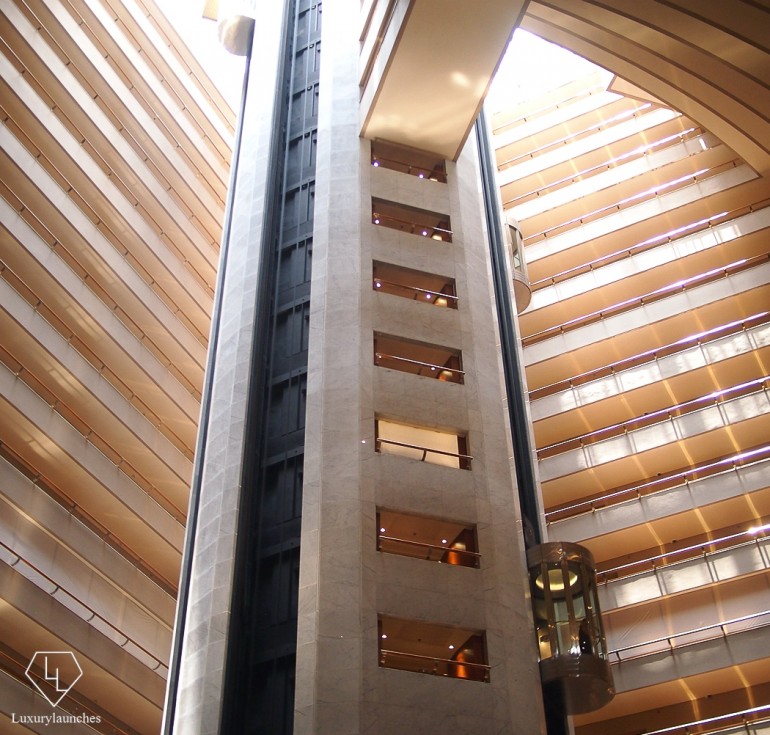 The elevator shaft at the center of the atrium zips up and down the 21 floors of the hotel with the rooms placed around the perimeter. As you ride up the elevators you can see the hotel's restaurants and bars on the 4th and 5th floors. The restaurants include Cantonese restaurant Cherry Garden, Italian restaurant by the poolside Dolce Vita, American steakhouse Morton's, Japanese restaurant Teppan-ya, Melt Café for buffets and Axis Bar and Lounge where afternoon tea is served with the exclusive "Mandarin Oriental, Singapore Tea" which Singapore fine tea brand TWG created exclusively for the hotel.
After a quick check-in, we are guided to our Marina Bay View Room at the top floor and left to enjoy the view and what a view it is! In one glance we can see the jewels of Singapore architecture laid out before us. To the left is the Marina Bay Sands integrated resorts completed in 2011 with a swimming pool perched atop 3 buildings. To the right are the two buildings of the Esplanade theatre which Singaporeans lovingly call "The Durian" for its resemblance to the spiky fruit. The colonial heritage buildings of the Civic District and the gravity defying skyscrapers of the financial district stretch further on.
"Even the water-spouting Merlion, symbol of Singapore, can be seen from our room."
The room and bathroom do show some signs of age and can use some updating. For example, in the shower there is only one small fixed showerhead instead of rain shower heads plus a hand-held unit or that the curtains in the room are not electronically controlled as in other Mandarin Orientals. However, and most importantly, the bed is supremely comfortable and every bit as good as other Mandarin Oriental beds we've slept in with silky cotton sheets, plush mattress topper and fluffy pillows.
A nice pot of hot tea tucked in a wicker basket was waiting for us in the room along with a plate of Asian pears.
For in-room beverages, there are packs of Segafredo instant espresso and TWG tea. Bathroom amenities are provided by Aromatherapy Associates, a brand from London that uses natural plant and flower extracts. Their products are excellent and my husband even spontaneously commented that my hair looked shiny and lustrous after just one use of the shampoo.
A little item on the bedside table caught my attention – a biodegradable pen made 100% with recycled fibers. I definitely applaud MO Singapore for its environmental actions.
"The environmental theme appeared again when I toured the spa and saw a line of swimwear for sale, Finch Designs, made from recycled plastic bottles."
In fact, Mandarin Oriental Singapore has a progressive environmental policy that includes collecting used soap for recycling and sending to developing countries, food donations to local charities, energy, water and waste reduction. Their green policy extends to working with suppliers to provide environmental products such as biodegradable cleansers and plastic bags, FSC certified paper products and water based paints.
For its efforts, Mandarin Oriental Singapore has achieved the ASEAN Green Hotel Award Standard 2016-2018, the 3R for Hotels Excellence Award and the Singapore Green Hotel Award. These environmental awards stand alongside the prestigious Five Star Award from Forbes Travel Guide that the hotel has won for five consecutive years (2012-2016).
"As a guest, it gives me peace of mind to know that I can stay in a 5-star hotel that is also doing its utmost for the environment."
In the afternoon, we went to explore the outdoor pool on the 5th floor. Cooling off in the waters surrounded by that magnificent view makes you feel like a millionaire. After walking onto the deck, a pool attendant quickly helped us find an area to settle down in and set us up with towels and tall glasses of ice water.
At night, the views from the room are even more spectacular. We were lucky to be in town during the iLight Marina Bay festival and catch a laser light show from the comfort of our room.
A plate of decadent desserts was brought to our room then and we enjoyed them while watching the laser show.
Later that evening, we walked across the street to stroll around the Esplanade and found Makansutra Gluttons Bay outdoor hawker center. Here you can indulge in local street food like chicken rice, oyster omelet, fried carrot cake, satays and sambal stingray.
In the morning, the breakfast buffet at Melt Café is a truly lavish affair. You can choose from western meats, Indian curries, Asian noodle station, cured fish and meats, cereals and house-made yogurt. With ice cream, sorbet, pancakes and waffles, it was more like a lunch buffet than breakfast! The fruit selection included not-often-seen passion fruit and there were some unusual fresh juices like pink and green guava.
There was a tray of mini eggs benedicts at the buffet table and I was impressed that the egg yolks were still perfectly flowing.
By our second day at breakfast, the staff still remembered our names and greeted us with a smile. Indian chef Santosh came around and offered to make us something special. He returned with a plate of eggs prata. The prata was crispy on the outside and fluffy inside. The egg filling was studded with green chilies and onions and came with a little bowl of chicken curry for dipping.
We were just finishing our breakfast when an employee came with a camera and asked if she could take a picture of us. We were at first a little puzzled by this, but she quickly came back with a framed picture for us to take home.
"It was a very nice souvenir of our stay at Mandarin Oriental Singapore."
Verdict
The views are fantastic when you have a Marina Bay View room on a high floor and the location is well situated for sight-seeing and business travelers. The personalized touch from service staff will warm customers hearts while the environmental policies give guests peace of mind.
Where : Mandarin Oriental, Singapore
5 Raffles Ave, Singapore 039797
Phone : +65 6338 0066