Majestic in Mayfair, indisputably monarch amongst the vintage hotels in these posh purlieus Claridge's, despite refurbishments and an injection of jazzed-up contemporaneity, continues to deliver its inimitable classic English brand of luxury. Vintage Britain ever professes a preference for this quaint and quietly elegant icon that presides in the throbbing centre of Mayfair and yet seems to have a magic moat of privacy fiercely protecting it. Unless of course you wish to plunge yourself into the irresistible chaos Mayfair's many Michelin-starred restaurants or make a billion trips to the plethora of luxury boutiques scattered but a few mincing Prada-healed steps away.



Bonding & Bondage: Luxury to some is a bond, to others it is even bondage (whether or not enjoyable is no doubt a matter of personal predilection…). Any trip to London perforce entails shopping until your cards snap and those shackling shopping expeditions can be bondage. That is, if one must slavishly follow fashions. And one must. We cannot recommend M&S (I mean Marks & Spencer) or even S&M (whatever that may or may not be). Don't pass "GO," do collect £200,000 and head straight to Bond Street. Countless shopping expeditions are envisaged for clothes, jewels, accessories, jewels, shoes, jewels, hats, jewels, lingerie, jewels… jewels…. jewels… And studding Bond Street's endless lines of haute luxe fashion boutiques are the world's most famous jewellers. Such convenience of situation- This is most obliging and considerate of the hotel- facilitates shopping to your heart's content. Of course, we hope you also do lots of other things to your heart's content. After all, that's what those lovely suites are for…



Suites for my Sweet: Sometimes romantic, sometimes racy, the Claridge's suites are all so classy and compelling. Choices, choices. Picking your suite is as difficult as choosing a bride (choosing a groom is so much easier- has a woman ever really a choice?…). The hot favourite with honeymooners, however, seems to be the refurbished, sexified art décor Linley Suite, the one I stayed in even though I wasn't honeyooning but I suspect the hotel hoped I'd get hooked and stay on to splash. A bottle of champagne comes with the suite but they perhaps wish you'd get yourself more to fill the bath- bridal showers are made of bubbly baths in legendary hotels like this one.


My suite's sober blue, black and white living room is so immense it could accommodate Buckingham Palace it would seem whilst walk-in wardrobes are larger than most London flats and they should be for the bed is bigger than a small country- I suppose, just in case you're bringing along an entire harem on honeymoon. If that be the case then best opt for the beautifully immense Brook Penthouse Suite. But should a ménage-a-cent constitute a crowd then the lyrically lovely piano suites (212 is marvellous) will suit a conjugal set-up restricted to two play mates. The Bard says, "If music be the food of love, play on…" Newly-wed wives please note that the piano seems casually installed in your suite but we believe it was actually put there with the worthy aim of enabling you to initiate immediately the training of your men: to dance to your tune, of course.

The one distasteful interruption in my suite memories is that the coffee brought be at check in (with tons of delightful butter cookies) wasn't cleared when I checked out 2 nights later, despite the furry carpet of curdled milk.

The suites at the Claridge's have always seduced British royalty. But Indian royalty and its accompaniments too have succumbed to the lure. One hears Nawab Saif Ali Khan had to (yes had to) romance Kareena Kapoor in them during their courtship. Rumour has it that the Indian monarchs never much cared for settling exorbitant bills…

The Bridal Shower: All this excess of luxury money down the drain? Take a hot shower in the marble-floored bathrooms and chill. If on honey-moon, the enormous overhead shower thunders down headily, even hedonistically. And should the loved one give you the cold shoulder, never mind: things can get rather steamy when you turn on the shoulder shower. Will leave you feeling hot, hot, hot… with or without your better half.


Spa-ma Sutra: After hectic shopping sprees or conjugal acrobatic feats you'll require a vigorous massage from the Claridge's specialist Thai masseuse Kanika Parker. She has the right touch. And oh what moves! Ah, after you have gone through all that trouble to tie the knot, the oriental masseuse undoes the knots… He loves me, he loves me knot? Knot to worry wives if your husbands, like Mick Jagger or Arabian royals, have a penchant for Thai massages for this particular masseuse has none of the wiles of a wicked woman. With the little old Buddhist lady, husbands are in safe hands whilst wives get their faces done.


Game, Set, Match: I don't know if yours is a match made in heaven but the Claridge's afternoon tea certainly is heavenly and is replete with the most divine sandwiches and pastries whilst their scones are haloed, or did I imagine that after the glass of champagne? Tea time at Claride's gets paradisiacal when they launch their lawn tennis teas for Wimbledon this season. Now tea time at Claridge's is not only for possies of ladies but can be a romantic affair. Get all set to play the game of love in this English season of matches both Wimbledon and wedding. Teas and tease away.


Shaken Not Stirred: The Fumoir is arguably London's most romantic lounge-bar. In this lush little cocoon of lilacs and pinks snuggle up over Dampierre rosé and dainty finger food. But if you have just thrown a party in your suite (it would be criminal not to throw a party in those magnificent Claride's suites) and you want to head somewhere rather happening then the main bar at Clardige's pulsates until 2.00 am with London's elite. This is the place to see and be seen, unless you're stuffing your face behind a mountain of gorgeous gorgeous chocolate fudge and sinfully rich butter biscuits served at the bar. Mmm… But better get a grip on those love handles.


Breakfast in Bed: Is more romantic unless you prefer live entertainment downstairs like a cavalcade of coffee, croissants or cutlery that might pour or plonk down on you. And whilst hot honeymoons smoulder with burning passions, burnt toast might not always have partaken of a traditional wedding toast. Although it is gently diverting when the waiter extracts the enflamed bread, puts it behind his back and strides across the packed breakfast room with it… The service occasionally is perhaps not a labour of love. But let us hope that the happy couple is otherwise pre-occupied to notice. Besides, Claridge's regular VIPs don't seem to mind. And London will love legendary Claridge's forever. One classy lassy when asked what she would do had she but 24 hours to live exclaimed without hesitation, "I'd check into a Claridge's suite!"


Supper Ce Soir? Feast on the tres tres romantique ambiance of the ever green, enrapturing Reading Room. It isn't unusual for an elderly couple to explode into spontaneous dancing transported by the live piano music. Or perhaps love is in the air. The service metamorphoses into the suavely attentive by evening. And take heart that you will be chouchoute by the GM, un vrai amour. His flamboyant sense of savoir-faire has imparted French chic to the classic English institution and he manages to wow and woo the world's who's who.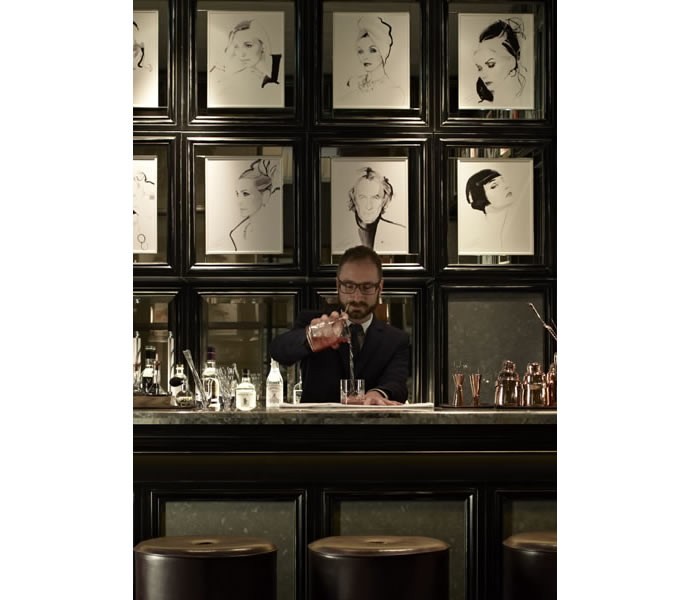 Victoria's Secret: I am not referring to lingerie. I mean, Victoria and David Beckham, like many other celebrities, are frequently spotted slinking in an out of the hotel. No big secret about their love affair with Claridge's. And it certainly is no secret that husbands would wish that the wearing and baring of lace and satin be incorporated within the confines of marriage wows. No strings attached!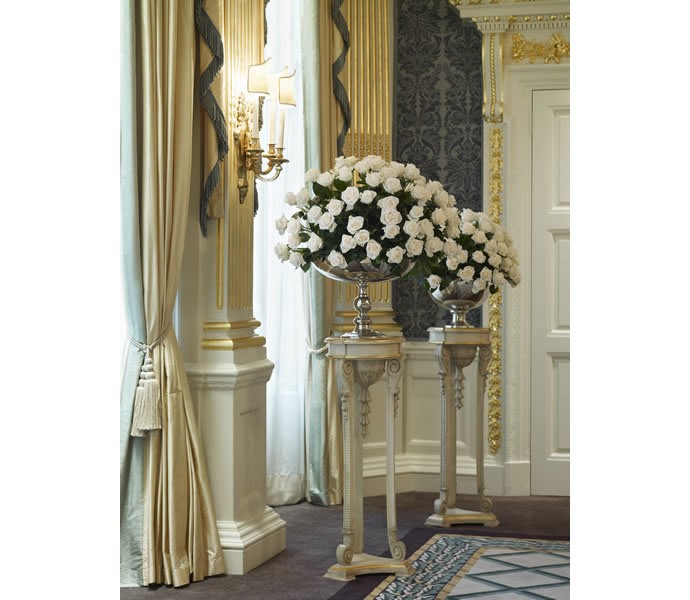 Claridge's & Carriages: The grand ball room at Claridge's has hosted many a fairytale wedding and the grand staircase has inspired many a wedding photo. When I first ran down it I almost felt like Cinderella, not least because I was silver-slippered. If looking for a husband it is perhaps not unadvisable to conveniently let slip a slipper on the fabled stairs. Plenty of princes (charming or not we leave you to decide) pervade these prestigious precincts. But kiss them not, lest they turn into pumpkins at midnight…


Our verdict: Claridge's mightn't have the staggering wow factor of a Dorchester or the imposing presence of the Ritz but remains a bastion of unadulterated English charm and decorum. Claridge's faithful following don't complain about extravagantly expensive suites. The Claridge's spa mightn't be a design sensation but it boasts the best celebrity masseuse in London. And yes, the service can often swing from the sublime to the ridiculous but never mind dahlin. We love Claridge's anyway. It certainly has resisted the vulgarity that has infiltrated some of London's other grand old hotels, which is why it ushers a more discrete breed of guest, "breeding" being the operative word. Yes, Claridge's scores on breed if not on bread. But we'll toast in anyway!
Address:
Brook St, Mayfair,
London W1K 4HR,
United Kingdom
Phone: +44 20 7629 8860