Our slick, streamlined Nozomi Shinkansen N700, known for reaching speeds of 300 km/h, began its slowdown with the expert grace of a seasoned ice skater. The trip between Osaka and Tokyo, a distance of 515 kilometers had taken a mere 2 hours 25 minutes to cover. The word nozomi in Japanese means "hope" or "wish"; after scarfing down the scrumptious Bento box contents and quaffing countless Asahi's at superhuman speeds on a superfast train, we couldn't have hoped for better. Wish fulfillment followed us onto the Tokyo Station platform, where we were greeted by a smiling Shangri-La staff member.

One of the great products of Shangri-La Hotel's proximity to Tokyo Station – that we would learn later of – is their Meet & Greet Service. Thanks to which, not only did we meet a Hotel representative directly outside our car, we were able to swiftly navigate through the mammoth station without so much as looking at a sign, and all the while getting a quick lowdown on the neighborhood from a local. Just make sure you remember the exit to the Hotel; one other, obvious benefit of living station-adjacent is that you can ride to any of the city's many attractions at your convenience. Of course, most of them are visible from the Hotel, but we'll get to that.
¡Ay, karinto!
Having heard tons of 'karinto', a traditional Japanese fried snack, we were thrilled to find gourmet (seaweed wrapped, even) versions of it, amongst other 'thrillers' such as, let's see, in-suite check-in and tea services waiting for us at the Hotel. But nothing could have prepared us for the view, not even the mildly disconcerting elevator-ride up.
Perched in a corner spot of the 31st floor, our Executive Suite scraped the sky, as in the architectural adage, and offered unobstructed views of the city from our very bed.
The view almost made us forget how small it felt, by suite standards. Although, it could still be called 'roomy' for Tokyo and what's more important is that it boasts remarkable space allocation- a gleaming, Nespresso machine and tea tray-kitted countertop and concealed bar welcome guests into the living room – airy bath to the right, doumo arigatou gozaimasu – with a 42-inch LCD TV, and Bose DVD and audio system-flanked partition separating the living and sleeping areas.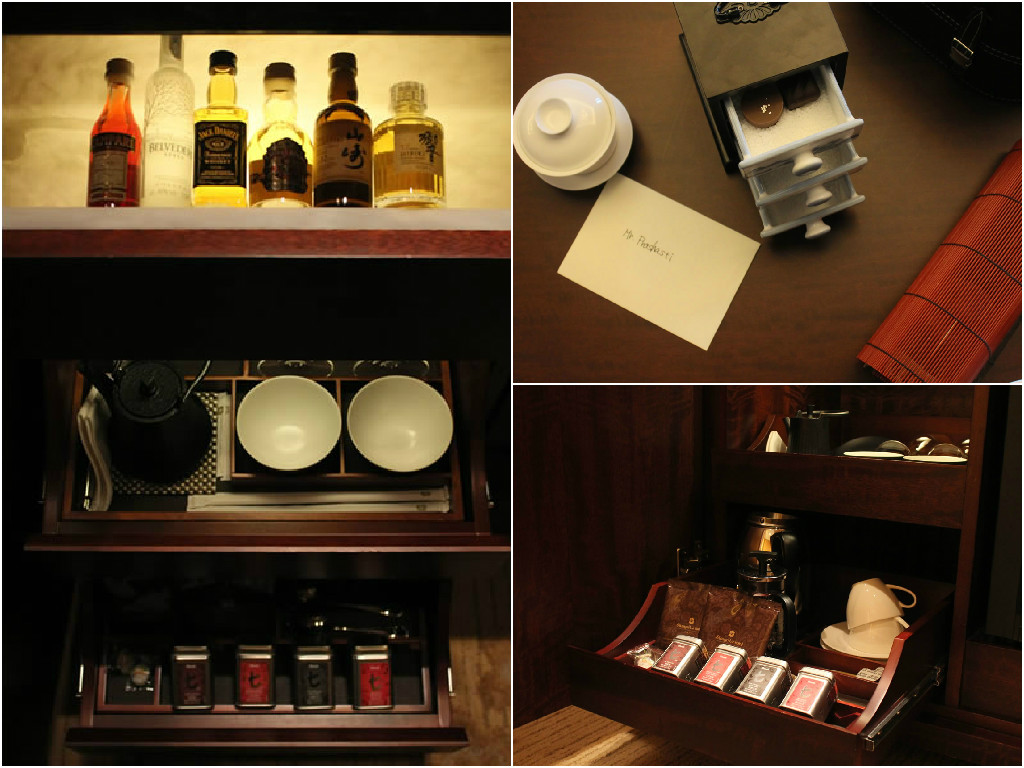 Wake up, and smell the cappuccino!
Now, one of the best benefits of booking a suite (or a Club Room for that matter), as most Shangri-La regulars will have you know, is- Horizon Club Lounge. At the Tokyo property, in fact, Club service is spectacular- from bringing beverages to your room with a wake-up call, to serving breakfast, shaking up cocktails as-you-like-it, and replenishing your canapé plate, at the Lounge, they've got you covered. So, naturally, our first evening was spent there marveling at the cityscape just spread out like little, extremely well organized Jenga blocks in front of us, over glasses of welcome-to-Tokyo champagne before heading down to the more moody Lobby Lounge for some molecular concoctions. (And night spent ordering cappuccinos for the morning after!) Then, it was getting on the train and heading to see an expat friend.
Sanctuary w/ surround sound- Shangri-La Tokyo
After the night we'd had, we were mighty thankful for our wake-up call accompanying beverage (we take ours with a cube of brown sugar and Tokyo views, how do you like yours?) Those sent us straight into the bath (hello rose-scented salts) and then to breakfast (hello Chris Rock!) That's correct,
breakfast at Piacere, Italian for 'pleasure', sure turned out pleasurable for us and not just because of the spread's proportions – that includes everything from soup and salads to fresh squeezed juices and confiture – if you're lucky, you too could have your Eggs Benedict with a side of comic.
Exhilarated from our early morning celebrity sighting and armed with a plan for electronics shopping, we headed to Yurakucho, home to tax-exempt, specialty shopping haven BIC Camera.
While we will refrain from getting into details of our spoils, we do have some advice to offer- plan your day such that you can make it back in time to grab some light lunch at the Club Lounge and then make your way to the Spa.
The Hotel has a heated indoor swimming pool, city-view of course and great for a pre-treatment dip.
Chi, The Spa, at Shangri-La is where the bliss is at! We must've been in there hours because by the time we got out, time had flown like it always does just when you need it not to, and we were due for our dinner at Nadaman, the Hotel's Japanese outfit. A customized menu and some delicious sake later, we were saying goodbye to Mayumi, Hotel representative and our gracious hostess for the occasion.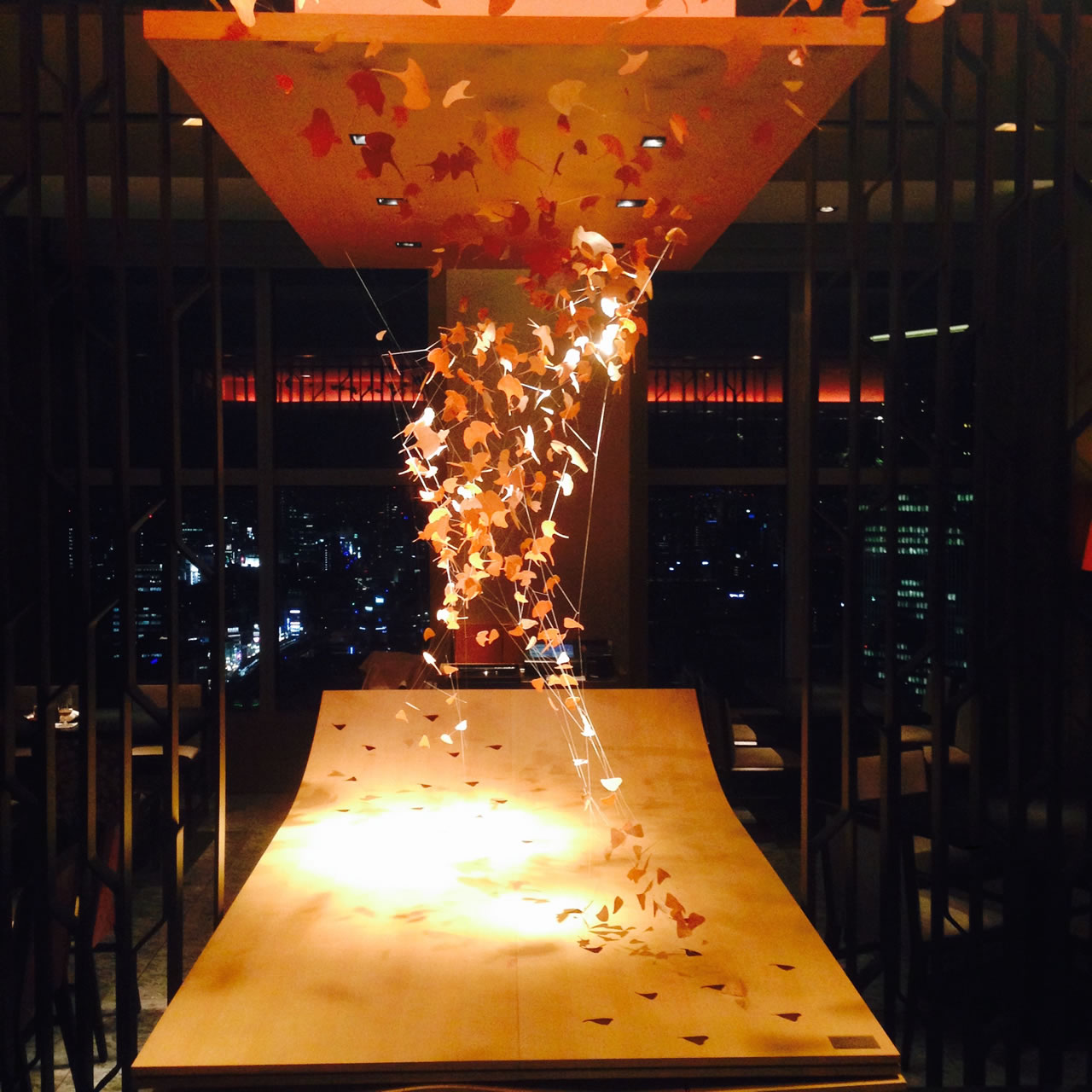 In our experience, Tokyo came across as completely safe, sterile even. But there's crazy nightlife when you want to find it. Aside from the fact that all 24×7-operating chains (7×11, Lawson's, etc.) serve food as well as alcoholic beverages, one can also find street eats in the middle of the night if they know where to look. The only glitch in the plan being, trains stop running after 12. Still, considering there are bars and restaurants everywhere you look, there's always a percentage operational within walking distance in the wee hours. From Shangri-La, take your nightly stroll to Ginza, discover your own hideaway and mingle with the locals; it's the very best souvenir to take back. Kanpai!
Address: Shangri-La Hotel
Marunouchi Trust Tower Main,
1-8-3 Marunouchi Chiyoda-ku,
Tokyo, 100-8283, Japan
Phone:(81 3) 6739 7888