Perched amongst the clouds atop the International Commerce Center (ICC), Hong Kong's tallest building, the Ritz-Carlton's swimming pool on the 118th floor has the distinction of being the highest in the world. Floor-to-ceiling windows give a stunning panorama of Hong Kong Island and Victoria Harbour while LCD screens on the wall and ceiling show images of tropical fishes, bubbles, clouds and beach scenes.

The pool is 20m in length and just over 5 feet deep. Around the pool are plenty of lounge chairs and lounge beds decked with cushions. Some lounge chairs are set in a shallow section of the pool next to the windows inviting guests to sit and peer down onto the world below. An outdoor Jacuzzi and lounge area situated to the west gives great sunset views.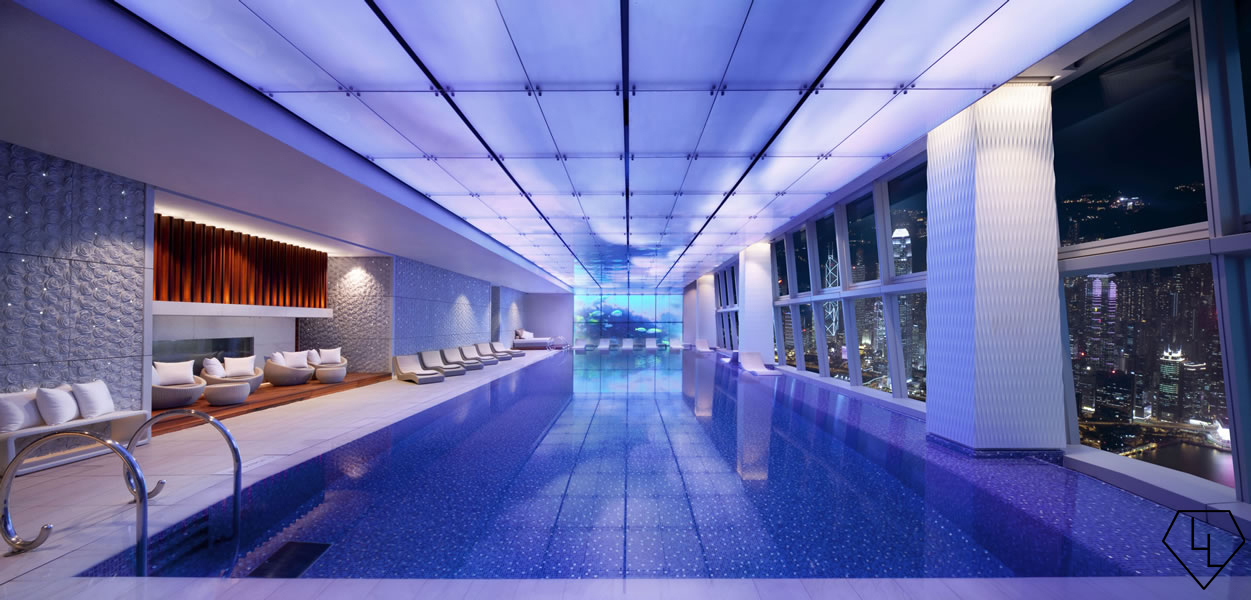 Before I slip into the calm surfaced pool, I wonder, does the water feel any different when you're floating so high in the sky? Do you glide through the water easier when gravity's force is diminished by 490m above ground level? It's hard to say for sure, as I was already a little light-headed from the bird's eye view of Hong Kong.
As I swam in the water, bobbing up and down, my view alternated between the blue-tiled swimming pool floor and the LCD screen of tropical fishes on the wall. You almost feel like you are swimming in the ocean with the fishes.


Service was attentive with a friendly, casual vibe. An attendant brought over a bottle of water and towel for me when I first came in and staked out a lounge bed. Later when other guests vacated a prime lounge spot in the sun, the same attendant came over to suggest I move over there as my spot was slightly chilly under the air conditioner. Indeed, the new spot was much nicer and had a better view to boot.
Sitting in the outdoor heated Jacuzzi with a cool wind blowing was an exhilarating experience. There are glass walls around the perimeter, but when you sit in the Jacuzzi you can look directly up into the open sky and the clouds look so near that you could touch them.
Guests staying at Ritz-Carlton Hong Kong have complimentary access to the swimming pool. Members of the public can purchase a HKD $700 day pass which also includes access to the swimming pool, fitness center and saunas. Customers having a spa treatment can go to the swimming pool with an additional HKD $250 fee.
The Ritz-Carlton Swimming Pool,
Level 118,
The Ritz-Carlton, Hong Kong,
International Commerce Centre, 1 Austin Road West,
Hong Kong