There is no foreign country more welcoming to Indians than Dubai. And so there is no shortage of options to try out Indian cuisine in the emirate. Whenever a new restaurant opens, the success has much to do with their unique selling point that makes them stand apart from others.

The Oberoi Dubai is a relatively newcomer to the host of hotels in the UAE. And so is ananta, its award-winning fine-dining Indian restaurant. In just two years it has created a wave of appeal for desi food with a twist.
I had been hearing rave reviews of the place; ananta was the trending go-to venue to satiate the yearning for true Indian cuisine. Oh, how right they were. I dressed my boy in his fine evening wear, twirled in front of the mirror a few rounds and slipped my arm around my man's arm – we enjoy a bit of vanity occasionally.
Entrance:
Like you enter a sprawling haveli (traditional mansions) in Udaipur, you enter ananta. A massive, antique door with fine detailing is left open for diners during open hours. The friendly staff ushered us to a table at the far end of the restaurant, giving us the chance to have a mini tour before settling down in our seats. Once inside, you pass seating on your right, which overlooks the hotel lobby and a live cooking station on your left. Skewers of vegetables, chicken and meat hang above hot tawas (flat plates) and tandoor. A cook was busy preparing a dish but took a second to acknowledge our presence.
Charm:
A table of condiments and spices were placed in from of the open cooking stations adding charm to the Indian theme.
Conversation
Chef de cuisine Saneesh K V is the captain of the ship, and the man behind the fabulous menu at ananta. He is shy and seemed reserved initially but we hit it off instantly, soon as we learned that we were almost neighbours back home. Chef Saneesh spoke to us with so much zest and passion for his job. It was evident that he put the same enthusiasm in whipping up his recipes, because we loved what we were served. He took the effort to come speak to us in regular intervals, both to explain the dish and general chatter about his 12 year-long journey with The Oberoi group. The dinner and conversations went for two hours! We finally wrapped up a fine evening, with fine company and very fine dining after realising we stayed on for an hour past closing time! The staff were patient with us.
Food
We asked Chef Saneesh to surprise us. The restaurant is most popular for the ananta thali, also its signature offering. We had the choice to go for the thali (round plate with several dishes), or go a la carte. While I flipped from one to the other, unable to decide, Chef Saneesh eased my worries and asked us to relax while he whipped us a perfect meal. See? This is why you must chat up with the Chef because the Chef knows. As he rushed back into the kitchen, we sat back to enjoy an evening of good food, by taking turns to run behind our son who was more keen to explore the lobby.
Our tasting menu was as follows, in the same order.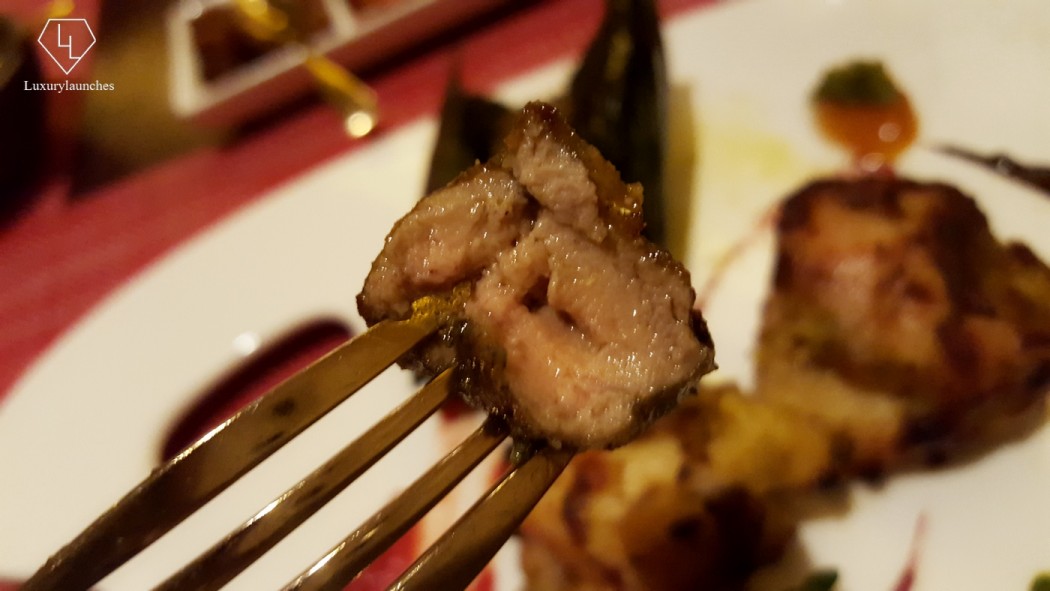 Banana Leaf wrapped foie gras & kastoori chicken tikka
The foie gras came first. I wasn't sure. I have never eaten it because of a childhood memory I was hoping to forget. I poked at the banana leaf doubtfully but decided to venture. Inside the wrapped leaf was a soft piece of meat. I cautiously sliced a piece and had my first bite – absolute bliss. It was so tender it literally slid down my throat, but not before tickling all the right taste buds. Winner.
The chicken tikka was good too, but I didn't want the foie gras to leave just yet so I savoured it until the next dish.

Pomegranate granite with sea salt
This is a refreshing break before the next main dish came along. It is a tiny dollop of iced pomegranate. It was styled with a smile, which reflected on our faces too. The sweetness of the fruit and the savoury salt tinge was like an after meal mint.

Wagyu strip loin with pepper and fennel
Even the sound of it was exotic. Like a cross race marriage – Japan meets India. The meat was done to perfection – which took all of 7 seven minutes it seems! Who would have thought! The seasoning of pepper and fennel provided the right punch to the Wagyu strips, which was served with wild mushroom khichdi and spiced jus (the juice itself – of the beef I am assuming, although I am not cent per cent sure). This was the desi touch that was quite endearing. In any other fine dining restaurant the rice would have been a side dish that you would perhaps have to order separately. It is different here, the Wagyu strips were placed decoratively on a serving spoon of mushroom khichdi.

Tandoori Tiger Prawns
Had this been a single choice of appetiser, and at a sea side shaft, with a refreshing beer in hand, these prawns would have received no mercy. But after the gourmet path so far, I did no justice to the plate of red, succulent, crispy prawns.

Chocolate chilli dosa
I love dosa. As a true blood south Indian, dosa was ingrained into my DNA as is cheese for the Dutch. Or soya for the Chinese. Or McD fries for fast food lovers. Dosa with the regular accompaniment of chutney and sambar. Hence, while the dish was quite creative, I didn't indulge too much.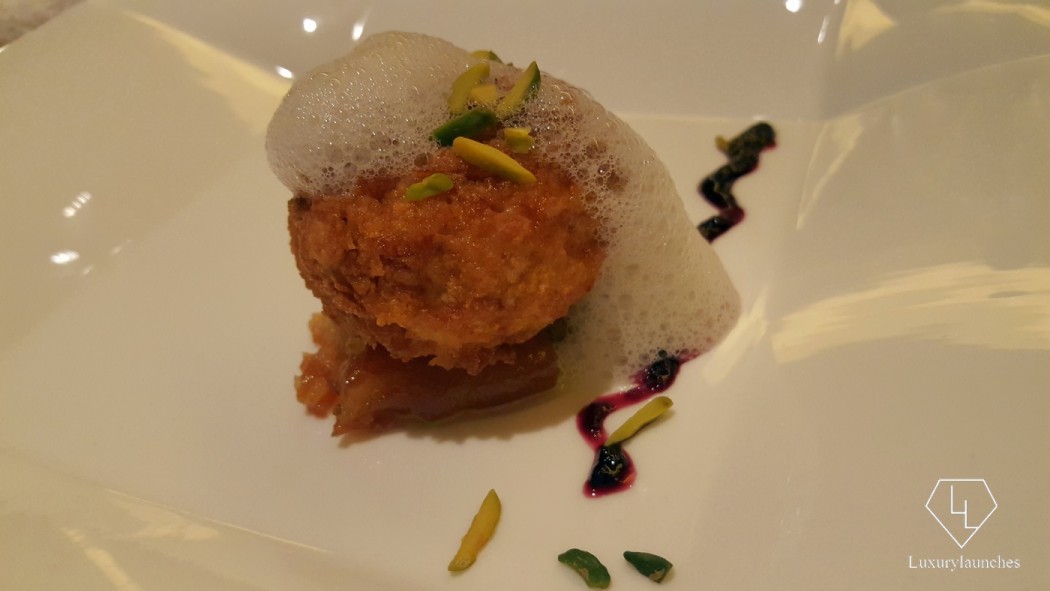 Fried malai kulfi
This had to be made in heaven. It has become my new favourite, and I have already discussed with Chef Saneesh that he would be seeing a lot more of me to taste this wonderful discovery of his. He grinned and added that everyone loved it and people did come in especially for this dessert. I know exactly how they feel and you will too if you tried it. It consists of gulab jamun crumble, grape passion fruit chutney and vanilla foam. If I weren't so full with the courses prior to this, I would definitely have gone for a couple more rounds. But it was the perfect end to a perfect meal.
Conclusion
I loved it. The reviews were not lying, and I am glad I believed them. There were only two things that was borderline discomfort. While the interior was done up aesthetically in reds and maroons, it was modestly lit. For a hotel that has beautiful, natural lighting this was sadly too dim. Secondly, they would need to get a better choice of high chair for children. The ones that are used currently are like air capsules – too high, too tight and too sophisticated. My son wanted to get off it the minute we strapped him in. These are issues that could be worked around. If you are in Dubai and fancy a good, satisfactory Indian meal, don't think twice, ananta fails to disappoint.
Address : The Oberoi, Dubai
The Oberoi Centre – Al A'amal Street,
Business Bay – Dubai – United Arab Emirates