Abu Dhabi as compared to Dubai is what Watson is to Sherlock – the elegant brain behind a winning pair. Everything in Abu Dhabi is grand and proud and Shangri-La Qaryat Al Beri is no exception. Situated in the heart of the city but with a view that take your breath away like any hideaway resort does, the hotel is a good choice for stay in UAE's capital city. The grandeur may seem more appealing to families and the well-heeled but the hotel welcomes business travellers, city dwellers and staycationers alike.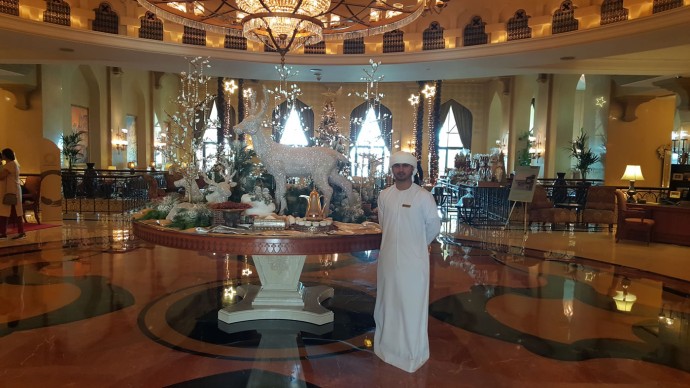 We were greeted in the typical charm of Arabic hospitality – with dates and Arabic coffee into what looked like a majestic palace from the core of an Arabian tale. It is a good idea to watch your step while soaking in all the splendour from the chandeliers and ornamentations. Check in is prompt, but the journey to the rooms is slightly more elongated as there is a labyrinth of passageways to cross. The room is another mirror into the rich Arabian architecture, done up tastefully with wood and earthy colours and textures. Arabic motifs are sprinkled across the room, across furniture, walls and floors; like pretty lamps, embroidered cushion covers, arched room-separators, oriental tiles, and paintings. Unlike the majestic lobby the rooms are a lot mellower but elegantly decorated.

Shangri-La means utopia, an essence which is apparent in all of its properties spread around the globe. At first sight you might miss out this element at Qaryat Al Beri, but then you will step out into the balcony and you will realise you haven't found an exception yet. The view is stunning. The reviews do not lie, and you have to see it to believe it does exist. The rooms, every single one in the hotel, looks out into the sea and Abu Dhabi's symbol of pride, the Grand Mosque. Our choice of travel dates were ideal to enjoy the cool sea breeze and avoid the humidity that intrudes the summer months.

Shangri-La has a total of 214 rooms and suites and six four-bedroom villas with a series of room and suite types to choose from. Additionally, Shangri-La Residences offers serviced apartments from studio to four-bedroom options.
Bathrooms in the villas come equipped with Bvlgari-branded deluxe amenities while selected suites have Acqua di Parma. You will find the Birds of Paradise brand in the residential serviced apartments while the rest are Shangri-La products.

Dining is smack-perfect at Shangri-La. But, of course! There is something for most palates, swinging from traditionally Arabic fares to modern fusion. Shang Palace is Shangri-La's signature restaurant offering, well, Chinese. Hoi An takes you to Vietnam, while Sofra bld lets you dine all day long at its casual dining setting (this is also where an extensive spread of breakfast is served). Take a Western detour at the Bord Eau, decorated in a quaint Parisian café style. Al Hanah Bar is where old meet new, and as apparent in its name, where Oriental meets the West. It's a great place to chill, with views as aforementioned – stunning.
Those with a finer taste of cuisine will most definitely enjoy Pearl & Caviar. The ambience is lounge-like with the added wellness of a great spread of seafood. The interiors are done up strikingly, in mosaic tiles and pearly whites. And that magnificent sea views! One storey above is the Pearls Bar to enjoy great food in a fine mood.
The Pool Bar and Restaurant is another great way to enjoy the Grand Mosque… especially from the infinity pool.
There is also a health club and yoga centre in case you enjoy burning calories (really?) on a vacation. But no hotel/resort visit is complete without the uber pampering destination – the spa. And Shangri-La gives you a taste of traditional Eastern philosophy in its treatment at the hotel's CHI, The Spa. Chinese, Thai or Japanese, are the options.
Stepping out of the hotel, the city lays at large to be explored. But first off, one must do the honours and do as the Abu-Dhabians while in Abu Dhabi – hop into Al Wahda Mall – the most happening mall, this side of The Dubai Mall. Retail therapy, movies and dining options are plentiful. Once this is done, then the emirate is laid out to try. A few of the places that you must not miss on your visit to Abu Dhabi are Sheikh Zayed Mosque of the Grand Mosque, Yas Island and its Marina Circuit and Waterworld, Ferrari World Abu Dhabi, an 18th century palace and fort Qas al-Hosn, Saadiyat Island, the Heritage Village, the Observation Desk at Etihad Towers Hotel and the souk.
Where : Shangri-La Hotel, Qaryat al Beri
Khor Al Maqta,Qaryat al Beri – United Arab Emirates
Phone : + 971 2 509 8888