There are many things you would like about St Regis Dubai, and many things that you will not like about St Regis Dubai. The food, for instance, is lip-smacking great, but service, bleh, not so much. The interiors are traditional with its 18th century English charm, while the rest of Europe that stroll its premises is not very friendly.

The pendulum of yin and a yang starts right from the moment when you take the exit that leads to the hotel.
Situated at the heart of the Al Habtoor City development, St Regis neighbors Dubai's much-anticipated new canal project on one side. Surrounding the hotel, however, is a construction site featuring tall cranes, building skeletons, dirt roads and plenty of dust. With the weather changing in any case this added soot was not a welcoming treat.
The grand façade of The St Regis Dubai gets dissolved amidst all the cranes, concrete and mud tracks. It would have been more appropriate to wait for the hotel to finish last, rather than have guests pay a fair price for an unfair view and neighbourhood.
As part of the Habtoor City there will be two more hotels within the Starwood family including W and Westin, as well as three residential towers and a retail complex, a recreational facility and helipads on the ground. Once it is completed, the hotel will look like a European castle amongst skyscrapers.

The hotel has a room which features the mammoth development of Al Habtoor City, Dubai's first fully-integrated urban resort.
The hotel was brimming with activity the day we checked-in. this is a given constant it seems, as the hotel has been welcoming good traffic from business guests, more so than families. So while the valet was ill-staffed on the grounds of an official meeting in the middle of rush hour, the start of our stay proved unexpected, and disappointing. No hotel have I ever had to wait outside my car, while the valet stumbled to make ends meet. Thankfully there was shade from the warm-but-not-scorching afternoon sun.
After someone finally came to collect our modest luggage, we walked towards the double doors to enter the hotel only to be saved by our reflexes, lest the enormous doors slam onto our faces. We didn't get much time to react to this added discomfort, as our attention went to the grandeur of the lobby.

The chandelier which took up the entire front lobby is accentuated by the winged-stairway on either side, with 45 steps each.
This chandelier consists of 1,200 pieces of hand-cut crystals
We settled into cozy chairs at the reception desk, and provided our details for check-in. As we waited, a kind man offered us Arabic coffee and dates. It was hard to excuse ourselves but hot tea was the last choice of beverage after the sun and staff-malfunction. Another thing that will not miss your notice is the way bits of Arabia seeps into 18th century American interiors.

The hotel had plenty of charming memorabilia from a bygone era. Baroque wallpapers and fabric designs, floral paintings, buttoned up-reading chairs, analog gadgets and machinery, chandeliers, lamp posts, cycles, sculptures, and ornate vases.
Not just tradition, even modern approach to design is seen.

The carpets at the lounge towards the elevators are the most elegant. Like strolling over a piece of art, it is almost picturesque. My son agrees.

Our room on floor four, faced the entrance of the hotel. The view was not to die for, not yet atleast. Perhaps once the development is complete, the fountains set up and the landscaping pruned, then there would be some life to the view. Right now, it stands bare, with just the metro lines taking up the most significance in the picture frame.

Our welcome included a handwritten note from the hotel manager, which was sweet, and a three-tier stand of chocolates and macaroons. Score.

The room is comfortably built with enough leg space for a family of three (provided one is a toddler). The bedroom doesn't have space for any ball game, but enough for the junior to stroll around and keep busy.
On entering, to the immediate left lied the wardrobe. Small and sufficient, it does justice to business travellers, singles who travel light or families who travel light, like us.
St Regis' 24-hour butler service has been the talk of the town, and we made no exception. We rang in at the desk who promised to send our butler pronto. That meant 20 minutes. Our anticipation overshadowed any disappointment in the delay, and when the doorbell rang finally, I rushed to let Jeeves come in and unpack our meager luggage. But woe was upon us, we saw no Jeeves. Or Smithers. In fact, he was not a he at all! There stood a petite, 20-something pretty looking red-riding hood, had she not been in a trimmed outfit like how Jeeves dressed. She did a fine job, though, everything in its place, neat and tidy.
The Butler also can bring you morning coffee, a drink on your arrival at the hotel, and an eButler who will respond to your whims and preferences via mail before your date of check in. In case all else fails, there is a Butler service desk where you can go speak to him or her directly.
The bathroom came next. That is the grandest feature of the room. It was built functionally, and aesthetically. Two mirrors, two stations. One toilet, one tub and one shower. The shower took my winning vote. The lighting had a natural flair and it consisted of a marble top where you could sit and bathe. This style of bathroom used to be prevalent in Indian homes, and it took me down nostalgia. The very idea of cultures uniting to facilitate basic human needs was reassuring.
Mirror image of another basin and mirror on the flip side.
This shower … sigh.
Elegance of silver. Almost chrome-like.
The hotel uses advanced body and bath products from French brand Remede. I vouch for their shampoo. It didn't give me frizz – that is revolutionary, when it comes to taming my hair.
My son was given a kit of his own. Although he wasn't amused, I was!
There is a well-equipped beverage corner, with everything you need for a cup of tea or coffee. Even disposable paper cups – a unique feature to St Regis, I feel. Never seen it anywhere else.
However. The mini bar was empty, except for two sachets of milks. Two. Cost cutting perhaps.
Dining options at St Regis Dubai are not exhaustive, but sufficient. The most famed is its Friday Brunch that has city revelers going gaga over. Unfortunately, we didn't get to experience that, but our itinerary instead served us breakfast at the Brasserie Quartier which is offered daily from 6am to 11am.
We even missed a dinner appointment at Le Patio as there was an event that night.

What Le Patio looks like, and what we missed out.

The J&G Steakhouse does not entertain children and so we decided for some French cuisine at the aforementioned venue. Another unique feature of the hotel is the champagne sabering tradition. Every day at the break of night, the hotel will sear a champagne bottle bidding day-time farewell, and welcoming night-fall. The custom pays tribute to battle victories that Napoleon and his men achieved. The army chief's sword was used to pop open a bottle of spirit to celebrate their win.
Dinner was booked at the Brasserie Quartier. Our food was a mix of cuisines, unlike what we expected it to be totally French. And salt over wound was my choice of mushroom risotto… which was absolutely delicious. I salivate just by the thought of the rich cream and perfectly spiced risotto with mushrooms and cheesy white sauce. In order to go with the theme, we ordered for some oysters too. It remained untouched after the first and final bite we had.

Doesn't look appetizing, I know. It didn't taste, either.

Vegetable soup that my husband ordered. Thankfully, he likes his greens.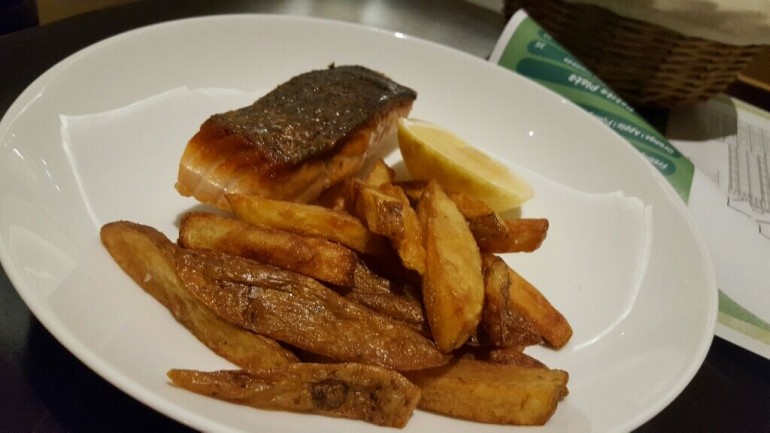 The best meal on the table, was rightfully prepared for my son. We helped ourselves to the wedges too. He wasn't pleased.
That is some serious Wagyu well done. For someone who has a preference to vegetarian cuisine, my husband was rather impressed with what he chose.


Children get another kit to keep busy until their meal is served. In the modest lighting of the venue at night, this exercise could be futile.

Dessert was fun, our waiter brought along a cart from where we could choose one amongst the list of treats from the pastry chef's kitchen.
While the young man who waited at our table was a pleasant dude, his colleague and restaurant head was not very pleasant. She must have had a rough day at work, because it showed in her attitude towards us.

After or satisfying and scrumptious dinner we retired to our room after a short walk to the poolside garden on the terrace.
Next day morning, after breakfast at the Brasserie Quartier, I checked into the Iridium Spa.

Here is what breakfast looked like:

Serious about serving organic cuisine, the hotel got the wild indoors by placing a portion of a honey comb at the table. Thankfully there were no bees.
So elegantly designed, it was hard to think of oils ruining the essence. But that was taken care of, by experienced staff. Sri was my therapist, and she knew her job well. She guided me through the treatment summary and help set up the right choice of music, just as I preferred.

After the treatment, I spent almost an hour to relax, shower, and get dressed before I left the spa. I didn't want to leave though, as the ambience and mood of the venue had hypnotic powers. Iridum, or 'of rainbows', has a Greek connotation, as well as being one of the rarest elements on earth. The name comes from the goddess Iris "who transcends sea and sky as a messenger and is manifested as a rainbow."

Welcome treat at the Iridium Spa. That cup of cold tea was quite refreshing.

I was offered the 60-minute Iridium Bespoke Massage. Four massage techniques are offered, Swedish, Deep Tissue, Hot Stone, and Balinese. I chose the last. My therapist Sri led me to the therapy room, passing through the dressing area, past the relaxing lounge and the showers.
Sri, with hands of magic.

Once inside the room, I couldn't help notice the simplicity of the interiors, nothing like spa therapy rooms I have seen in this region. A bed was placed in the centre of the room, with walls featuring a pastel grey wall paper.
Three oil scents are given as well as three music tracks, and you can choose one. I chose lavender and a pleasant oriental track. The next 60 minutes took me to a far, far away land where I could almost smell fields of lavender under the humid Balinese skies.
After the treatment, I was led to the relaxing lounge where I sat back and enjoyed fused water with a book on the intricacies of life titled "Stillness Speaks".

The entryway to the Gentleman's Spa. Only gentlemen are allowed, please not.
And by the time I joined my husband and son in the room, it was time to check out. Only I was smiling though… and for good reason.

I kept the best part of the hotel for the last, however – a tour of the presidential and iconic Sir Winston Churchill Suite. It is every bit as grand as the reviews claim it to be.

Three things were my favourites.
Curios tucked into the bookshelves.

An office desk.

A height-length mirror in the dressing room.
One day is not sufficient to enjoy St Regis Dubai. There is much more to indulge and experience. The popular Friday brunch, the Bentley Suite, Le Patio, the Astor ballroom.
If you are planning a long break, but not long enough to fly to New York, then you should drop into Dubai, and check into The St Regis. After all, it comes with a legendary background, something that began in NYC in 1904. You may not get a grand view yet; but in terms of F&B, recreational & spa facilities, and easy access to the most popular spots of Dubai, then look no further, this hotel fits the bill.
Where : The St. Regis Dubai
Al Habtoor City, Sheikh Zayed Road,
PO Box 124405, Dubai, UAE
Phone: (971)(4) 435 5555