It's incredible how you can laze away in the sanctuary of an overwater bungalow, lounge on white-sand beaches, and admire some of the world's most exotic marine life during a snorkeling excursion-all this and more in the breathtaking destination that is the Maldives: a chain of nearly 1,200 gorgeous islands that fan out across the Indian Ocean.

It's no surprise that the island destination is leading a recovery in the leisure market and has witnessed such a boom after the pandemic.
After all, post a year in sweatpants spent at home, the powdery white beaches, azure blue waters, and the exotic vibe of the destination is the escapism we're all craving for. With precisely that in mind, I set off to explore The Sun Siyam Iru Fushi in the Maldives- a popular choice for families and honeymooners alike.
First impression
Set on the Northern Noonu Atoll, post a 45-minute seaplane flight from Malé, we reached the resort to be greeted by a warm welcome punctuated with friendly smiles and decadent welcome drinks. Our butler-Faisal had prepared an itinerary of treats and surprises in room-ranging from a beautiful bath set-up, a bottle of bubbly, and some delicious welcome treats to make our welcome an amazing one.
The resort has 151 Beach and 70 Water Villas. The Water Villas (five with a separate bedroom) are built over the lagoon and come with glass-panel floors. The two-story Celebrity Retreat has its own spa, private beach, and 24/7 butler. Neutral décor and Maldivian-inspired cushions and throws in our sprawling Infinity Pool villa lent a relaxing air, and bathrooms came with Thalgo goodies.

There was an earthy, modern natural feel to the decor, with plenty of space and outdoor decks, open-air bathrooms, and daybeds. Our villa also came with a large multi-level deck area, a cabana, an outdoor dining area, and a private lava stone pool, which had to be our favorite part about it. It offered us the opportunity to revel in sublime aquatic views and savor the best sunsets ever as time stood still.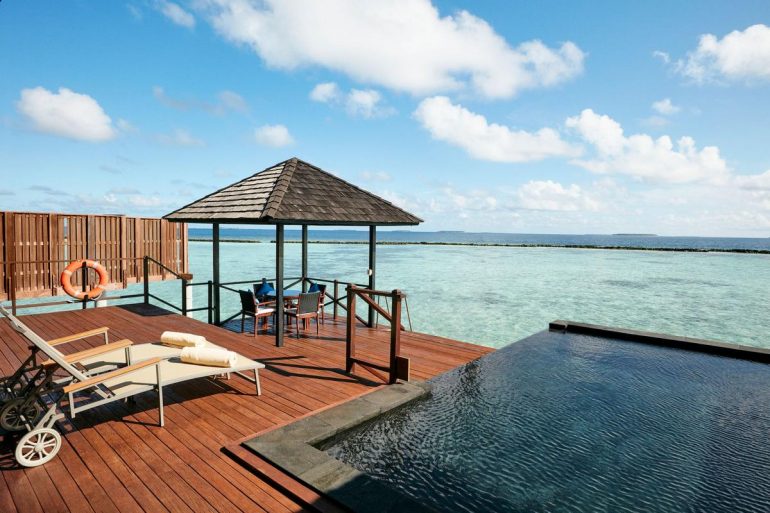 Food factor
The 14 restaurants and bars at the property cover everything from contemporary French and Italian cuisine to Asian, Middle Eastern, and Japanese. Our culinary journey at the property started at the Italian specialty restaurant-Trio where we savored the specialties like the incredible hot-stoned baked pizza, ravishing pasta, and the lip-smacking tiramisu-all bursting with freshness.

Breakfast is served in the main Iru Restaurant, a domed food court with a sand floor and a separate family area. There's a huge choice at breakfast: tropical fruit, cereals, eggs done a dozen different ways and sausages, Chinese and Indian curries, noodles, pastries, and – most importantly – good strong coffee. However, our favorite meal experience has to be Flavors- with its overwater restaurant setting, soft sophisticated music played along and impeccable food. We feasted on some classics like the ravishing French onion soup, unfailable ratatouille, and exceptional Creme Brulee. The French-specialty restaurant definitely managed to win over the gastronome in us!
The gracious staff here are ever-attentive and happy to serve which takes the experience a notch up.

Our favorite meal experience has to be Flavors- with its overwater restaurant setting, soft sophisticated music played along and impeccable food.

Spa-rty
Trained therapists here kneaded our muscles into mush, given their hands-on techniques. The 75-minute Jet-Lag therapy administered by my experienced therapist from Bali elevated me to spa heaven. Another highlight, the 90-minutes Shirodhara treatment had me lost in visions of tropical wellness. The final touch was the Maruhabaa & Bondithaan Kurun. The 2-hour long treatment took us through a fusion of two Maldivian treatments Coconut Scrub, Coconut Milk Bath, Herbal Poultice Massage in warm coconut oil. Through the spa treatments, I emerged not only spoiled to the core but ready to take on the world!
A world of activities
To keep guests regaled, the property organizes a world full of activities. We were spoilt for choice during our stay, as we discovered that the island itself has a dive center, 24-hour gym, and free weekly yoga sessions – you'd be hard pushed to get bored. There are two infinity pools – one 25 meters long and adults-only – a hair salon, free masks, and flippers for snorkeling and a recreation room with pool tables, table tennis and a late check-out lounge with showers. Evening entertainment consists of live music, DJs, and traditional boduberu (dancing and drumming).

Being the Maldives, you'll find yourself in watersports heaven, with activities catering to every level of skill and experience, whether it's sailing, windsurfing, kiteboarding or diving.
We loved the complimentary guided nature tour of the 52-acre resort that teaches guests about the indigenous flora and fauna of the region. Moreover, had time permitted it, we could have jumped aboard a dolphin-watching sunset cruise or experienced a castaway picnic prepared by the team to feast on in the tropical landscape but unfortunately during our stay, the rough seas did not allow that. However, these are activities worth reveling as the team happily arranges these gorgeous excursions for you.
Even after we left the property, the Sun Siyam Seaplane lounge with its comfy recliners, refreshing juices and quick grubs managed to keep us regaled until we boarded your flight. Shoutout to Ashish from the seaplane lounge managed to whip up some scrumptious Grilled Chicken and desserts before we could leave for our flight back to reality.
And that's when it struck us: What is truly lovely about Sun Siyam is how different ages and tastes are catered for on this beautiful island, with a smile.
Price: From $1198/ Dh 4,578 per night onwards
Where: P8VF+R8 Magoodhoo, Maldives
Phone: +960 6 56 0591
Note – The critic was hosted by the resort but all the opinions expressed herewith are her own.