As an avid traveler and hotel connoisseur, I have been intrigued and entranced by the word 'Tajness'. It suggested and promised so much. It was at once, an allure and an adventure. But what was it exactly? Could it be defined? Perhaps not. But I certainly got to experience it during my stay at Taj Dubai. And I can absolutely say that it was best to experience it first-hand.
To be sure, my spate of stays across UAE hotels have often made me ponder over the warmth and familiarity components that I often see lacking in the service. That makes me want to miss the genuine hospitality at hotels back home. But not when it's the Taj. It has proved to me time and again how remarkable it is! The place where smiles, sparking conversations with guests, and going out of the way to make their stay spectacular is a norm that every staff member does with so much diligence!
So when I recently tried the Taj Dubai at Business Bay, I found in it a property worth raving about- one that can give its several competitors in the region a run for their money due to several aspects ranging from its unparalleled hospitality to its culinary finesse.
The property's central location borders Downtown, home to Dubai Mall, Dubai Fountain and Burj Khalifa (visible from Taj Dubai). Most other attractions and amenities are within 20 minutes drive, including Dubai International Airport, Kite Beach, and the dining hubs of super-cheap Satwa and expensive Dubai International Financial Centre.

Love at first sight
My first impression of the property was very opulent, with Indian touches in the design including a dramatic backlit sandstone 'jali' screen set behind the reception, marble floors covered in thick rugs and silks in lilac, teal, and a dusky gold, plus tall mirrors with brass surrounds disguising the supporting columns for the building. It's not overpowering, not least because of the white paneled walls with polished brass.
I walk to the reception which is double height with a staircase leading up to the mezzanine floor, and hanging from the ceiling is a beautiful modern chandelier with crystal birds in flight. In the lobby, the antique burqa and camel bell are among the Arabian artifacts in glass display cases, and a sparkling tornado of crystal birds in flight form an impressive chandelier.
Going even beyond the chilled welcome juices and a cold towel welcome, at check-in my husband and I are greeted with a sandalwood-bead necklace and a dot of sandalwood paste on the forehead with a gracious "Welcome back to the Taj, Mrs. Mansuri" before I could even walk to them and mention anything about my check-in. That kind of recall and warmth set the stage for our stay ahead and there was no stopping!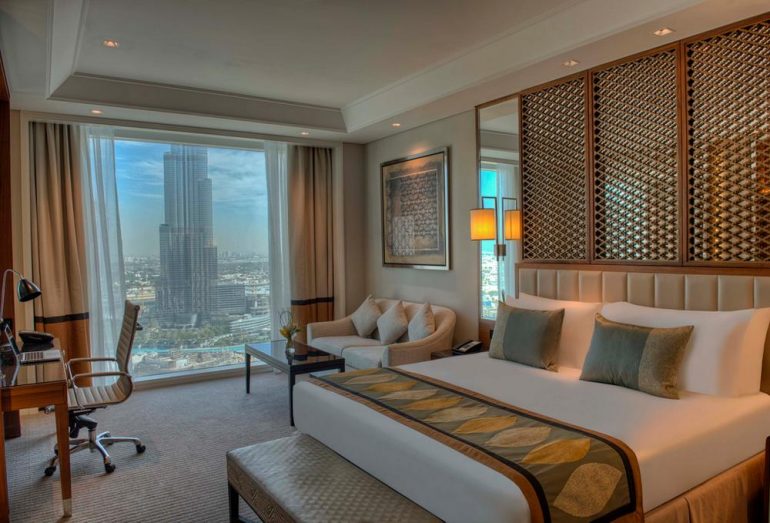 We enter our Burj Khalifa Suite which is so gorgeously adorned with the freshest flowers, bubbly, candle-cocooned spaces and the most delectable desserts with me and my husband's pictures on the welcome amenities. There's another message "Happy Married Life." I'm amazed at the thoughtful touch and the property's ability to personalize and make you feel at home. The reality already seemed to slip away as the feeling of being in my own primordial dreamscape set in.

There was also a rose-petal bath set up for us in our suite. Submerged and floating in another zone, I shut my eyes—savoring the faux Maharani moment. This was getting seriously dangerous! What if I got used to such pampering?
Across the property, more than 3,000 Indian sculptures and artworks adorn rooms, restaurants, and public spaces in this glossy skyscraper. Gaily illustrated maharajas look down from their gilded frames and ornamental animals march across polished sideboards. My ravishing Suite was replete with elegant décor with Indian accents and a marshmallow-soft bed featuring Sealy Posturepedic mattresses complimented by a pillow menu.
The marble-clad bathrooms had twin vanity units, a separate shower and tub, and Molton Brown amenities. In addition to the usual five-star creature comforts, from sofa seating and 42-inch televisions to padded hangers and plush robes, there are yoga kits and plenty of space for sun salutations.
All the 296 rooms and suites are large, with the entry-level Luxury Rooms being 45 sqm and ranging up to the Presidential Suite which is 680 sqm. Some of these suites are simply beautiful, with stunning design; understated, but also wonderfully ornate with great detailing.
The Taj Club executive floor is on 24, where there is also the private Chambers Club (you won't have access to that). Smoking floors are 17, 18, 19, 28, and 29 (54 rooms and suites in total).
Taj Club Rooms are on the higher floors and have views of the Burj Khalifa tower, as well as benefiting from butler service and access to the Lounge on the 24th floor, which serves breakfast in the morning and evening cocktails, with a private boardroom for meetings.

Foodie adventures
Breakfast at Tesoro serves deliciousness with a huge spread of fluffy pancakes, incredible omelets, and reams of regional specialties. For us, the spread was laid up stunningly in ornate golden culinary by our butler in our majestic suite. From omelets, hummus, different types of cheese to Arabic sweets like baklava, you name it and it was there!
Meanwhile, Byzantium brews afternoon tea, a deliciously educational experience introducing Indian and Arabian sweets and an oud burning ceremony. The Eloquent Elephant gastropub is as cool as London's Brick Lane with its wallpaper of vintage postcards, and dining like a maharaja is standard at the beautiful Bombay Brasserie. After hours, clubgoers can enjoy supper and theatre at Billionaire Mansion Dubai.

We had dinner at Bombay Brasserie restaurant. It has the same assorted mélange of furniture; carved wooden musicians and stone carvings, as well as ornate brocades and fabrics with large handcrafted Mughal paintings. At the restaurant again, service is seamless as we nosh over succulent kebabs that are a melt-in-the-mouth affair to fragrant biryani- its aroma itself producing breathtaking thrills and its taste tantalizing teasing our taste buds. Service is seamless and food surprised us as it was much more spot-on and exceptional than what we had even expected it to be.

Swim, spa and splendour
There is a large outdoor swimming pool and then a smaller one beneath a waterfall for children (it's a very small waterfall – very safe). At the Jiva spa, there is an emphasis on Indian spa techniques such as an ancient form of head massage, the Prishta mardana treatment for stressed shoulders and the Pavithri, which is a detoxifying massage using oils of ginger and lime. I tried a full-body aromatherapy massage that was administered by alternating palm and thumb strokes.
As my therapist rubbed, kneaded, and stretched my muscles, I felt a pleasurable tinge traverse. With my body cocooned and the mind relaxed in preparation for a luxurious head massage, I was completely nourished and relaxed. The fragrant signature oil blended with the richness of Kewda, Frankincense, and Brahmi, infused in Sandalwood and Sesame used for the massage alongside the soothing Jiva music guaranteed an awakening.
Like all good things come to an end, so did my stay at this beauty of a property. The property has quite well managed to establish itself as a bastion of luxury and champion of hospitality. A stay here is so potent that it definitely has its effect on you. Trust the faultless service and the impeccable hospitality of the Taj to make you feel like you are floating on a cloud. A sort of beauty overdose had flooded through me. It was impossible to stop smiling!
Note: The critic was invited by the hotel but all opinions are her own.
Where: Burj Khalifa Street – Business Bay – Dubai
Phone: 04 438 3100
Price: The Luxury Room City View starts from $ 122 plus tax per room, per night.