New York is a city that brims with life from dawn to midnight, well-placed as one of the most active and vibrant cities in modern history. And bringing a touch of Parisian pop into this mixed art canvas is The Mark New York hotel.
The Mark is located in one of the most elegant neighborhoods of the city where "all of New York is at your fingertips". The locale is known best for its sophisticated architecture, shopping and dining venues, as well as Central Park. It is defined as a luxurious and serene retreat, something very hard to argue upon visiting the hotel. The original framework was built in 1927, but the hotel reopened after some major uplift surgery in 2009 to unveil this European class in the heart of bustling America.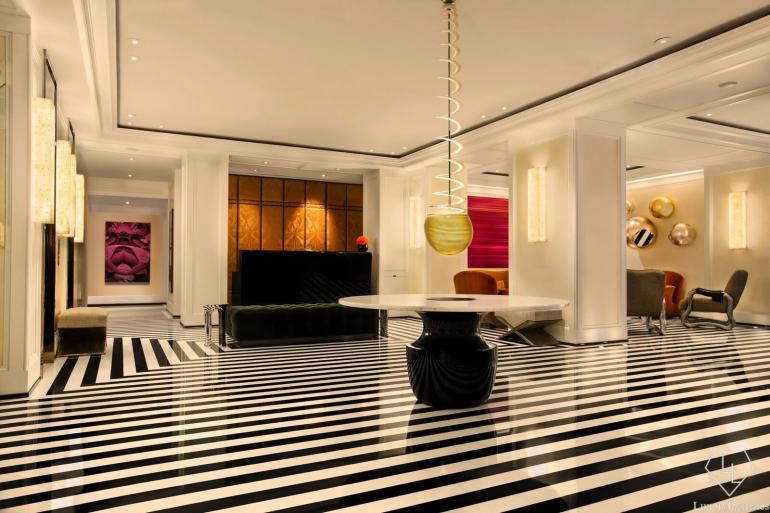 Interiors
It would be a shame not to take you through the anatomy of the hotel, one square foot at a time. French designer Jacques Grange has done the hotel's interiors, and for those who know him the hotel's Art Deco, modern genes offers a window to his brilliance, but for those who don't know, the hotel gives a welcoming tour of one of the world's most iconic contemporary designers whose clientele include chic homeowners such as Yves St Laurent, Valentino and the Princess of Monaco. What takes the largest slice of the pie on entering the hotel is its lobby which is sure to charm you with its zebra-striped marble flooring. You will find the same pattern in the bathrooms as well, looking up to mint drawers. What is more, Jacques brought more of his European buddies, well-known furniture designers, to paint the lobby in colorful one-off furnishings. Names that you may recognize are Vladimir Kagan, Todd Eberle, Pierre Pabson as well as orange-velvet sofa and chairs by Paul Mathieu, bulbous mirrors by Mattia Bonetti, and Ron Arad's dangling-sphere chandelier.
It doesn't end there. The staff, those fine, fine people who do not hesitate in the least to make you feel absolutely at home, are dressed all chic in outfits tailored at from London's Turnbull and Asser, suit-makers to Churchill, the Prince of Wales and James Bond.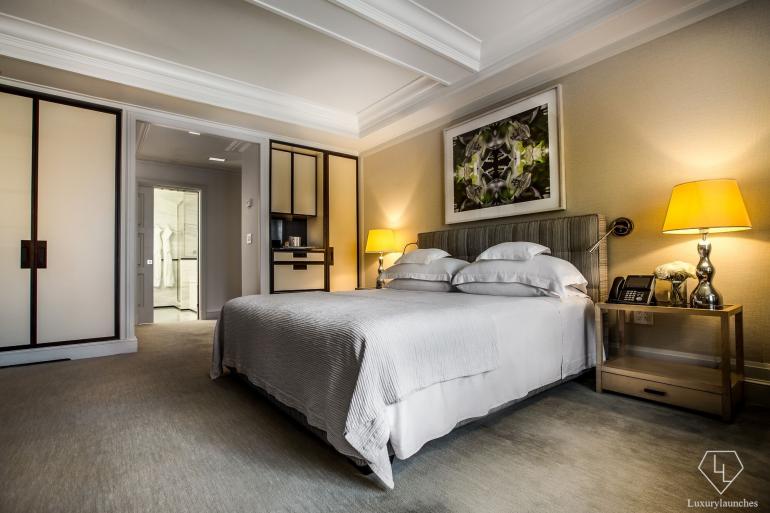 Rooms:
There are in total seven room types, in a total of 100, and 13 suite types, 40 in all. I was given a Seventy Seven King room – a room like one I have never seen in New York. It covers 500 sq ft, and is tastefully done up – "with furnishings of ebony, sycamore and nickel, fine Italian linens and bedding by Quagliotti". The room is contemporary, stylish, very quiet and technologically packed. There is a state-of-the-art Bang and Olufsen HD TV and Blu Ray player, a Cestron panel that controls functions like lights, temperature and the iButler caller (this one is very cool!) and a black-granite bar with SubZero drawers. The bathroom had the Zebra floorings, with white marble walls and slabs. Specially-designed toiletries by La Bottega were a pleasing sight, and I absolutely loved the towel warmers. Nothing like a relaxing shower after a long day of sight-seeing, and wrapping yourself in a warm towel after a hot shower!


Perhaps the only thing I could point out as a "meh", was the view I got – which looked out to buildings nearby. Room rates range between $495 and $1300.
Dining:
The most popular venue in the hotel, and a popular haunt for the city's fine dining revellers in The Mark New York, is The Mark restaurant with a celebrated menu designed by three-star Michelin chef Jean-George Vonggerichten, featuring French-American dishes. The interior of The Mark is pinkish in texture but stylish in nature. It features a dining room designed by Jacques, and The Mark Bar which features specially-made furnishings by Guy de Rougemont and Vladimir Kagan which includes cowhide disco chairs. This bar is considered 'the most stylish meeting spot on Madison Avenue'. If you are visiting the city any time before the end of September, you can enjoy a summer special called 'The Mark Hotdog by Jean-Georges'. Now if you aren't one to be bothered to get dressed an come down to the restaurant, you could perhaps have the meal sent over to your room – being a Michelin-starred one, it is no shrugging matter.

Salon:
The Mark New York has no spa or pool. But that covers up with the fantastic offering of the "world famous and talented" Frédéric Fekkai's in-house salon offering special hair and body treatments. I didn't get to try out a package, but one reviewer highly recommends the 'Chic by Frederic'.
Quirks:
There are a few things about The Mark New York that stand out like the shimmering cherry on top, services that you don't come across every day, neither many other hotels.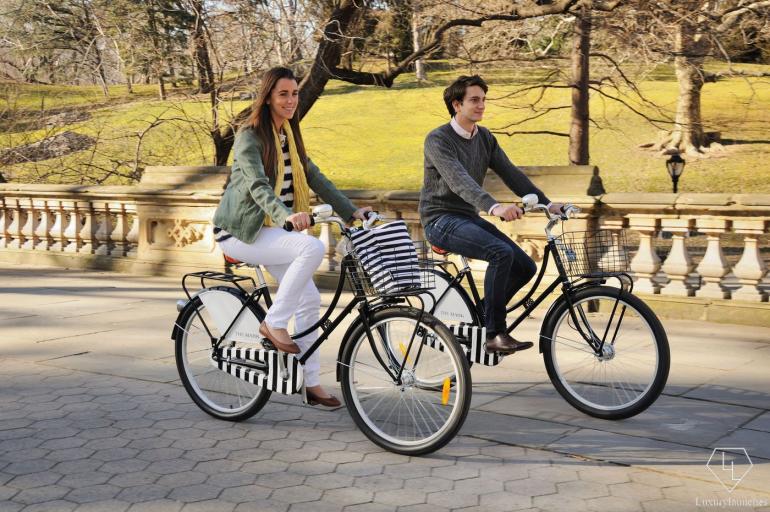 – Ride into town: Republic Bikes has commissioned a stylish fleet of custom bicycles exclusively available to hotel guests. With exquisite design by Jacques Grange including a striped chain case and monogrammed bells, and comes as a package with signature black helmets and a fully-equipped (food included) lunch-to-go picnic baskets. As well as a well-curated illustrated bike map, enjoy a day out at Central Park.

– Europe Calling: The Mark is tied up with Bergdorf Goodman to offer 24/7 shopping access to a range of their goods and services, as well as complimentary delivery.

– Bright, and shine: On the mezzanine level you will find a John Lobb Kiosk. Butlers who are certified John Lobb shoe polishers can get a complimentary overnight shoeshine or an in-chair-shine at any time.

– It's a dog's life: Not just you, even your four-legged friend will be treated with utmost care and attention. Your dog can 'enjoy' tucking into a dog bed by Molly Mutt, signature water bowls and a custom placemat.

– Sweet dreams: on your first night's stay, you would be thrilled to bits with complementary Ladurée macaroons by your bedside to lull you to sleep, as it did to me.

– Ride in style: Go shopping or museum-hopping or gallery gallivanting in the stylish, chauffeured Pedicabs, arranged by The Mark.
Words can't describe how unique The Mark New York is, and if you want to get a clear confirmation of this gem in Manhattan's heartbeat, you need to experience it first-hand.
Where : The Mark
Madison Avenue at 77th Street
New York, NY 10075
Phone : +1 212 744 4300
The Mark is a member of Preferred Hotels & Resorts Legend Collection.
For bookings visit their website.