It's not uncommon for customers of limited-edition ultra-high-end automobiles to demand bespoke paintwork for exclusivity. We have seen everything from a Rolls-Royce decked out in a unique mother of pearl paint job to another Rolls featuring exterior paint with 1000 crushed diamonds to the famous Aston Martin Valkyrie ordered with a custom livery with actual moon dust. However, one of the customers of a Bugatti Divo demanded an exclusive paint that was so complex that it took the French manufacturer two years to create. Nicknamed Lady Bug, the hypercar wears a paint job that its creepy-crawly namesake inspires. A customer from the US specifically demanded "a strict geometric pattern consisting of diamond shapes in a unique color contrast," Bugatti initially believed it wasn't possible, but then they took the challenge.



The development process from the one-of-a-kind paint job lasted for two years, and there was even a time when Bugatti almost decided to quit. "Due to the nature of the project, where a 2-D graphic was applied to a 3-D sculpture, and after numerous failed ideas and attempts to apply the diamonds, we were close to giving up and saying: 'We cannot meet the customer's request,'" Jörg Grumer, Bugatti Design's head of color and trim, said in a statement. After spending endless hours perfecting it, the designers at Bugatti meticulously modified each of the 1,600 diamonds to be translated onto the sculptural body of the Divo without any distortion.

Bugatti conducted several trial runs of the process before doing it on the customer's car. "Every maneuver had to be exactly right in this painstaking task; therefore, we decided to do another rehearsal before the final stage of work," Dirk Hinze, Bugatti's expert in customization and surfaces, said. The entire paint job was done by hand, and it took two weeks to complete. Bugatti even developed two special metallic tones called Customer Special Red and Graphite to create a unique contrasting effect. Mechanically, the Lady Bug is identical to the rest of the 39 Bugatti Divos. It packs an 8.0-liter, quadruple-turbocharged W-16 engine that churns out 1,500 hp and 1,180 ft-lbs of torque. The current price of the limited-edition hypercar is north of $8 million.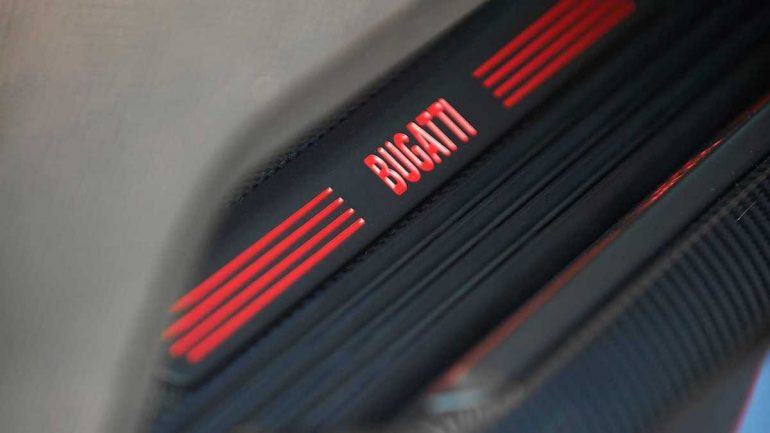 [Via: Motor 1]