Meet Al Lusail, Emir Of Qatar's $500 million superyacht that effectively puts the super in a yacht. The 404-footer is built by German shipyard Lürssen and is among the largest ships in the world. The massive vessel flaunts a hull built out of steel while the superstructure is made out of aluminum with teak laid decks, and that's just the start of its magnificence. Al Lusail's exterior is the design work of London-based design company H2 Yacht Design. At the same time, the grand custom interiors are credited to March & White, picked by the owner Sheikh Tamim bin Hamad Al Thani himself. We will take a close look at what makes Al Lusail, formerly known as Project Jupiter, an epitome of creativity on the high seas: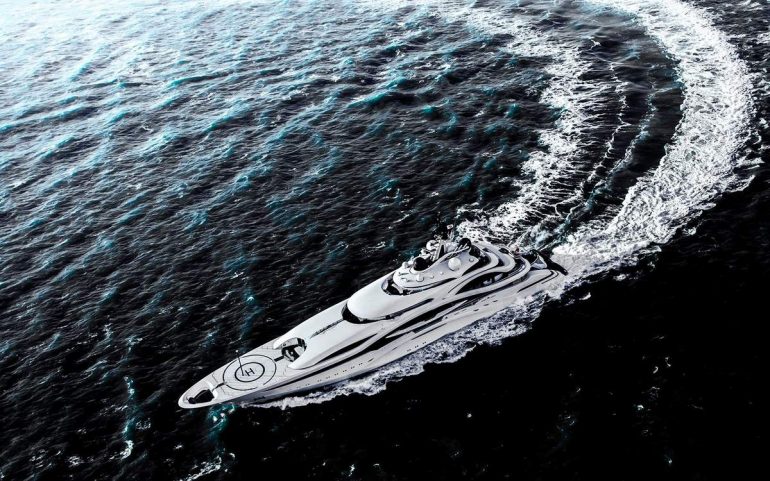 Outstanding features of Al Lasail:
This Lürssen behemoth costing upwards of $500 million was rechristened Al Lusail, after the beautifully planned city in Qatar. Interestingly, the yacht boasts a length of 123 meters, only 1 meter shorter than the yacht Katara, owned by the Emir's father. Superyacht fan shared this was done out of respect. One meter makes no difference when you have an alarmingly huge beam of 75 ft. That is copious enough to comfortably accommodate and entertain up to 36 guests, with the help of 56 crew members. The motor yacht is divided into six lavish decks that can be accessed via an elevator.

No luxury vessel is spotted without a sumptuous swimming pool, and Al Lasail undoubtedly boasts more than one, though we dont have an exact number. Similarly, less is revealed about its cabin layout, but with a capacity to entertain 36 guests, there should be at least 18 cabins and a separate owner's residence.

The luxe ship also features world-class amenities such as a well-equipped gym, movie theatre, and beauty salon, as per Yacht Bible. With so much space at the affluent owner's disposal, the ship comes outfitted with an impressive barbeque area, a fancy beach club with a swimming platform, and a dedicated tender garage.

The motor yacht features a nearly 30-feet tender garage that houses a D-RIB and two limousine tenders fit for royalty and their guests. There is a helicopter landing pad to receive VIP guests and the famous owner. Al Lasail looks like a vision floating on the water owing to the underwater lights. As far as making the most of natural light is concerned, her central interior atrium and exterior balconies open up to receive ample natural light and provide a sense of space. Such extraordinary interior volumes make Al Lasail the perfect yacht for entertaining and socializing.

Owing to her timeless styling, classy decor, and beautiful furnishings Al Lasail will be viewed as eternally elegant. Yacht Bible shared that Al Lasail is powered by twin MTU engines which allow her to reach top speeds of 15 knots despite her 8,489-ton weight.

About Qatar Emir, Sheikh Tamim bin Hamad Al Thani:
British-educated Sheikh Tamim bin Hamad Al Thani was named Emir of Qatar in 2013. The royal was voted the best sports personality in the Arab world, and a well-known sports enthusiast, by the Egyptian newspaper Al-Ahram. The Emir of Qatar also enjoys the invaluable friendship of former US President Donald Trump, who once said, "It's a great honor to work with a friend." Sheikh Tamim heads the Qatar Investment Authority board of directors and owns significant stakes in Barclays Bank, Sainsbury's, and Harrods. The fund also owns a share of Europe's fourth-tallest building, the Shard. Sheikha Mozah bint Nasser Al Missned built her son Sheikh Tamim bin Hamad Al Thani a $247 million mansion in the heart of London in 2014.

The 33,000 square feet luxurious mansion houses 13 rooms, a spa, a heated swimming pool, a beauty salon, a gymnasium, and massage areas. It also includes a children's floor (the monarch of Qatar has thirteen children; seven sons and six daughters, from three wives), nanny's quarters, and the butler's quarters. His megayacht Al Lasail offers similar luxuries on the water as his $200 million private Boeing 747 Jumbo' flying palace' once did in the skies.