With the coming together of a powerhouse duo such as Giorgio Cassetta and Laurent Giles, one can only expect a breathtaking creation such as the 115-feet motor yacht dubbed the Spritz 116. Miami-based shipyard Alpha Custom Yachts has expanded its Spritz range with this aquatic masterpiece concept that wastes, not even an inch of space from aft to bow to entertain those onboard. Credit goes to the designers for installing a 145′ yacht with a 26'11" molded beam, creating a vast canvas of options and the luxury of space within the Spritz 116. As per Boat International, designer Cassetta states, "Everything is home-sized, which is what I love. It's the standard you'd expect on a 45 or 50-meter yacht."



The Spritz 116 has already managed a fan following who are raving about its three solid pluses. The first one is impressively large volumes observed in VIP cabins which house king-size beds and sanction plenty of room for guests to move around. The next advantage will also be found outdoors- the enclosed exterior dining. At this fantastic addition, you will find the well-protected aft dining area that can fit a group of twelve. Add a massive marble dining area, a wet bar, a teak ceiling, stunning LED lighting, and a surround sound system to this space.

Yacht owners will particularly like their third plus- Endless Customization Options. Alpha Custom Yachts is giving those with deep pockets and vivid imagination a chance to stir up the superyacht of their dreams. You name the feature, and the proficient designers and shipbuilders will make the magic happen. Everything can be tailored according to the owner's taste, from sound insulation, floating floorings, fill-size showers, and custom paint. Spritz 116 will house five stately VIP cabins that accommodate king-size beds and leave enough space for guests to saunter around.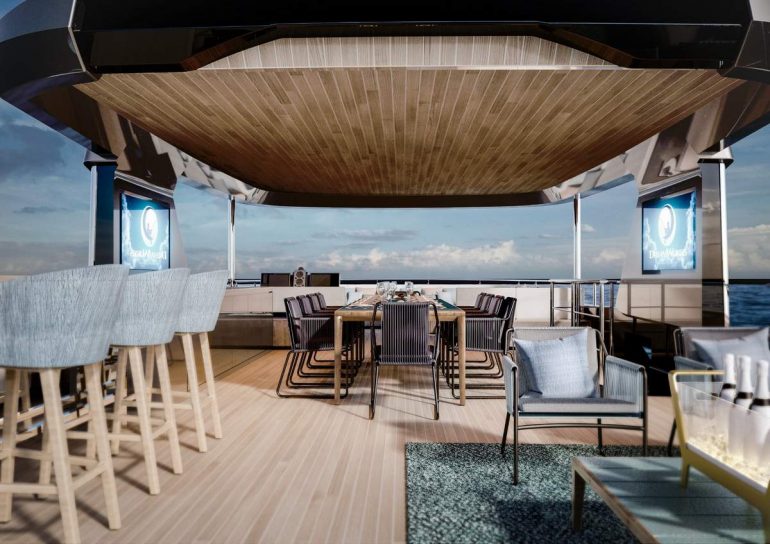 A luxury vessel is incomplete without a pool, and Spritz 116 doesn't disappoint. As per Boat International, her aft deck holds a hydraulically operated platform capable of supporting a tender and a large plunge pool that can serve as a dance floor when covered with a teak top.