A month after Bugatti revealed the final Chiron derivative called the Profilée, the stunning one-off hypercar will be sold at R.M. Sotheby's auction in Paris tomorrow, February 1. It represents the final opportunity for car collectors to get their hands on a factory-fresh Bugatti hypercar with the W16 engine. Not only all other examples of the Chiron and its derivatives have been already sold but this is the final Bugatti to be powered by the iconic 16-cylinder engine which has been around since the French manufacturer introduced the Veyron almost two decades ago.



What makes the Profilée even more special is its equally interesting back story. The final W16 Bugatti was originally meant to get a small production run and was created for a customer who asked the French marque to build something more radical than the Chiron Sport and slightly less extreme than the Chiron Pur Sport.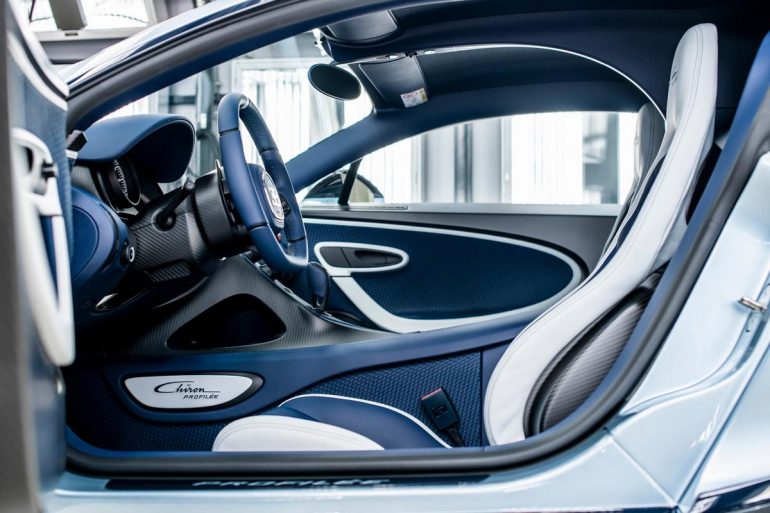 Sadly, all of Chiron's 500 build slots were sold out before Profilée's development work was completed. As a result, it couldn't be introduced as a full production model. However, Bugatti decided to give the Profilée a single-type approval for Europe, turning it into an exclusive one-off like the Voiture Noire.

As you would have noticed, the Profilée features a more toned-down aerodynamic package, giving it a cleaner look. Instead of a massive rear wing, it features a relatively smaller fixed spoiler with a unique design. Additionally, it gets a revised front splitter and an exclusive two-tone finish that combines a variant-exclusive Argent Atlantique hue with blue-tinted exposed carbon fiber.

The hypercar's 8.0-liter W16 engine is capable of producing 1,479 hp, which is enough for a 2.3-second 0-62mph time and an electronically-limited top speed of 236mph. The bespoke Bugatti has a pre-auction estimate of between $4.55 million and $6 million, which sounds like a bargain when you consider the Voiture Noire was sold for $18.7 million.