Feadship and fabulous go hand-in-hand, and their latest eco-concept Dunes unveiled at the Monaco Yacht Show is proof. This unveiling aligns with the shipyard's goal of achieving net zero emissions for superyachts. This 272-foot vessel is capable of mitigating a whopping 95 percent of the potential negative environmental impacts associated with operating a superyacht. Dunes is poised to set a new precedent in the yachting world with its low-impact construction, utilizing high scrap-content steel and aluminum alongside other sustainable features.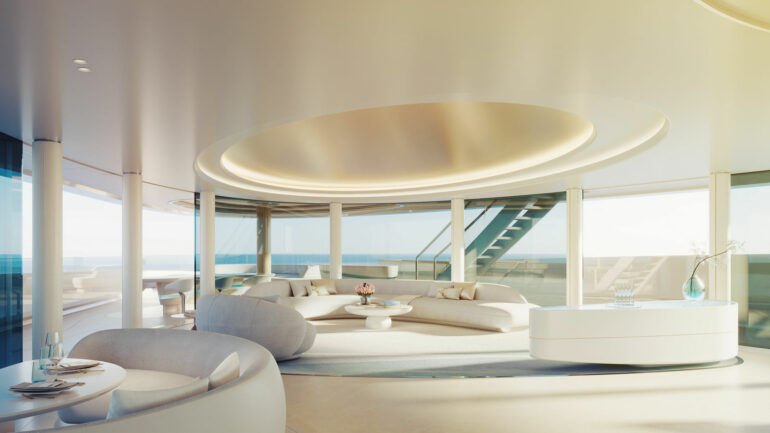 With a signature cooling mast design, extra-capacity storage batteries, a new type of fuel cell, and a radical propulsor, Feadship has unveiled a truly cutting-edge concept while ensuring the boat looks breathtaking. Thanks to its remarkable design, Studio De Voogt successfully created a vessel that resembles a floating desert, which effectively mimics the undulating waves of sand. The serene, organic aesthetic is the result of an asymmetrical superstructure. Dunes is outfitted with shaded walk-around decks and ample outdoor seating. The al fresco lounges are designed to be oases of respite, furnished in calming, golden maple wood, an eco-friendly alternative to teak.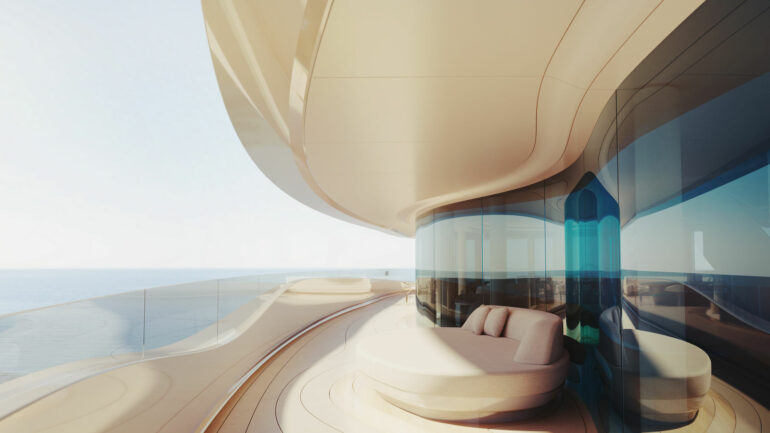 The lack of straight lines is evident, even in the staircases. Dunes flaunt circular and gently curved staircases and full-height glass on doors and windows accented by curved overhangs. Taking eco-consciousness to the highest level—pun intended—is the uppermost pavilion deck structure. It is built of CO2-negative treated timber, which lends it a high insulating capacity. This airy space features a Jacuzzi and an informal dining area and can transition from a nightclub to a conference room as needed. Dunes will house six guest staterooms and a lavish owner's deck with stunning views.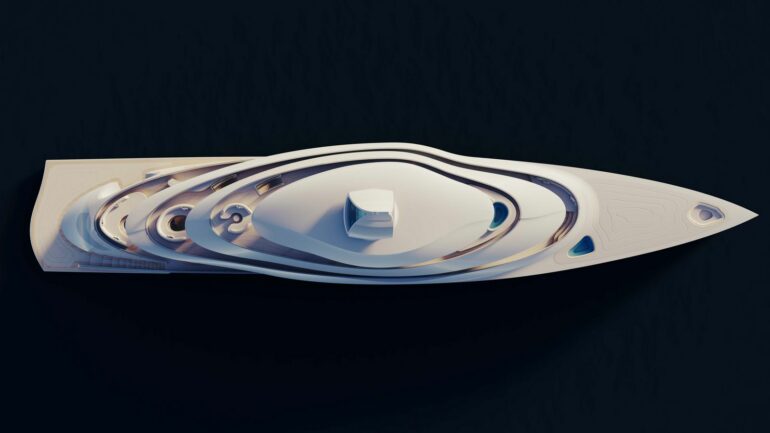 According to Feadship, Dunes introduced a breakthrough high-efficiency electric propulsion system from ABB, called ABB Dynafin™, unveiled last May. The ABB Dynafin™ employs revolving vertical blades to mimic the motion of a whale's tail. The first prototype is estimated to be available in 2025, with a hydrodynamic efficiency target of up to 85 percent.