I could never understand how people can like blinged-out wheels. More often than not, the gilded cars end up looking tacky than sleek, point in the case, the BMW X5M car with golden sticker. However, as the saying goes, "never say never," even I was forced to eat my words and appreciate the beauty of one such blinged-out creation. The car that made me appreciate the beauty of bling on wheels is none other than this gorgeous gold-black Bentley Continental Supersport which was spotted in China in Chengdu in Sichuan Province.

Sure to cause a number of traffic jams, this car features unique detailing, including air-vents in gold on black carbon. With China making its presence felt like the new emerging superpower and a profitable luxury goods market, almost nobody wants to miss out on the opportunity to benefit from this country. In fact, Bentley can confirm that China has been its biggest market worldwide since the first quarter of this year. No wonder then that reports suggest Bentley is working on introducing two new models keeping in mind its big market.


Given the growing demand for high end transport in China, I am sure this is not the last of the bling on wheels that we will see in China.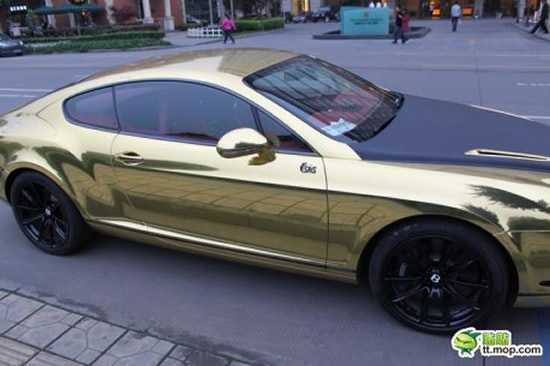 [CarnewsChina]