Other princes live in palaces and megamansions, but the Fresh Prince of Bel-Air lives life king-size even on the road. An Rv that will put all others to shame is rightfully nicknamed 'The Heat.' It is a mammoth motorhome priced at a staggering $2.5 million befitting the stature of the Hollywood A-lister for whom money is no matter; he is, after all, one of the most bankable actors in the movie business. Having played a genie himself in Alladin even, he couldn't have conjured up a better motorhome than Anderson Mobile Estates, an American RV company that has made something truly magical. The Heat is just the home discerning clients with bottomless pockets deserve, complete with mind-boggling amenities and features that words can do no justice to. Check out the outstanding image gallery to see the wonders money can buy:



Meet The Heat! It is a massive motorhome supported by 22 wheels and offers 1200 square feet of space. It is a double-story motorhome, and though it admittedly lacks the suave interiors that RV's boast of today, it still is impressive as one of the most luxurious motorhomes in the world, fitted with features one can only dream of.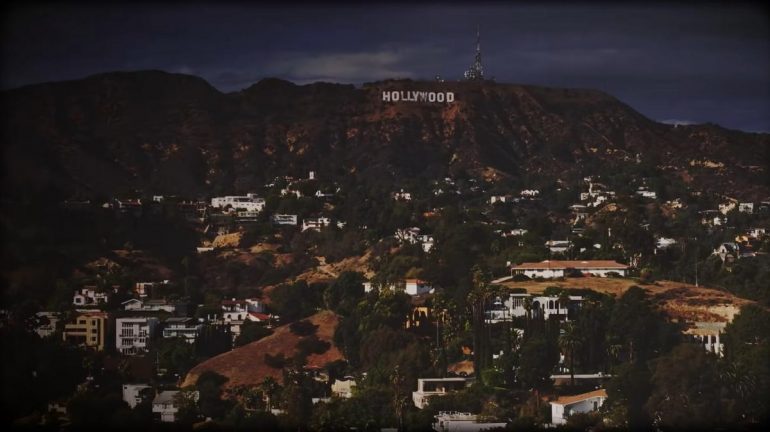 When not in use by the superstar, the massive mansion on wheels is rented for a whopping $9000 a night. It comes with eight pistons that raise the top by 42 inches by applying 2,000 pounds of pressure, and you have yourself a complete home anywhere in the world.

The motorhome comes with a sprawling living room, as many as 14 TVs, and if that wasn't enough, even a 30-person screening room is discussed in detail below. The interiors may seem dated to the few who love avant-garde minimalism, but you can't ignore the plush interiors that flaunt $300,000 worth of leather combined with the most delicate woodwork.

The kitchen is one of the essential areas in a home, whether on-road or permanent. This $200000 kitchen is roomy, fitted with the best-in-class appliances like a three-door refrigerator/freezer, a dishwasher, $125,000 worth of granite to compose 17 slabs, a microwave, and a generous round dining table to seat a family comfortably.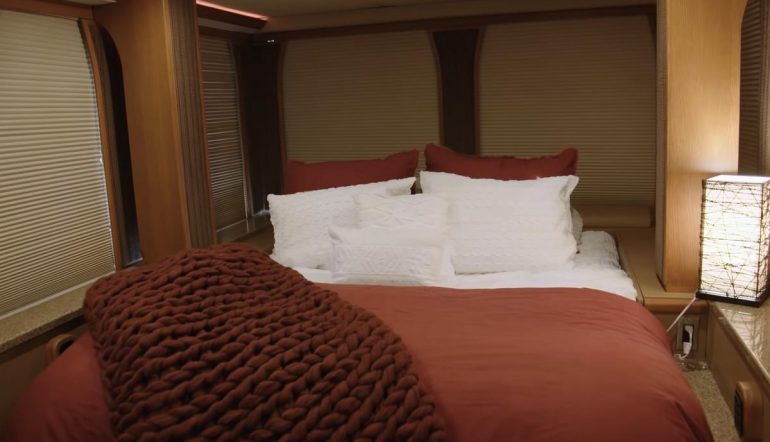 The master bedroom (and only room) features a plush king-size bed with windows on all sides to take in spectacular views. The bed converts to a comfortable couch to create a private workstation and is accompanied by an emergency fire exit.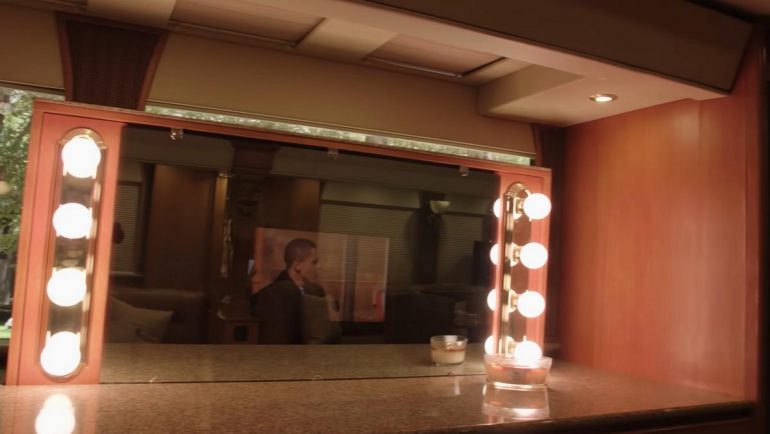 While we are on the subject of expanding rooms and convertible furniture, seen above, is a makeup mirror that emerges from what is otherwise a simple desk. Keeping in mind this RV belongs to an actor, the makeup room is an important area, especially when you're taking this behemoth to work.

This is the plush, full-of-gorgeous-leather dining room and lounge. The emerging makeup mirror mentioned above is placed adjacent to the lounge and has a tiny office. It also doubles up as a wardrobe for when Smith is on location.

The TV's of The Heat deserve a special mention. There are as many as 14 TVs in the motorhome of a movie star that comes with blackout shades. Watching movies without the prying eyes of the paparazzi was a priority for Smith when he commissioned it.

The two-story motorhome expands at four different spots making for an incredible amount of space for its owners. The fantastic RV also boasts "Star Trek doors" that opens to the private hair and makeup space. These automatic doors make a sound upon opening and closing to make things interesting.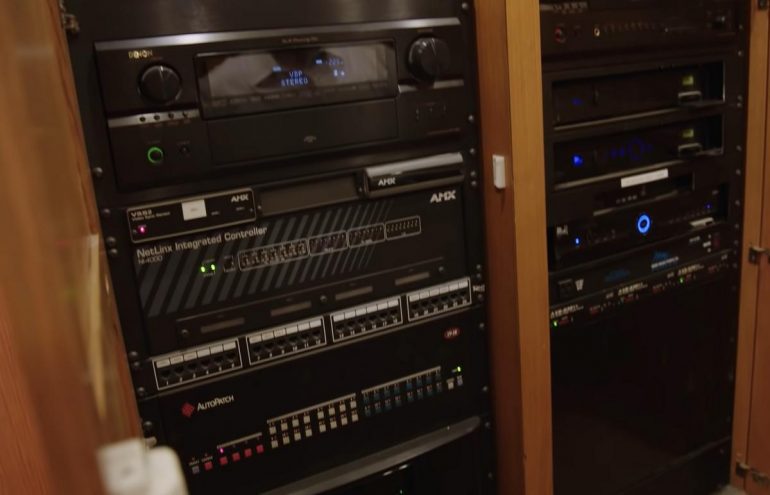 Pictured above is the control center that controls all your TVs, touch panels, and other electronics well worth over a $100,000

This area can be cut off from the rest of the RV that becomes Smith's private space. Once the star trek door closes, it divides the space into a separate office/lounge area with a separate entrance. Will Smith's associates can directly enter, do business and leave via this door without infringing his privacy.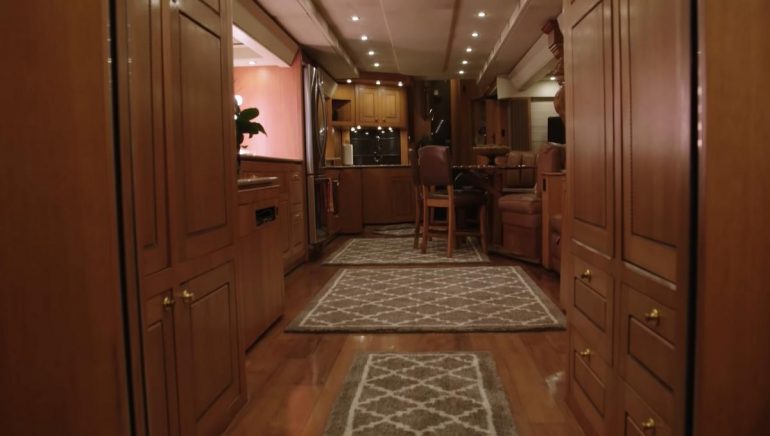 What makes this RV opulent are delicate touches like plush rugs, plants, centerpieces, and decorative shelves, giving it a homely feel.

The $25,000 bathroom includes the shower stall glass, which goes from transparent to opaque with the touch of a button. The luxurious sink fitted with golden-colored faucets also holds a tablet to help you operate the sauna shower, the separate dry toilet, and the glass door.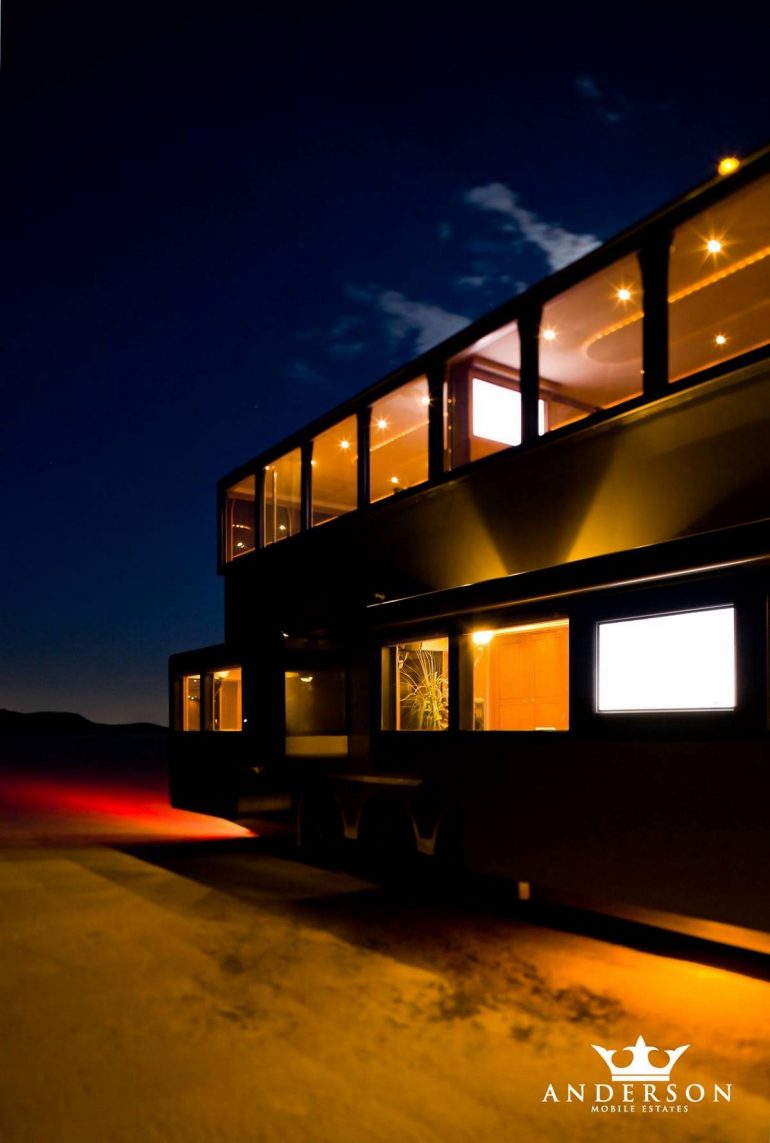 The Heat has been with Will Smith since the early 2000s. The actor made it his home while filming hits like Ali, Men in Black III, and The Pursuit of Happyness.
The Motorhome is now available on rent for $9,000 a day by Anderson Mobile Estates.