We told you how Jaguar celebrated its 75th anniversary. Besides a unique tour of its many models, Jaguar also unveiled a number of special edition cars to mark its anniversary. One of them is the C-X75 Concept. An extended-range electric coupe, this two-seater car is definitely a great way to mark the automakers birthday. A futuristic supercar, it symbolizes the path the famed marquee is all set to embark. Boasting of an electric/gas turbine power source that generates 780 hp, this car is all set to redefine the future of supercars. The C-X75's takes design cues from a number of beauties from Jaguar's modern lineup, but in shape and proportion resembles the 1966 XJ13 Le Mans prototype. Under its aluminum skin, the C-X75 features four electric motors at each wheel generating 195hp each and a lithium-ion battery pack.

A powerful machine, the C-X75 can reach speeds of 62 mph in 3.4 second. What is more, the batteries have enough charge to carry the C-X75 68 miles on electric power alone. The C-X75 can also refill its electric power with two micro gas turbines, paired midships, that generate 94 hp each, offering nearly 500 miles of additional range. The turbine can operate independently as well. Together however, the system provides a cool 780 hp and 1187 lb.
A high-tech creation, the cabin of the C-X75 is decked up with a number of touch screens, one of which can mimic the dash of a D-Type. A Bremont-designed clock adorns the center dash while the Bowers & Wilkins sound system provides the tunes to this car. The Bowers & Wilkins sound system uses transducers lining the doors and bulkhead in a honeycomb pattern.
An awesome creation, I hope this concept C-X75 goes into production soon.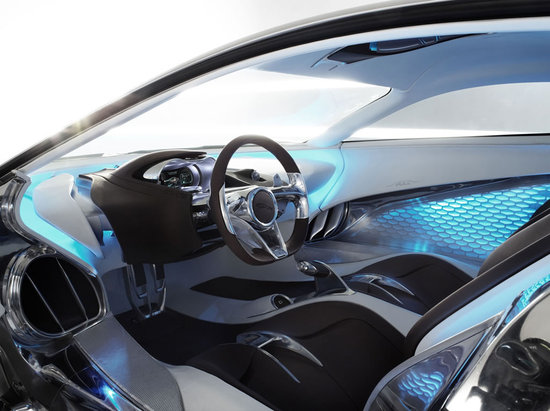 [Jalopnik]