The Hummer H1, the civilian version of the M998 Humvee military truck, is a humongous machine that can dwarf pretty much all regular cars and even most SUVs. However, someone thought that standard Hummer H1 is not big enough and wanted a version that's much, much bigger; three times in size, to be precise. Meet the Hummer H1 X3, a scaled-up version of the iconic off-roader that measures 6.6 meters high, 14 meters long, and 6 meters wide, making it three times as big as the factory-sized H1. The monster-sized vehicle was recently filmed on the roads of UAE with onlookers who had stopped dead in their tracks and watched in amazement.


Dubbed as the world's largest working Hummer H1, the gigantic machine was commissioned by one Sheikh Hamad bin Hamdan Al Nahyan. Best known as the Rainbow Sheikh, the billionaire from UAE holds the Guinness World Record for the largest collection of 4×4 vehicles. You might also remember the gigantic Willys Jeep that was once featured in a Top Gear episode. Well, that's also owned by him and is parked outside his Emirates National Auto Museum in Abu Dhabi.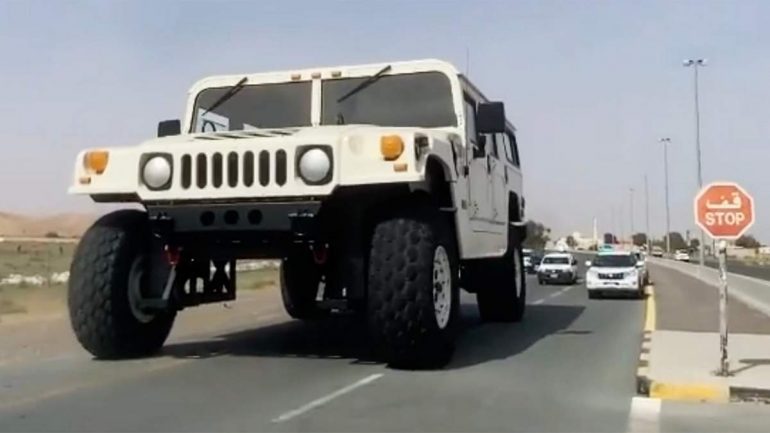 The supersized Hummer H1 is fully functional and was taken out for a short drive on its way to being transported to OffRoad History Museum which is located in Sharjah and also owned by the Rainbow Sheikh. In fact, the H1 X3 has a proper four-wheel-drive system thanks to four diesel engines powering each individual wheel. But what's interesting is the attention to detail. The scaled-up version looks like an exact replica of the actual H1, perfectly capturing all the minute design details on the outside. The interior of the gargantuan vehicle is a different story, which looks more like the inside of a house with wooden flooring. The interior appears to be split into two levels connected with a staircase, and also gets a toilet – strangely without a door. This is possibly the craziest thing I've come across in a while!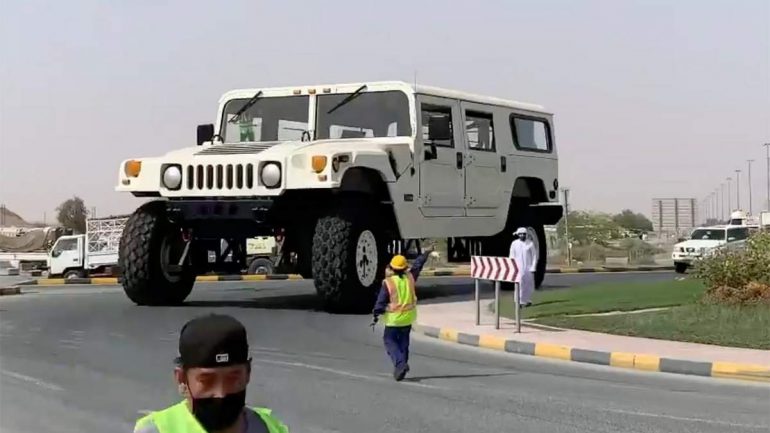 [Via: The Drive]