Lontano is the ultimate new Explorer yacht concept that is one of the most stunning we have seen in a while. It is jaw-dropping to learn it is the work of two budding designers Giulia Bassan & Alessandro Benedetti, as their master's degree thesis project. One look at the image gallery and it seems like the best work of one of the most seasoned players of the superyacht game. The 78.7-meter Lontano is modeled on the hull of a supply vessel from the Norwegian shipyard Ulstein. It might give you a vibe of a military ship with clean and geometric lines on the exterior, but the interior is nothing short of a five-star resort. The large staterooms, spacious living areas create a milieu that's strikingly similar to a Manhattan apartment overlooking the skyline, bringing you the best of both worlds.



The vessel flaunts incredible length, and a 16-meter beam ensures vast areas with accessible accommodation for 12 guests in six large staterooms. In other spots on the Lontano, you will find two observation lounges forward and aft. Take a walk to the broad sun deck for a time of unwinding on the Jacuzzi. To use the pool, you need to hit the aft beach club that features a large gym, a spa, and a massage room.

These days, no exploration yacht is complete without ample entertainment, and the Lontano is the opulent family-style yacht concept that comes complete with a massive cinema room. The main deck is equipped with plentiful seating and panoramic views for lazing around or simply enjoying a day under the sun and stars. The modern vessel will hold several big boy toys on board, such as an amphibious ATV, a submarine, and a helicopter capable of landing and refueling on the certified helipad.

To make the most of this area, designers have given it tall glass walls to enjoy the most of the pristine locations and give guests an uninterrupted 360-degree view from the rear of the yacht. The two tender garages take care of the Jet-Skis, scuba gear, and everything in between. As far as speed and performance are concerned, Lontano doesn't disappoint with a top speed of 12 knots and a range of 8,000 nautical miles, powered by twin Rolls Royce AZ 100 electric Azipod engines.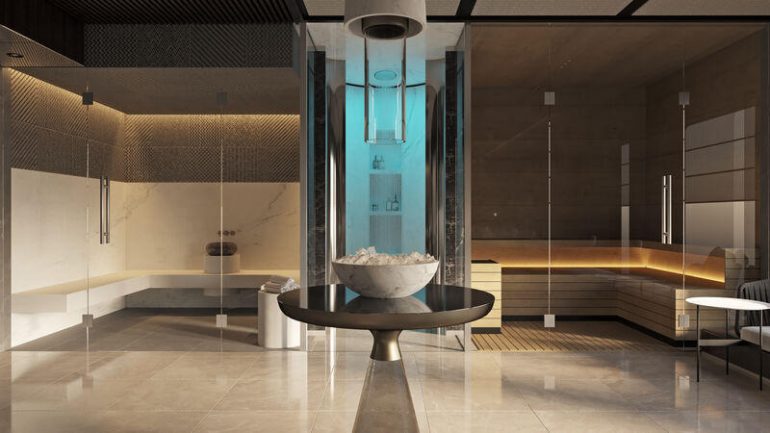 [Via: Boat International]