While we had seen a gold-wrapped Merc in frozen Stuttgart and gold Mercedes-Benz cars in balmy Cannes, it is difficult to imagine delicate gold-coated vehicles burning under the heat of the desert. Nevertheless, Dubai is one of the surest places to encounter gold coated cars despite the heat, and recently a mysterious 'white gold' Merc was seen parked outside Mall of the Emirates. It is not clear if the silvery vehicle is really coated with 18-carat white gold or if it is some other mysterious 'paint' that we do not know about. The controversy was generated after people pointed out on social media that it couldn't have been real white gold as that coating would have easily melted off the body of the Mercedes Benz SLR McLaren in the 50-degree heat of Dubai.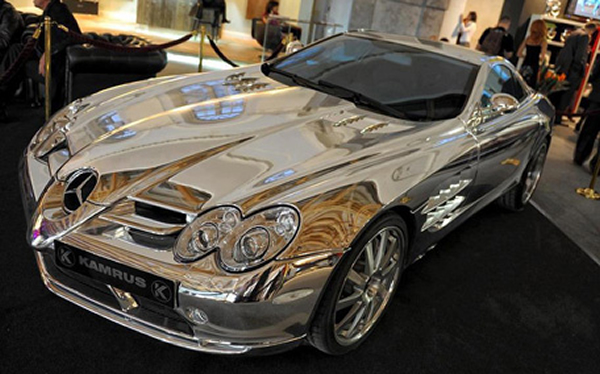 The car is purportedly owned by an enigmatic oil billionaire from Abu Dhabi and comes with amazing specs like V10 quad turbo with 1,600 horsepower, 1/4 mile in 6.89 seconds, runs on bio fuel and in less than 2 seconds, can achieve 2800 nm of torque 0-100 km/h.

A spokesperson for Mall of the Emirates bluntly admitted that it would be impossible to verify the claims of the enigmatic car really being covered in white gold as 'they receive many cars every day. We guess these are the 'problems of living in an oil-rich city like Dubai, where it is not uncommon to encounter gold/silver-coated cars. Moreover, all that shines is not gold, and this car probably is not coated with white gold, but actually chrome.
[Via – Emirates247]