Heirs, heiresses, kings, queens, billionaires, and tycoons all flaunt superyachts to represent their imposing net worth. It leaves yachting enthusiasts with several larger-than-life luxury vessels to rave about. These floating palaces are each better than the other. Still, some examples stand out in their own right! Kaos yacht, 361ft, became the Netherlands' largest at the time of her launch in 2017 (named Jubilee then). Aptly called a floating island, it was bought by Walmart billionaire heiress Nancy Walton Laurie in 2019.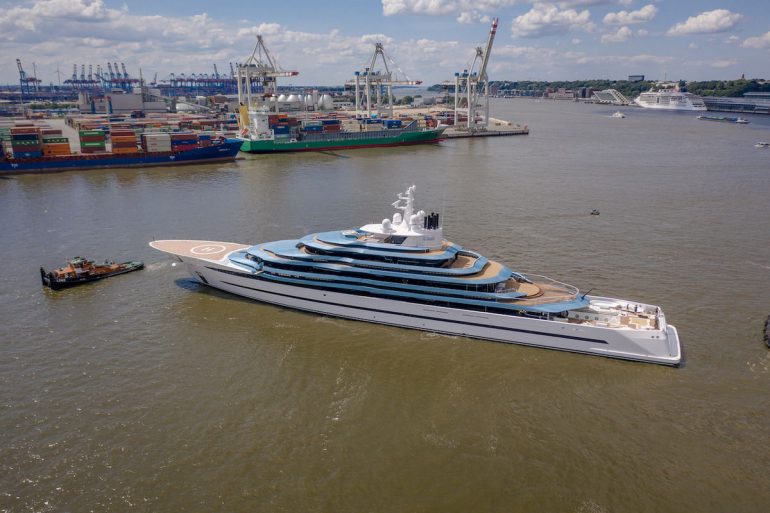 The ship was actually commissioned in 2008 by then-Emir of Qatar, Sheikh Khalifa bin Hamad bin Abdullah bin Jassim bin Mohammed Al Thani, a connoisseur of mega yachts. Let's explore the vessel and its history in detail, for it enthralled both royalty and a billionairess-
Kaos, a beautiful chaos of changing owners, unchanged elegance, and timeless opulence-
The Oceanco beauty is a $300 million floating mansion with a robust volume of 4,523 GT. A recognizable exterior design by Lobanov Design and interior design by Sam Sorgiovanni Designs P/L contributed to making Kaos, the king of the yachting world and truly fit for a king. Intriguingly, the superstructure features an impressive metallic blue superstructure along with many decks, most of which are fake.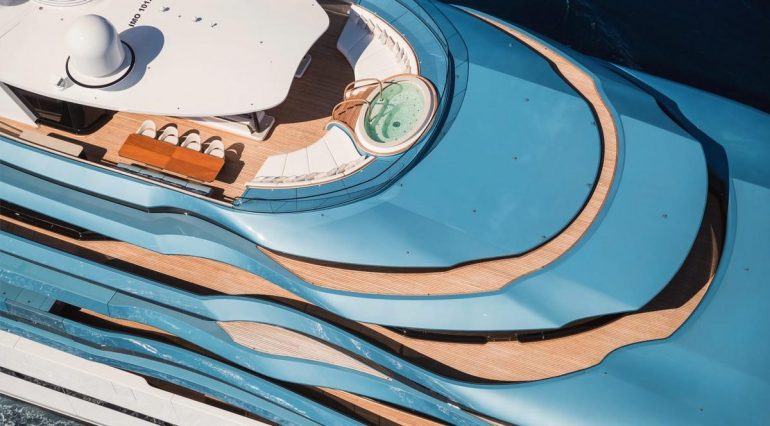 The designer created a sense of harmony and balance with the faux decks. This clever manipulation of the vessel's proportions enhances its aesthetic appeal and creates the impression that it is effortlessly gliding through the waves.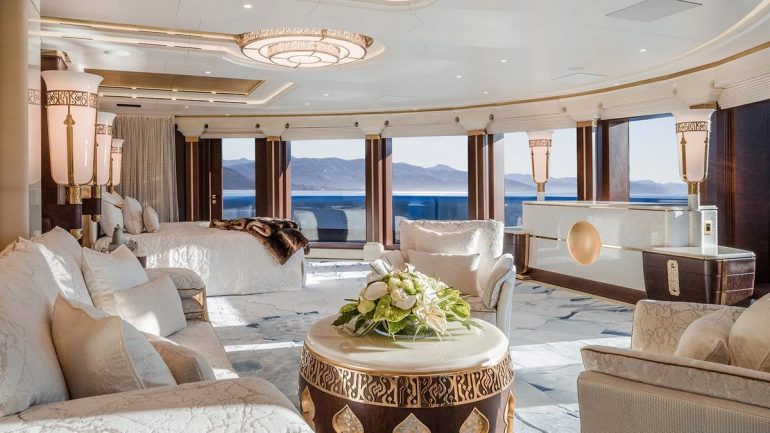 The fly deck is replaced by a quaint owner's suite, with absolute solace and serenity combined with spectacular vistas from the private terrace. Kaos yacht accommodated 31 guests in 16 cabins.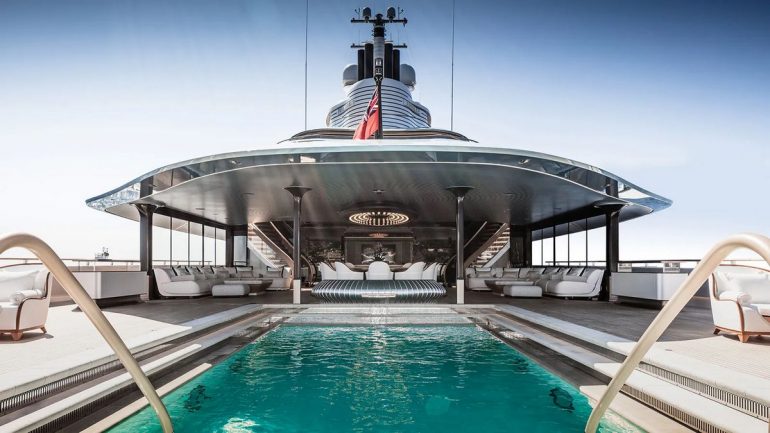 Commissioned as a royal yacht, Kaos flaunts every luxury in the book, from a large helideck, to a massive beach club complete with a wellness center, gym and spa, an expansive pool, cinema, and several lounge areas dotting the decks. Rumor mills suggest the luxury boat is outfitted with an oversized aquarium tucked away on the vessel, a secret never revealed to the public. There's never a dull moment on board as Kaos is a playground for water enthusiasts, with a packed tender garage. The fold-down transom provides easy access to the crystal-clear waters below.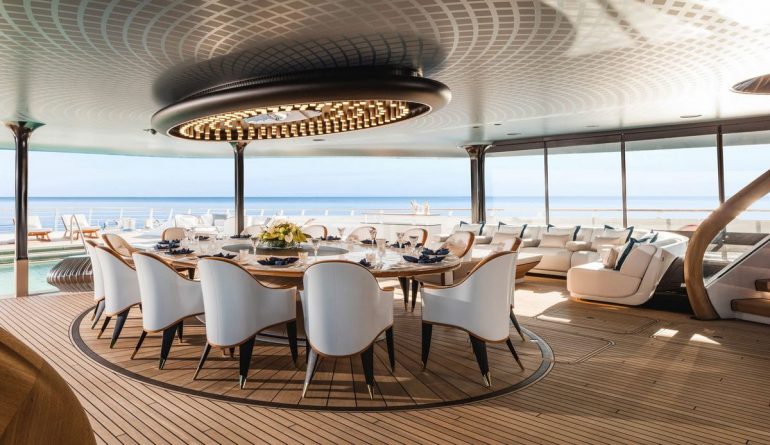 From a fleet of matching tenders, rescue boats, inflatables, and other exciting gear, Kaos has everything you need to make the most of your time on the water. The stunning Kaos is powered by two MTU diesel engines offering a top speed of 18.5 knots and costs the American businesswoman Nancy Walton a cool $20-$30 million in annual maintenance.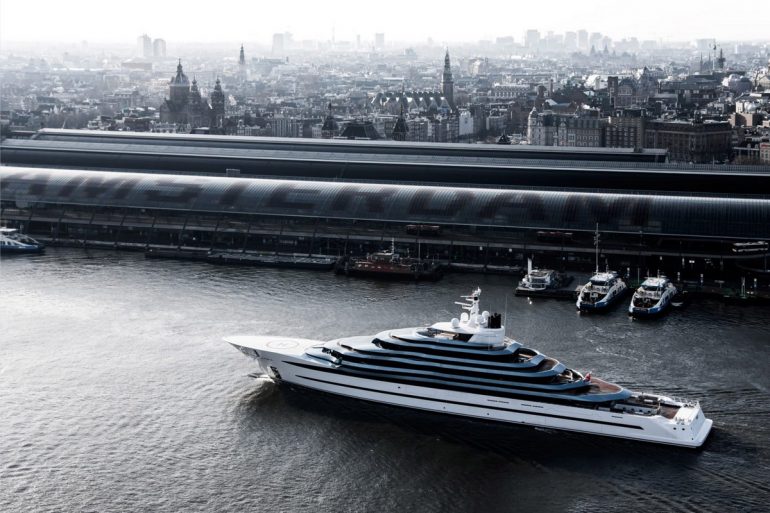 Kaos had a gilded Qatari past-
Kaos came into existence as Al Menwar owing to a Qatari royal in 2008. The well-appointed superyacht was commissioned by the then Emir of Qatar, Sheikh Khalifa bin Hamad bin Abdullah bin Jassim bin Mohammed Al Thani. He was looking for a new vessel to add to his impressive fleet. Who better than Oceanco to deliver beauty that would please royalty and break records? Unfortunately, the financial crisis put a halt to negotiations. In 2011, the Emir commanded a turnkey vessel, ready to set sail when delivered.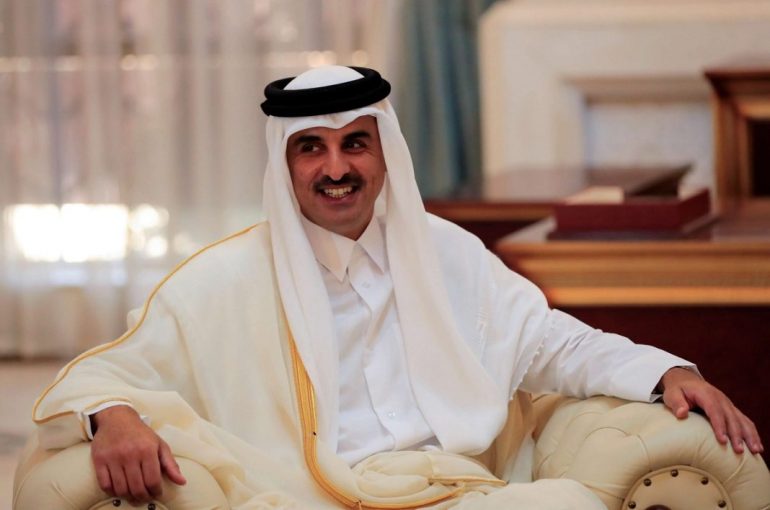 Among her many plentiful features, the ship had to have a garage for his beloved Bentley, without which the Emir wouldn't even consider traveling. The vessel was testimony to Middle Eastern hospitality, designed with a large majlis for hosting guests, finest silk rugs, glistening Italian marble, and plenty of gilded surfaces. Enter the Kaos superyacht, a symbol of wealth that catered to the Emir's every whim. The Emir passed away just months before the scheduled delivery, and the family sold it via Burgess for $310 million.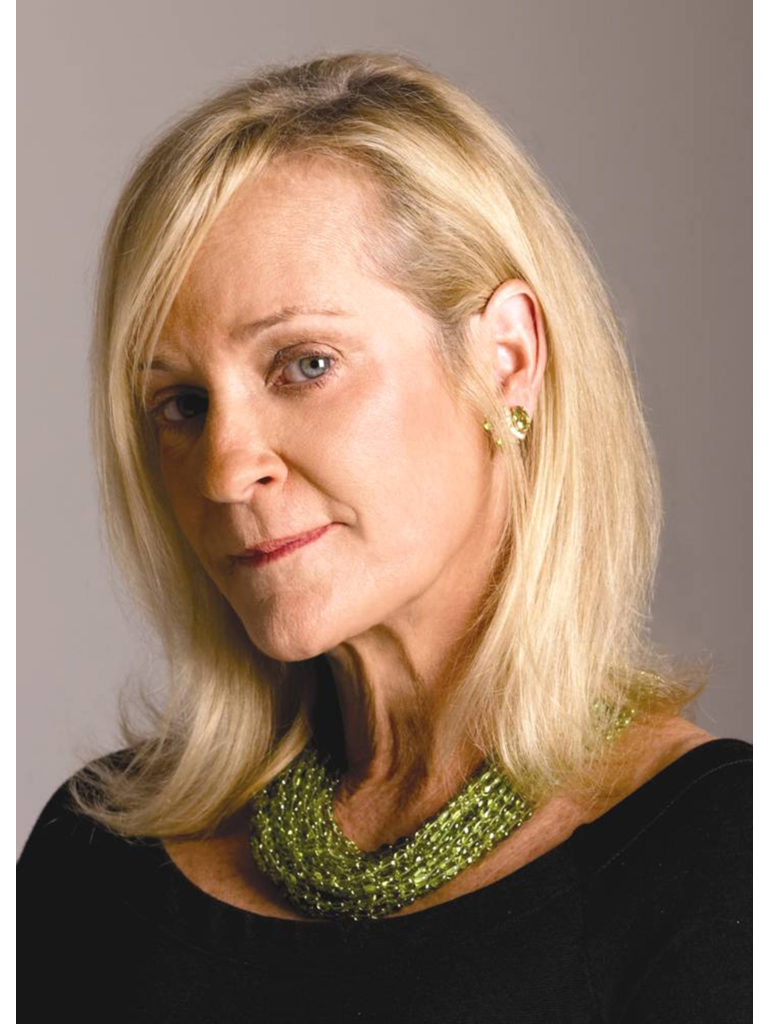 Walmart heiress Nancy Walton Laurie-
The daughter of Walmart co-founder James "Bud" Walton and the aunt of Walmart Chairman Rob Walton is a wealthy tycoon with a $8.6 billion net worth. Walton inherited a portion of her father's Walmart shares upon his death in 1995 and owned about 5% of the company's outstanding shares. The accomplished equestrian and her husband, businessman Bill Laurie also own a portfolio of commercial real estate, several homes, and a beautiful ship, Kaos.
Nancy Walton Laurie is also involved in various philanthropic causes. She and her husband have donated millions to support education, the arts, and medical research, among other causes. They have also established the Laurie-Walton Family Basketball Center at the University of Arkansas, which houses the university's basketball programs.