It is starting to look like the tuxedo-donning warship Nord megayacht has a spine and won't dock at destinations that aren't welcoming. After exiting Hong Kong once the controversies started whirling (read: threats from the US), Alexei Mordashov's $500-million yacht sailed for South Africa. The massive luxury vessel changed paths and plans even before reaching Cape Town, possibly because the authorities were divided over thwarting or permitting the 464-footer to dock at Cape Town. The 10,000-ton vessel mysteriously went dark and surfaced at the Adu Atoll in the Maldives, confirming all speculation to be right after all.



According to eSysman SuperYachts, the oligarch's superyacht is moored in the island nation in the Indian Ocean. A subscriber of the channel shared footage of the mammoth easy-to-spot superyacht from a seaplane flying over the Maofushi Island to Male.

The loyal subscriber took a short video clip that helped verify details to confirm the identity of the superyacht (though admittedly, Mordashov's half-a-billion-dollar asset is instantly recognizable from anywhere).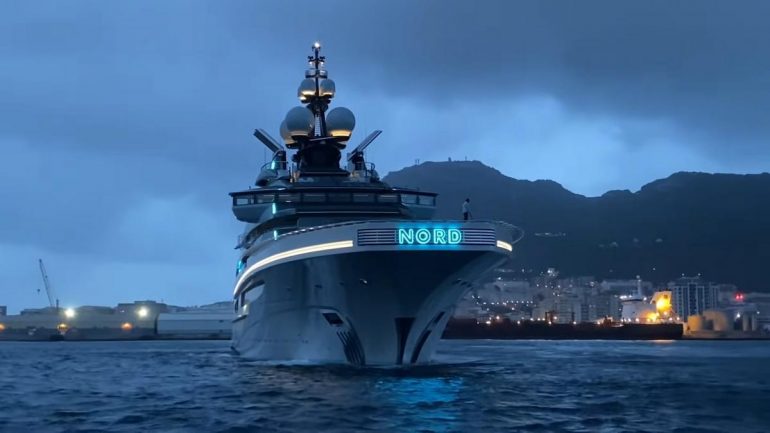 Yachting expert eSysman SuperYacht confirmed after checking time stamps that the Nord vessel is indeed in the Maldives. It is not unfamiliar for the Mordashov megayacht to be hanging around the island nation as the ship was anchored there in December 2021 and January 2022, before the Russia-Ukraine war commenced.

This information must've calmed the South African authorities concerned about the ship's security as South Africa is home to a large Ukrainian community. It is not Victoria and Alfred Waterfront in Cape Town but the Maldives where Nord megayacht has sought refuge.

South Africa was divided over the arrival of the superyacht Nord-
Alexei Mordashov's 464-footer created controversy in Cape Town weeks before its arrival. The departure from Hong Kong was met with cold responses from the city government of Cape Town, which firmly believed that the $500 million pleasure craft belonging to one of Russia's most affluent and prominent citizens should be barred. The national government was indifferent to the Mayor and Premier of Cape town. President Cyril Ramaphosa stated he saw "no reason" to comply with Western sanctions. "South Africa has no legal obligation to abide by sanctions imposed by the US and EU."

The Nord continues to show its destination as South Africa-
Despite confirmation that Nord yacht is in the Maldives, on checking its location on the ship-tracking portal Marine Traffic, Luxurylaunches discovered the vessel continues to be in the dark and still displays Cape Town as the destination with no changes made anywhere. The ship flying under the Russian flag should've reached Cape Town 5 days ago, but that seems far from possible now.