'Rex' in Latin means king, and what better name than that to suit the magnanimous 127m concept superyacht by yacht designer Harrison Eidsgaard? Rex was a concept designed for a client who "asked for something different" and got an expedition yacht so cool it comes with a helicopter hangar that converts into a squash court. Harrison Eidsgaard envisioned a hybrid propulsion package that could be converted to a hydrogen system in the future for true, zero-emissions cruising. Rex features a 20-meter-wide hull, white and grey exterior, and future-proof hybrid propulsion package capable of being converted for hydrogen storage. Let's take a look at the image gallery below to see what lies beneath:



Rex superyacht would be ideal for an expedition with a total of 22 guests. They can be easily accommodated in a master suite complete with four private terraces, two Jacuzzis and a private gym, and ten guest suites, each with a balcony.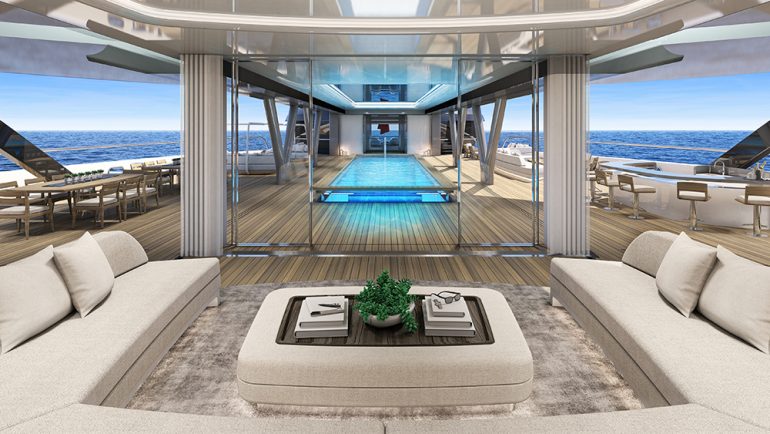 The yacht also flaunts a 14-meter-long swimming pool. It's the highlight of the vessel, located below the helicopter hangar on the main deck. The designer makes things interesting here as the pool can be enclosed with glass in colder climates.

The Panorama Lounge is one of the best spots to take refuge in on the Rex superyacht. It offers 360-degrees views, an observation lounge with access to a jacuzzi, and an immersed location called the Neptune Lounge that offers excellent underwater sights.

The full-beam tender garage has space for a 15-meter expedition vessel and two nine-meter tenders, which can be moored to the walk-around transom aft.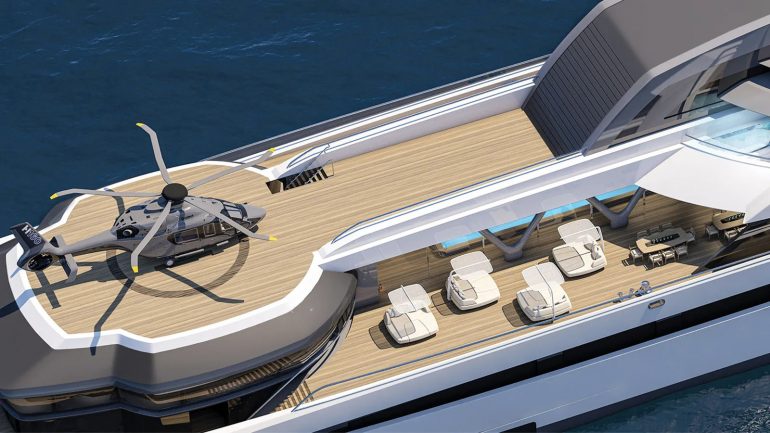 An assigned helicopter hangar is competent in holding an Airbus A160 that also transforms into a squash court. The design team also provides a second helicopter landing facility and a panoramic lounge with 360-degree views at the yacht's top.