Roman Abramovich is a man with many expensive toys! We took a trip inside the Chelsea F.C. owner $80 million private jet old fittings, a banquet hall, anti-missile system, and more. If that left you impressed, then his latest $610 Million megayacht will blow your mind away. Roman Abramovich is very close to taking delivery of his brand new toy, the Solaris megayacht that will keep great company to Eclipse, which is the world's largest and most expensive Megayacht.



The 460ft vessel, Solaris, comprises 48 cabins across eight decks, a crew of 60, and 36 guests. It is undoubtedly the most expensive custom-made superyacht ever built. Yachting photographer Julien Hubert, who captured these images on a drone, said it was one of the biggest yachts he'd ever seen. "It is definitely among the 15 biggest yachts in the world,' he said, 'and it was creating a lot of interest in the yachting community around the port." As Solaris will carry one of the world's richest men and his rich clique, it comes with state-of-the-art security, including a radar-controlled missile detection system, bulletproof windows, and armored protection.

Are you wondering what fits in those eight sprawling decks? From luxurious staterooms, gym, sauna, Jacuzzi, several lounging and entertainment rooms are a given. It's more expensive than Eclipse, which means it should offer more too. It may or may not have a beauty salon like Eclipse but has an outdoor 'beach club' at the aft section like Eclipse has a nightclub. Guests can hop onboard Solaris on 20 high-speed jet skis or a helicopter. Solaris is not yet fully furnished, but as per the Mail, Abramovich is expected on board as soon as he's done vacationing on Eclipse. And your club-hopping ways made you feel fabulous? The 54-year old oligarch is busy megayacht-hopping.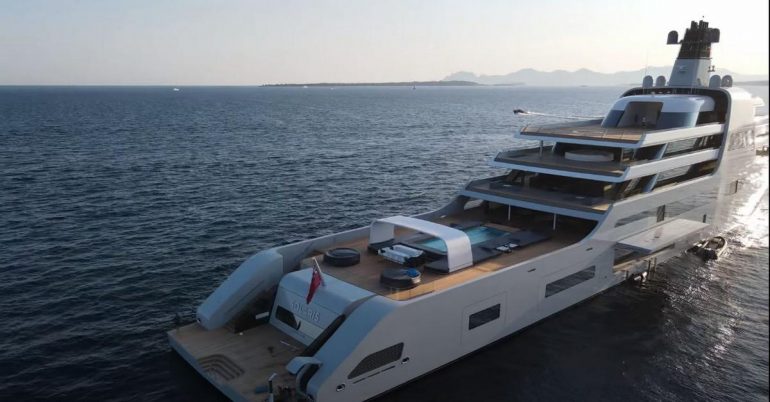 [Via: autoevolution]