If you happen to be in London, don't be surprised to see a chrome finish Mercedes or a pink Rolls Royce whizz past you on the street. Supercar season is in full swing and a host of luxury cars with Middle Eastern license plates have descended upon the city.



This Lamborghini car with a Kuwaiti license plate was parked in Mayfair heralding the onset of "supercar season".


The cars supposedly belong to wealthy Arabs who have fled the harsh summers of their own countries in favour of London's cooler climate.


Of course, this gives Londoners a reason to pull out their cameras and snap as many pictures as they can of luxe rides like this candy pink Rolls Royce.


Supercar spotting in London will probably become a pastime for many for the next few weeks.


When your chariot is a mirror finish Mercedes SLR, you want to take it with you no matter how far you travel.


And car owners spend anywhere between £20,000 and £40,000 for their attention grabbing rides to be flown in from the Middle East.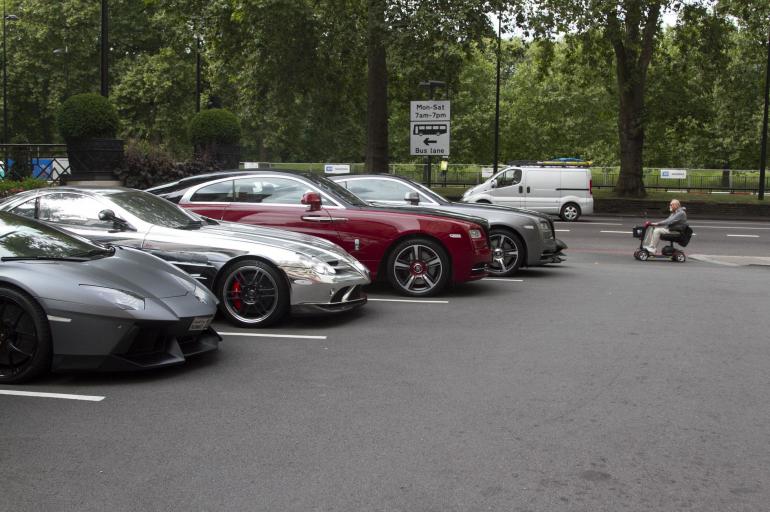 The sight of cars like these will turn you from an amateur photographer into a supercar-crazy "carparazzi" (we're not sure who invented this moniker, but we love it!).


Looking for the best place to spot a supercar? The Dorchester hotel is always popular with wealthy Middle Eastern guests.


You might also get lucky on Sloane Street where a number of fancy cars are parked.
Supercar season is has been an annual phenomenon for the past few years and we're not complaining! The weather may be hot in the Middle Eastern nations, but this fleet of supercars is certainly heating up the streets of London.
[ Via : Metro ]