Billionaire Shahid Khan, the owner of two football teams, NFL's Jacksonville Jaguars and UK's Fulham football club, also owned two luxury motor yachts- the first was 223-feet Kismet delivered by Lurssen in 2007, and the second was a new and improved superior version in 2014. The 311-feet successor superyacht was the result of Khan's thriving empire. With his ever-expanding business and the need to host and entertain his esteemed guests, families, and friends, his incredible 223-footer was falling short, pun intended!



The new Kismet, launched in 2014, offered an extra 90 feet and accommodated the football teams' bulky talent with utmost ease. We are exploring the new Kismet superyacht in detail, and it is safe to say she is a winner:

The new Kismet was all things gorgeous:
There are several similarities between the new and the old yachts, apart from the fact that both are incredible and belong to Mr. Shahid Khan. Like its predecessor, the Kismet motoryacht also had five decks, though evidently more extensive, with eight sprawling suites and enormous deck areas.

Stalwarts of the yachting world, Lürssen, Espen Øino (exterior design), and Reymond Langton (interior design), joined hands on the latest super-toy for the man who arrived in the United States from Pakistan at age 16 with just $500 in his pocket.

Kismet, meaning fate or destiny in Turkish, must resonate with the owner who came from nothing to one day owning a superyacht based on a 'Champagne & Caviar' theme. Reymond Langton truly delivered the dream with a double-height atrium, open fireplace, and a fully equipped BBQ on the deck.

The sun deck is a vibrant space dotted with several lounging areas, an oval-shaped swimming pool with an integrated Jacuzzi. The eight guest cabins accommodate 16 guests and are marvels in their own right, complete with Art Nouveau influences, Art Deco, and Japanese themes making each room as lavish as the next option.

The owner's suite is a jaw-dropping space occupying the forward half of the upper deck. Impressively, the primary room comes outfitted with his and hers bathing rooms, large wardrobes, a private Jacuzzi, and even a personal office. While the upper deck takes care of the owner, the lower deck caters to the guests with a fully dedicated spa area and wellness center that features a gymnasium with an ice fountain, a sauna, massage facilities, and even a hairdressing room.

As is the case with most luxury yachts, toys and tenders are stowed in the garage on the lower deck. This area doubles up as a spot for some waterside aerobics and yoga.

Among other conveniences is a club room which can also be converted into a comfortably sized cinema as per Yacht Charter Fleet. The bridge-deck lounge is the spot for catching the most stunning sunsets overlooking the aft helipad. Khan's $200 million Kismet manages to cruise at a speed of 14 knots, a maximum speed of 17 knots and can be chartered for a weekly price of $1.2 million.

In 2018, the yacht charmed music royalty Jay-Z and Beyoncé who rented the stunner for a vacation to Italy. It has got its share of limelight as well by featuring in the 2019 Netflix film '6 Underground' starring Ryan Reynolds.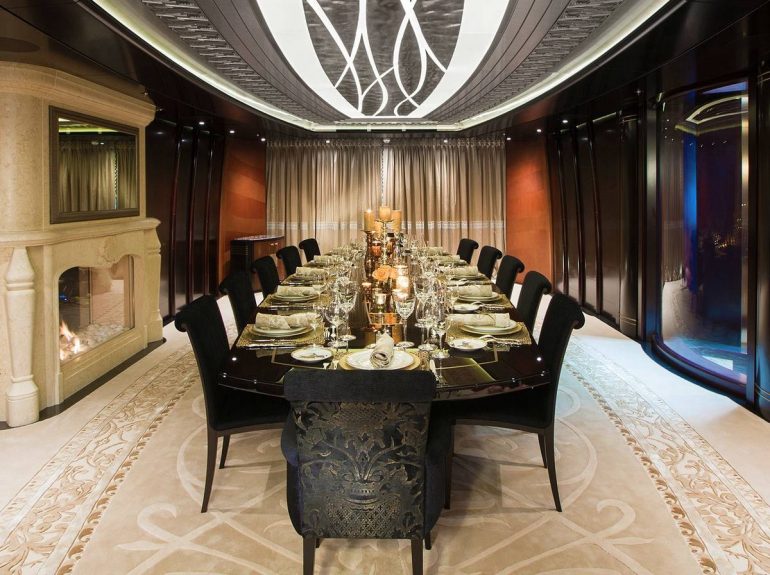 Arresting design aspects of the 311-feet Kismet:
This magnificent yacht is a vision inside and out. But the interiors deserve a special mention for opting for never-seen-before dramatic treatments. The thought given to detail is mind-blowing. Examples of this grandeur are adding two full-height video walls juxtaposed to the staircase leading into the main salon.

Also, the creative etched glass walkway almost poetically connects all principal areas of the decks. This is particularly significant when hosting large gatherings. Khan wanted Kismet to offer space to host parties for 270 people, yet there are also intimate areas to go to when he's alone, as per Boat International.

Another eye-catching characteristic is the use of unusual colors and textures that one often notices in a 5-star hotel but seldom in superyachts where nautical themes prevail. Bars enhanced with back-lit onyx with RGB color controls, additions of not one but four fireplaces in different parts of the vessel, ample use of dark stones, exciting textures, glass, and various wood surfaces. Kismet genuinely looks like a goal achieved!

The very fortunate and hardworking billionaire Shahid Khan:
From his first American job of washing dishes for $1.20 an hour to owning Flex-N-Gate, which boasts 69 plants worldwide and over 26,000 employees, Pakistani-born entrepreneur Shahid or Shad Khan has indeed lived the rags to riches tale. Today, Khan ranks 15th among all professional sports team owners worldwide on the Forbes list. Something the skittish teenager from Pakistan with $500 in his bank account would never pipedream, not even while washing dishes at the YMCA's kitchen for $1.20 per hour. Life turned around after Khan graduated in 1971 and became the engineering director for Flex-N-Gate, an automobile parts manufacturing company.

In 1978 Khan started Bumper Works and made car bumpers. His enterprise was a success big enough to purchase Flex-N-Gate. Khan provided bumpers to the major car manufacturers in the United States, and then became Toyota's sole supplier. Worth nearly $8 billion, Shahid Khan purchased the Jacksonville Jaguars for $770 million (the team is now valued at $1.5 billion).

He eventually also bought the Fulham Football Club for $200 million that qualified for a spot in the Premier League in 2018, catapulting Khan's earnings to $125 million annual revenue share.

As per reports, Khan reportedly makes $250 million yearly from his NFL rev share. Khan lives in a large penthouse in Naples, Florida, bought in 2014 for $11.5 million. The Khan family also owns a large house in Champaign, Illinois, in addition to an $8 million penthouse in Park Tower, Chicago. Call it Kismet!