In the 2020 edition of the Consumer Electronics Show, Mercedes-Benz showcased one of the craziest-looking concept cars called the Vision AVTR. The electric autonomous vehicle with a jaw-dropping design was inspired by James Cameron's 2009 blockbuster movie Avatar and borrows the idea of forming a symbiotic relationship with everything around. Sergi Galiano from the team of renowned influencer Supercar Blondie got a once-in-a-lifetime opportunity to test the fairy tale concept car and check out all its ultra-cool features in Dubai. The YouTube video on Supercar Blondie's official channel is mad enough to blow your mind; I can't even imagine how insane it would be to drive the Vision AVTR on the desert roads of Dubai.



The video begins by highlighting the out-of-the-world wheels of the Mercedes-Benz Vision AVTR. Instead of traditional wheels shod with tires, the wheels on the EV concept are spherical in shape. All four wheels are individually powered and can turn up to 30 degrees, which gives the Vision AVTR to move and turn in unusual ways, including crab-walk. The wheels also have strobe lights built into them and are said to be inspired by the tree of souls from the Avatar movie. The lights have several different functions and also act as turn signal indicators.

The most impressive design element of the Vision AVTR can be found at the rear end. The concept has 33 flaps instead of a traditional rear window. Referred to as Bionic Flaps by Mercedes, all the 33 scales can individually move and react to the motion of the car. The scales pop out when the car moves and are positioned to direct the airflow to produce downforce when moving forward. The scales also have LED lighting which together creates the most incredible automotive effect.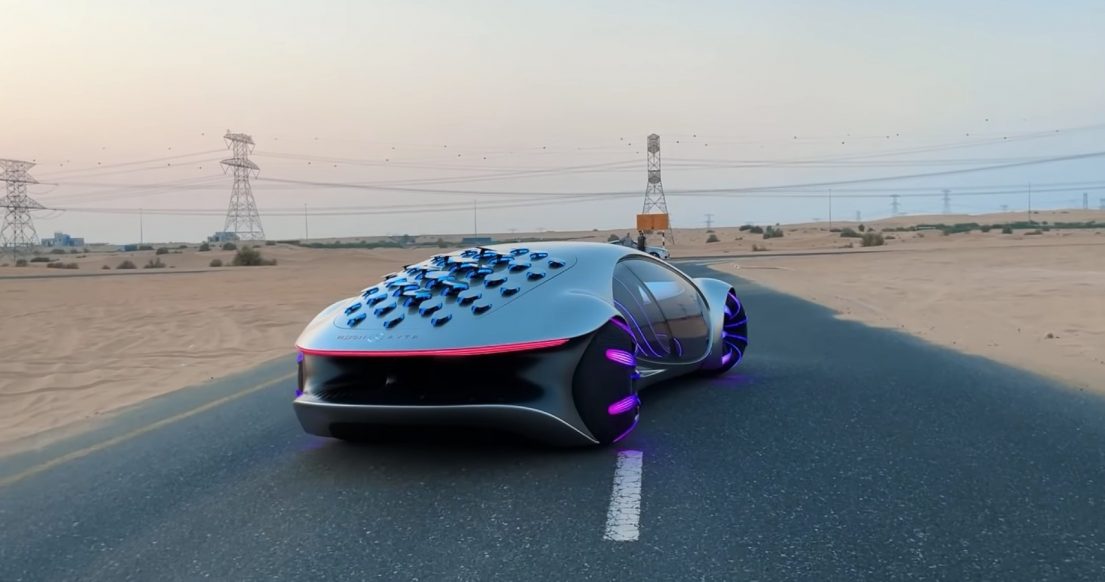 By now you must have understood that nothing about the Vision AVTR is regular. Unlike traditional cars, the concept has glass doors that can even put Lambo's scissor doors to shame. The transparent doors are inspired by the insect wings. Interestingly, the AVTR has a minimalistic and clutter-free cabin made of sustainable materials. One of the highlights of the interior is the lack of a steering wheel. All the driving controls of the AVTR are simplified into a joystick-like controller placed on the center console, which means it can be driven from any of the front seats. The entire dashboard is free of any kind of dials and switches and acts as a massive display. The Mercedes-Benz Vision AVTR could very well be the most accurate representation of cars in the future – at least, we'll like to believe that. Don't forget to check out the video which has been embedded here.
[Via – Autoevolution]